ZippyApp and Workstream are applicant tracking systems that focus on providing efficient solutions to hiring managers for their hiring needs. Both platforms help with the posting of jobs, finding the right employees for clients, and many more. While Workstream specializes in the recruitment of hourly workers in the quick-service restaurant (QSR) industry, ZippyApp is a hiring tool for hourly staff that can be used by employers across different markets.
Both hiring tools do share similar end-goals. However, there are still noteworthy differences between them and your business might be well suited for one platform than the other. To help you get started, we will compare the key features of ZippyApp and Workstream in 4 different areas: (1) the Job Application Process, (2) Initial Screening Process, (3) Interview Process and (4) Other Features. Read on to find out which platform best meets your hiring needs!
1. Job Application Process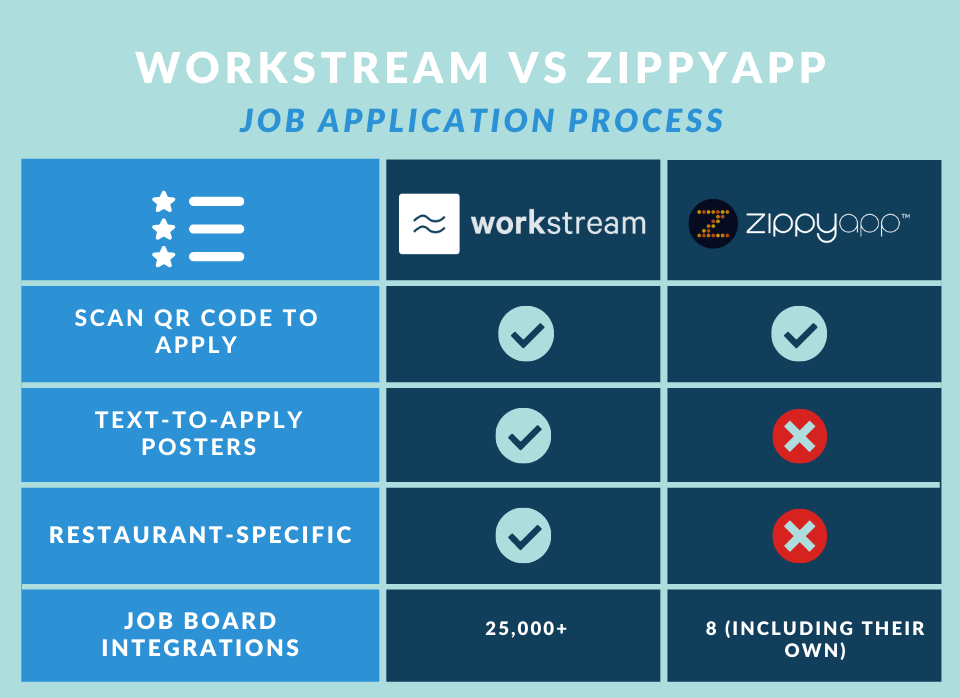 Scan QR Code to Apply & Text-To-Apply Posters
One thing to note about Workstream and ZippyApp is their effort in making their hiring processes as mobile-friendly as possible. After all, 90% of job seekers look for work via their smartphones. Thus, having such a feature will increase your chances of hiring quality candidates. Both platforms provide QR codes that let candidates apply for a job easily while on-the-go. Additionally, Workstream takes an extra step towards mobile hiring by offering text-to-apply posters. Through this, applicants can apply just by sending a message to the number stated on the poster. Talk about convenience!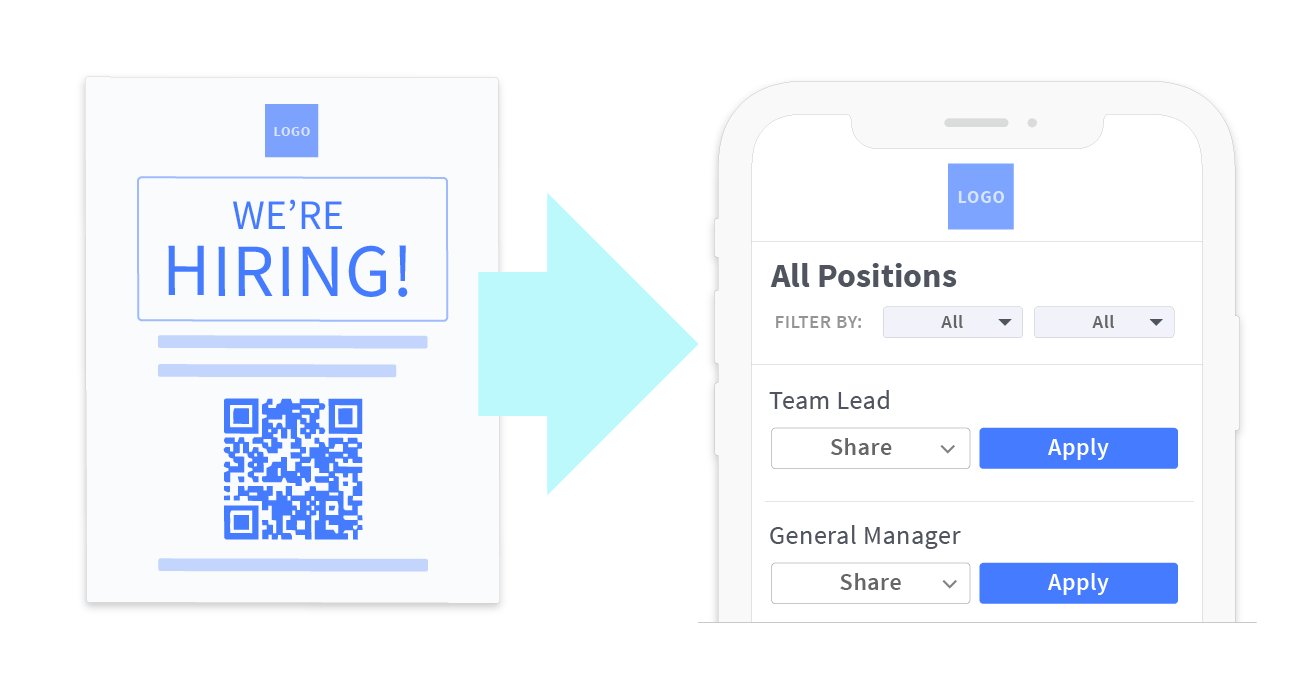 Restaurant-Specific
While ZippyApp is a generic hiring platform for hourly positions, Workstream specializes specifically in the restaurant industry. If you are a QSR owner or manager, employing Workstream's services will be just for you! At Workstream, we understand how crucial it is to hire fast effectively due to the high turnover rates in this sector of employees. Thus, our highly customizable software accommodates particularly to the QSR industry which requires constant and fast recruitment of workers.
Job Board Integrations
One of the aspects in which ZippyApp and Workstream contrast starkly is probably their job integration feature. ZippyApp not only serves as an applicant tracking system but also as a job board itself. In addition to its in-house website, ZippyApp also integrates with seven other job boards including Monster and Indeed.
While Workstream does not have its own job board, it is integrated with 25,000 other job platforms, allowing you to cast a wider net when hiring for a job position. Since your job posting has more visibility, you are probably more likely to find a quality candidate who is just the right fit for your company!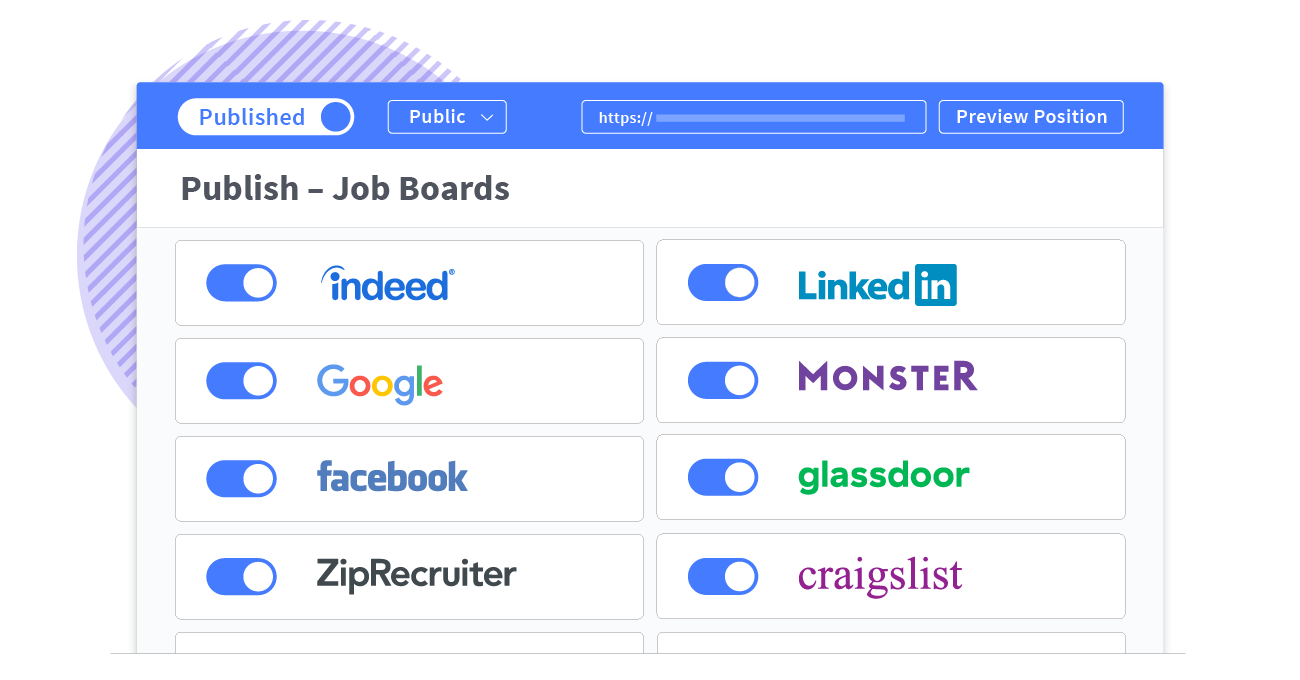 2. Initial Screening Process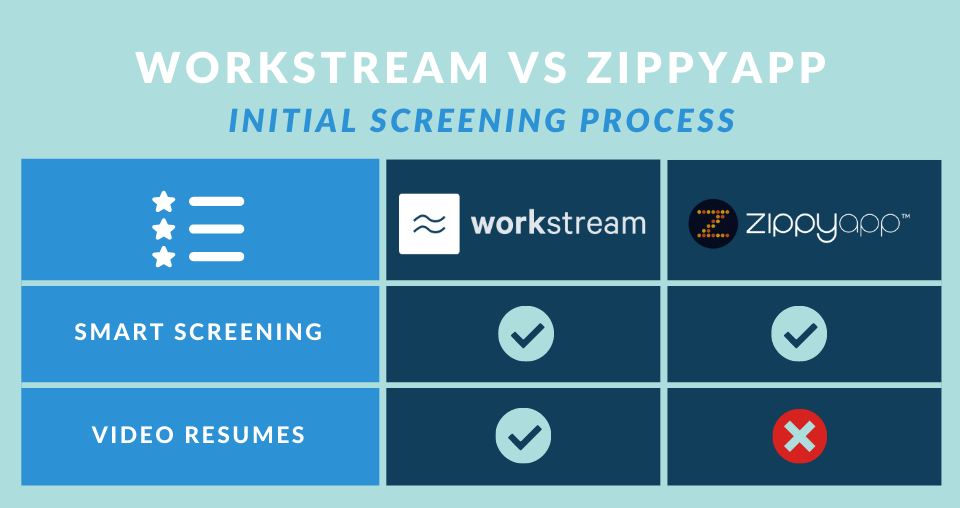 Smart Screening
Due to the proliferation of technology, the success of matching a suitable applicant to a particular job through smart screening is constantly improving. This significantly reduces time-to-hire as hiring managers no longer have to go through the resumes of each and every applicant.
With the use of self-learning algorithms, ZippyApp is able to match you with an applicant who is the right fit for your job. Workstream, on the other hand, uses multiple-choice questions and automates scoring based on the applicant's responses. They also allow you to customize your own screening questions based on the requirements of the job. If a candidate fails this screening test, he/she will be automatically rejected for the position they applied for.
Video Resumes
Another feature Workstream offers that ZippyApp doesn't is the option of allowing candidates to upload a short video to introduce themselves. This can be included as part of the application process. With this, you can better determine if the individual is really interested in the job position and whether their personality is the right fit for the job.
3. Interview Process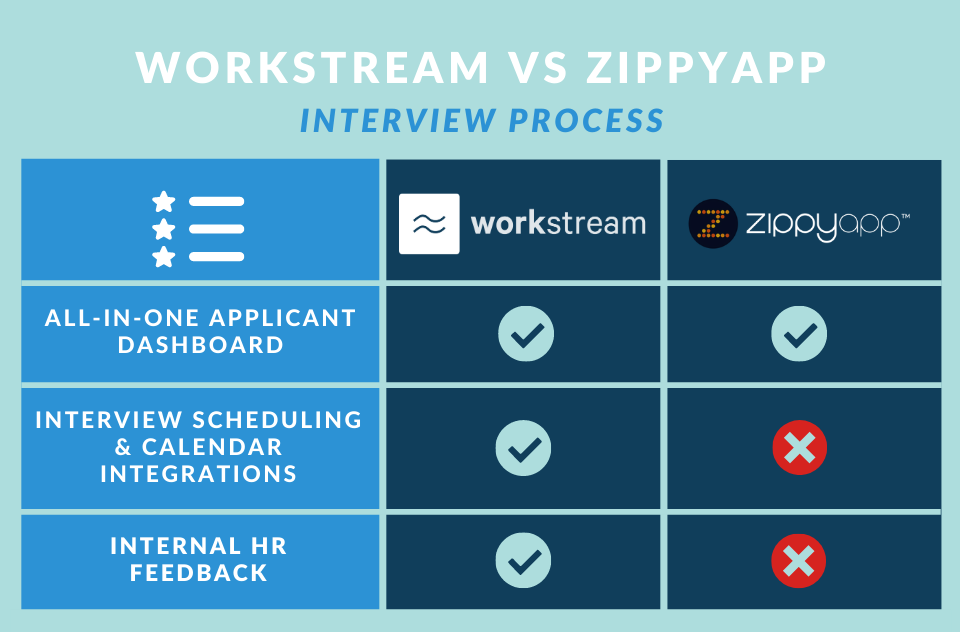 All-in-one Applicant Dashboard
Both platforms provide a holistic view of all candidates who have applied for the job you are hiring for. Additionally, they allow you to review, tag and save applicants for future needs, making it considerably easier for hiring managers to manage their pool of candidates.
Interview Scheduling & Calendar Integration
One of the best things about using Workstream is its ability to automate the scheduling of interviews for you. Simply select the candidates you wish to move to the interview stage, and they will receive a text message which will direct them to choose their interview date.
With your calendar integrated into the platform, candidates need only click on their preferred interview dates, which are based on your availability. What makes this impressive is that it reduces back and forth that is usually required when setting up an interview date via traditional methods.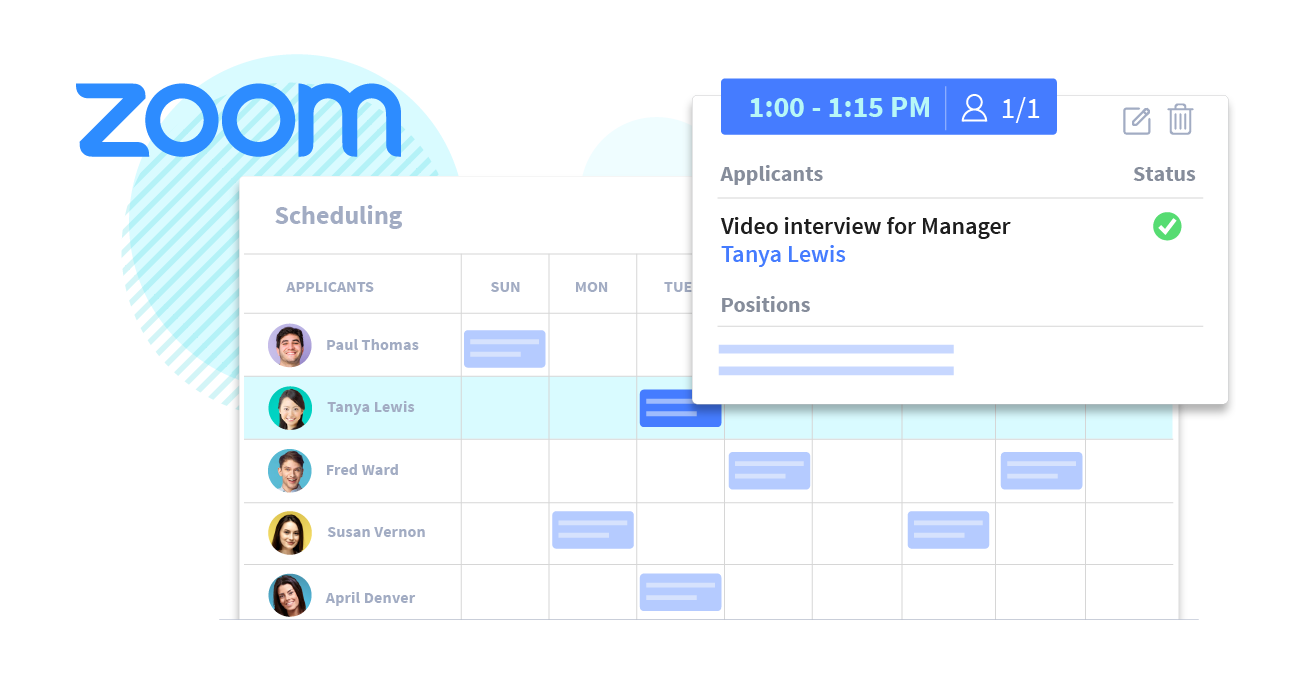 Internal HR Feedback
Another effective feature that Workstream offers is the means to provide a platform for different interviewers to leave their feedback on a particular candidate. This allows them to consolidate their reviews and evaluate their opinions together at their own time without missing out on any important information. The feature is especially useful when more than two interviewers are required for the assessment of the candidate.
4. Other Features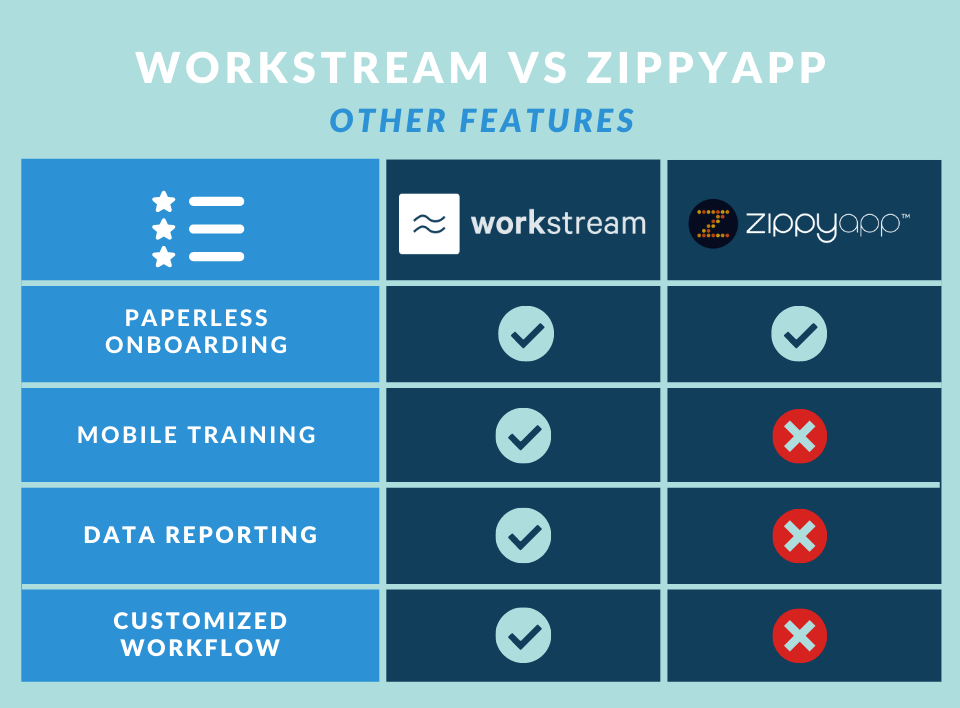 Paperless Onboarding & Mobile Training
After you have accepted your new hires into the company, onboarding can be done digitally through ZippyApp and Workstream. Going paperless is advantageous as it eliminates the tedious task of sifting through paperwork. At Workstream, candidates will receive a text message once they are hired which will contain relevant documents for their onboarding (e.g. policy documents, I-9, W-4 and more).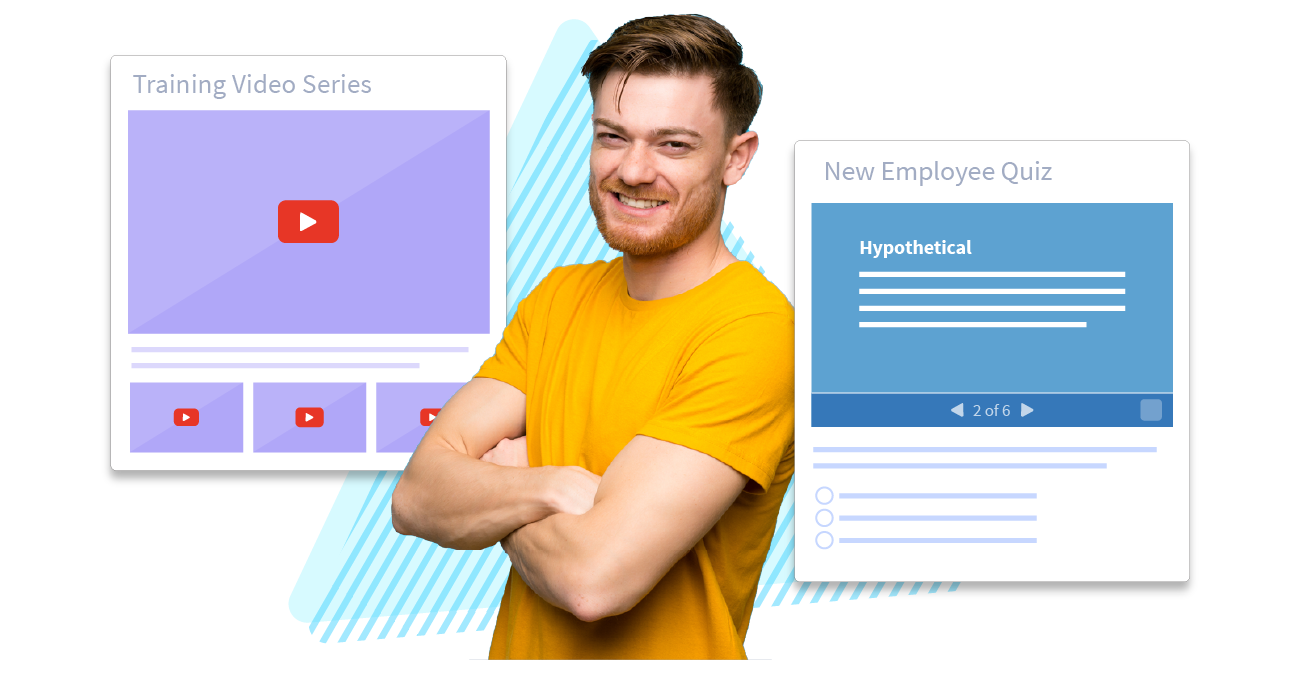 In the pandemic climate today, it can be difficult to organize large-scale training for your new hires. As such, Workstream also offers mobile training where employees are sent handbooks, checklists and training videos through a text message before they start their first day of work. SMS reminders will be sent to ensure that their onboarding documents and mobile training are completed.
Data Reporting
Data-driven analytics is essential to know whether you are doing things right. With Workstream, we consolidate the data for you so that you know which platforms your applicants are coming from. With this, you are able to reduce spend on less effective job boards and focus on those that provide you with longer-term hires.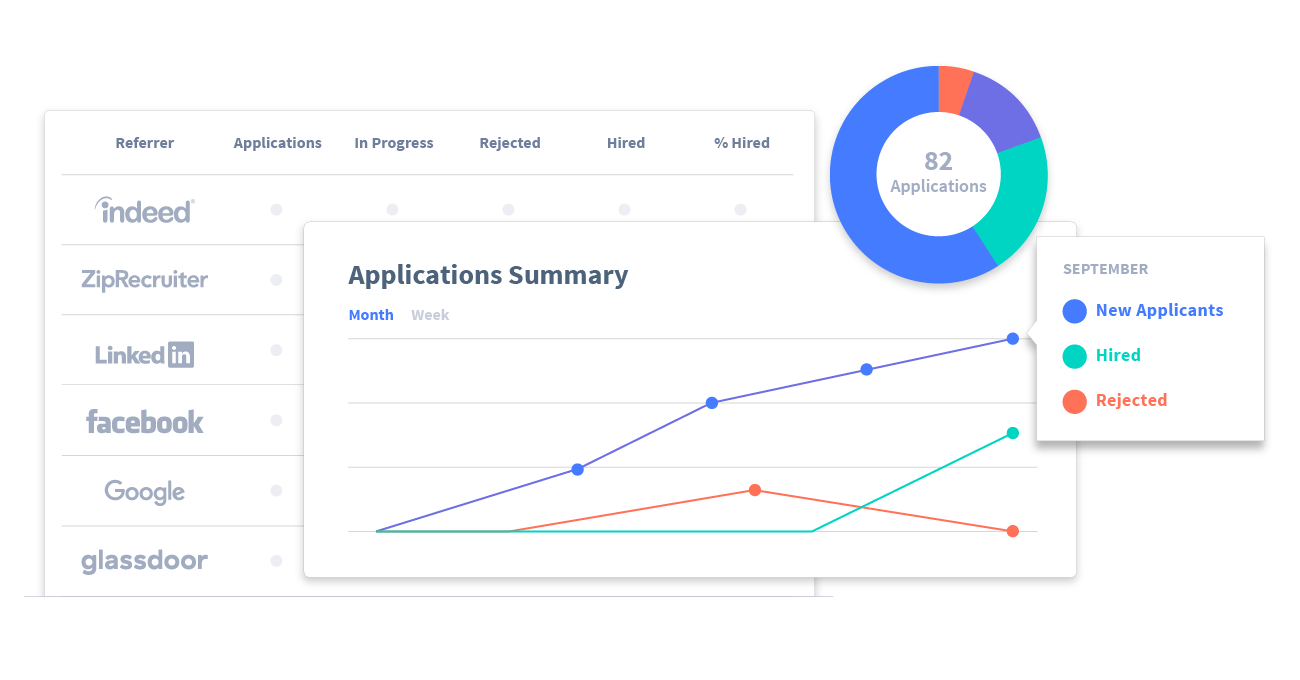 Customized Workflow
Workstream's highly customizable hiring tool allows you to set up your own workflow depending on the job that you are hiring for. We understand that different positions may require a different set of hiring procedures (e.g. some may require two rounds of interviews while others may require more hiring assessments). This is why we let you have control over the design of your screening questions and the automation in your application rounds. Our support team is also available 24/7 to assist you with any issues you may be facing.
Convinced that Workstream is the hiring platform for you? Schedule a free demo with us to find out how we can best meet your hiring needs! To date, we have helped over 5,000 managers get 4x the number of qualified applicants and reduce time-to-hire by 70%. Join us in improving your hiring processes today.
Workstream is a hiring platform that helps employers get 4x the number of qualified applicants. The world's most trusted brands use Workstream to optimize job board postings, automate screening and interview scheduling, communicate via text message, and streamline the onboarding/training process. See what all the buzz is about by scheduling a demo or email us info@workstream.is!