Harri and Workstream are applicant tracking systems (ATS) that focus on helping hiring managers streamline their hiring process. By helping with the end-to-end hiring workflow, both platforms are able to improve candidate experience as time-to-hire reduces substantially.
It is important to note that both ATSs are highly mobile-centric as they understand that most job seekers use their smartphones when applying for jobs in recent years. Coupled with some of their key features, this allows the platforms to cast a wider net to find quality candidates for their organization.
Unsure which platform fits your hiring needs best? Fret not. We have summarized some of their available features so that you get a better idea of what works best for you. The features are broken down into four key areas below, (1) the Job Application Process, (2) Initial Screening Process, (3) Interview Process, and (4) Other Features.
1. Job Application Process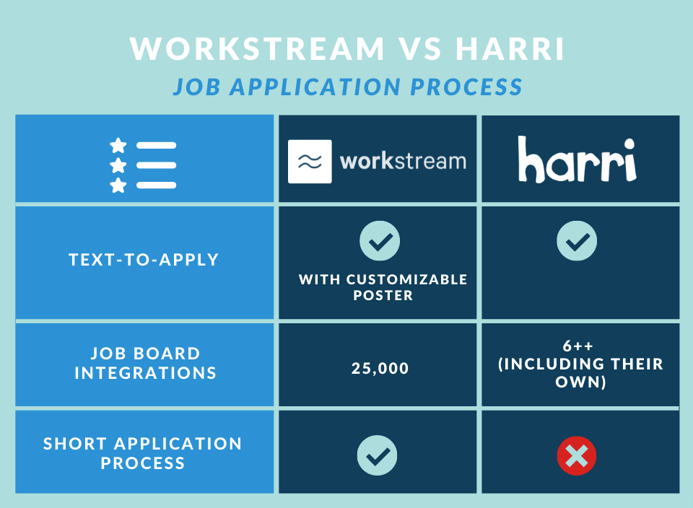 Text-to-Apply
Being software that accommodates mobile users, it comes as no surprise that Harri and Workstream provide this feature for job seekers. With the text-to-apply function, candidates can apply to their desired job easily with no hindrances to their application. This helps to ensure that quality candidates won't give your job a miss due to the inconveniences that come with applying for said position.
For Harri, a text bot called Carri is utilized to communicate with their applicants. Automatic replies are generated to keep applicants engaged. Similarly, Workstream allows applicants to apply simply by sending a text message to a mobile number. Additionally, we provide a customizable poster you can print out to display at your store. This poster includes a QR code that allows individuals to access other available positions in your company. Talk about convenience!
Job Board Integrations
Both platforms are integrated with other job boards so that you can cast a wider net for your job position. At Workstream, we partnered up with 25,000 job boards so that you are able to reach out to more quality candidates in just a single click. On the other hand, Harri provides different prices for 5 different job boards, excluding their own, should you want to upload your job posting on them. Uploading on Harri's job board means that your job ad will be published on other job websites too, though we are unsure of the exact number of these platforms.
Additionally, Harri redirects prospective candidates on Indeed to your website if they want to apply to a particular job, increasing the number of steps required to complete an application. With Workstream, however, your job advertisement will be immediately integrated with Indeed's Easy Apply! As a long application process may result in abandonment, we ensure that all unnecessary steps are removed to improve your candidate's experience.
Short Application Process
When using Harri, applicants are required to download their application and create an account before applying for your job position. And unfortunately, this process is in Spanish. This will undoubtedly pose a problem for your prospective candidates if they can't understand the language and may result in the abandonment of the job application. At Workstream, on the other hand, such steps are not necessary. As mentioned before, we understand how important it is to have a smooth application process so that your candidates get the best experience even before they start working with you. What better way to attract candidates to apply to your company?
2. Initial Screening Process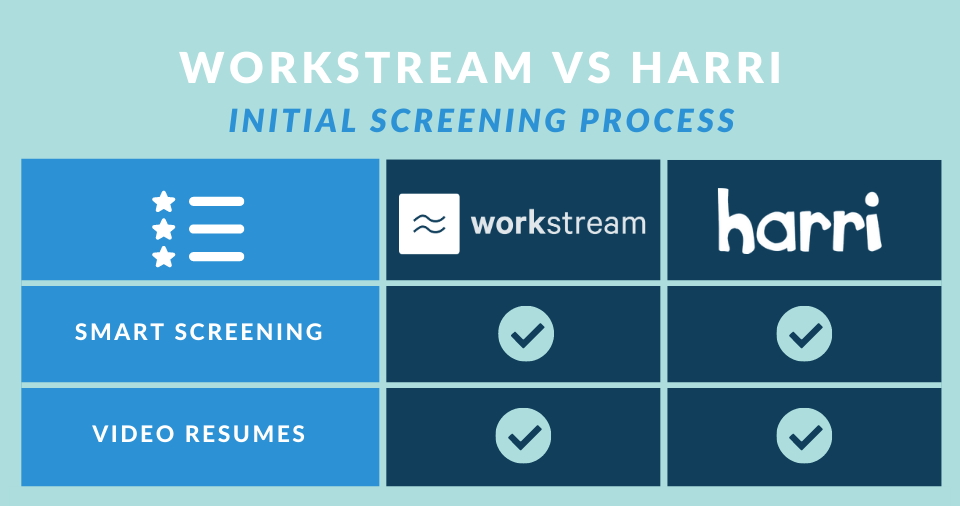 Smart Screening
Harri and Workstream use smart screening so that you can assess and sift through candidates quickly and efficiently. With this, hiring managers no longer have to look at each and every applicant's resume.
For Harri, they provide a speedy screening functionality where hiring managers can accept or reject candidates quickly with a click of a button. Workstream lets you automatically reject candidates or move them to the next round based on the criteria you have set for the job. What's more, both platforms allow you to customize your screening questions so that you are able to adjust your pre-requisites depending on the position.
Video Resumes
Upon shortlisting your candidates, you are also able to request for them to submit a video of themselves answering questions you have pre-set to get to know them better. With this, you are able to ascertain whether they are indeed a right fit for the job based on the personality they showcase in the video recording.
3. Interview Process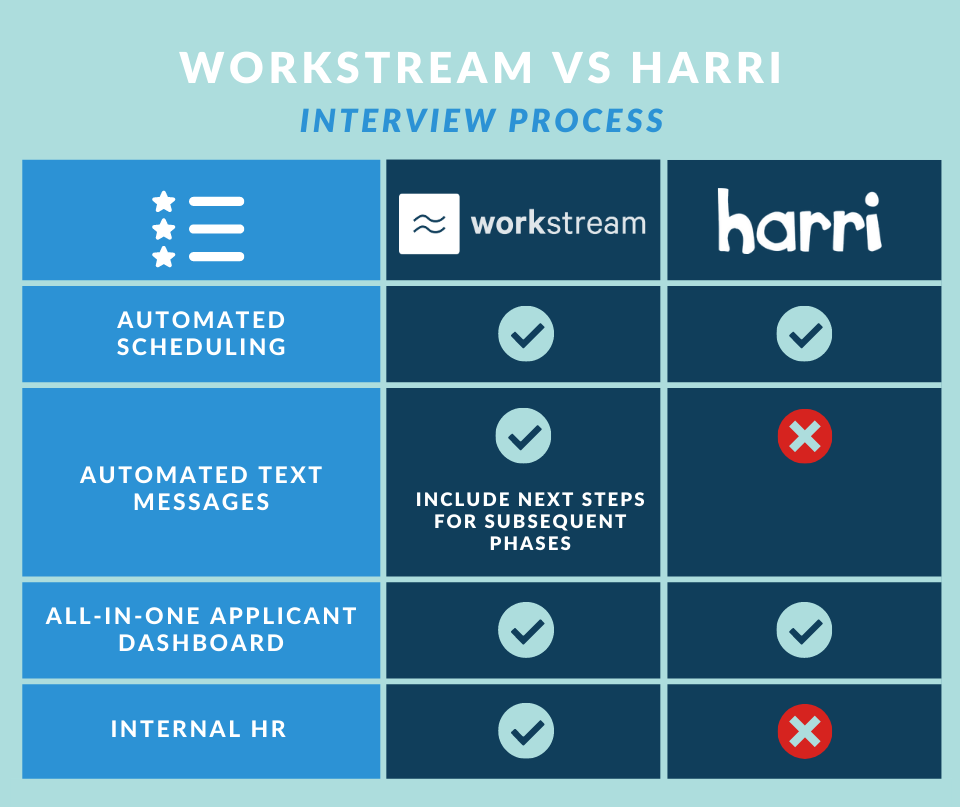 Automated Scheduling and Text
Once your quality candidates are shortlisted, both platforms will automatically schedule an interview date with them. Automated reminders are also sent prior to the interview, requiring little to no action from you. Harri uses their chatbot Carri to manage this interview coordination. At Workstream, meanwhile, candidates will receive a text message to choose an interview slot. Since your work calendar is integrated, candidates will only choose timings based on your availability.
An added feature Workstream has that Harri does not provide is our automated text feature to successful candidates. This text message will guide them through their next steps upon proceeding to the next round. As such, hiring managers will not have to worry about forgetting to follow up with their shortlisted applicants.
All-in-one Applicant Dashboard
Both platforms provide a holistic view of all the applicants in your database so that you can keep track of their progress effortlessly. Additionally, they allow you to review, tag and save applicants for future needs, making it considerably easier for hiring managers to manage their pool of candidates.
Internal HR Feedback
While both platforms allow tagging of applicants for better organization of their candidate pool, Workstream takes it a step further by providing the HR team with a platform for them to input their personal feedback of the candidates. This is particularly useful when more than one interviewer is present for the job interview. It also provides a more in-depth analysis of the candidate that can be taken into account for future references.
4. Other Features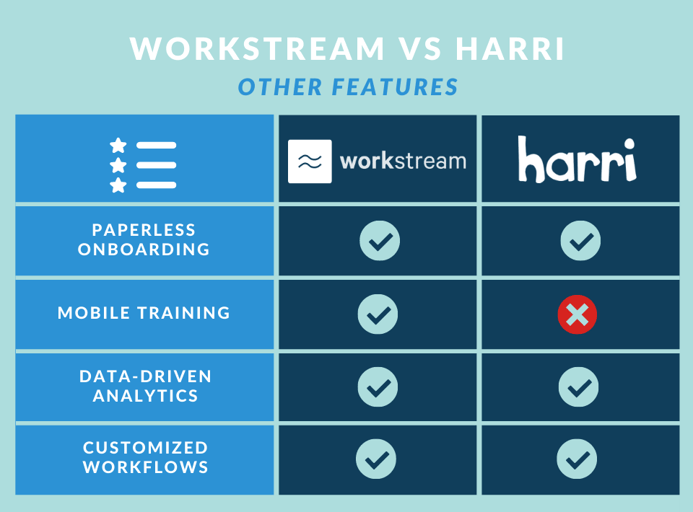 Paperless Onboarding and Mobile Training
Upon the acceptance of candidates into your company, both platforms allow them to complete their onboarding documents digitally. Harri utilizes their website for the digital onboarding while Workstream sends an automated text containing the relevant documents (e.g. policy documents, I-9, W-4 and more). Another way in which Workstream differs from Harri is our ability to provide automated text reminders to ensure that this paperwork is completed on time.
Additionally, Workstream also offers mobile training for your new (and current) employees before they start their first day of work. Handbooks, checklists and training videos are sent through a text message to ensure that they are well-equipped for the job. Again, automated reminders will be sent to them to ensure that they complete their mobile job training.
Data-driven Analytics
Data analysis is important to know whether your hiring strategy is working efficiently. Thus, both Harri and Workstream consolidate data from the different job boards so that you know which platforms your applicants are coming from. Using this data, you can reduce expenses on the job boards that provide fewer returns, and focus on those that provide you with longer-term hires.
Customized Workflows
Both platforms understand that different jobs may require a different hiring process. This is why they let you take control of the design of your screening stage. Workstream also lets you decide which stage you want to automate so that you can focus on the more important aspects of your hiring.
Convinced that Workstream is the right hiring platform for you? Book a free demo with us now so we know how to best help you with your hiring needs. Thus far, we have assisted over 5,000 hiring managers to get 4x the number of qualified applicants and reduced their time-to-hire by 70%. Join our growing number of customers who have benefitted from the use of our services today!
Workstream is a hiring platform that helps employers get 4x the number of qualified applicants. The world's most trusted brands use Workstream to optimize job board postings, automate screening and interview scheduling, communicate via text message, and streamline the onboarding/training process. See what all the buzz is about by scheduling a demo or email us info@workstream.is!