HigherMe and Workstream are both applicant tracking systems (ATS) that focus on providing fast and efficient hiring solutions for hiring managers. Both platforms help to source, screen and onboard hourly employees, enabling them to cut their clients' time-to-hire substantially.
You might have noticed that both of these platforms provide very similar solutions. And now you're left wondering which of them will best meet the needs of your business. Well, that is why we have summarized their available features so that you are able to identify the products which are more essential for your company.
The features are broken down into four key areas below, (1) the Job Application Process, (2) Initial Screening Process, (3) Interview Scheduling and (4) Other Features.
Job Application Process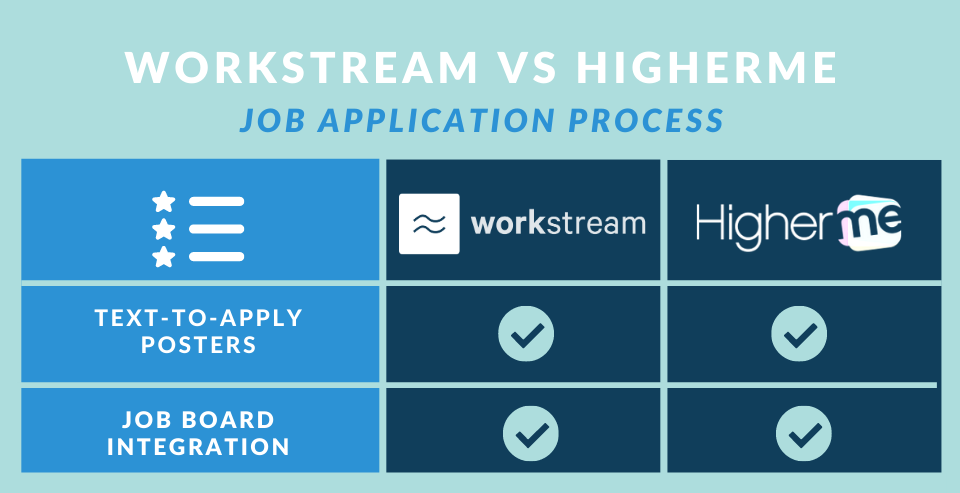 Text-To-Apply Posters
The obvious good thing about Workstream and HigherMe is that both are mobile-friendly. We understand that 70% of job seekers will usually apply for jobs through their smartphones. With the text-to-apply feature, it will be easier for applicants to apply for a job, increasing the convenience for job seekers. In addition to the text-to-apply feature, both platforms also provide a QR code that opens a link to all available positions, further expediting the application process.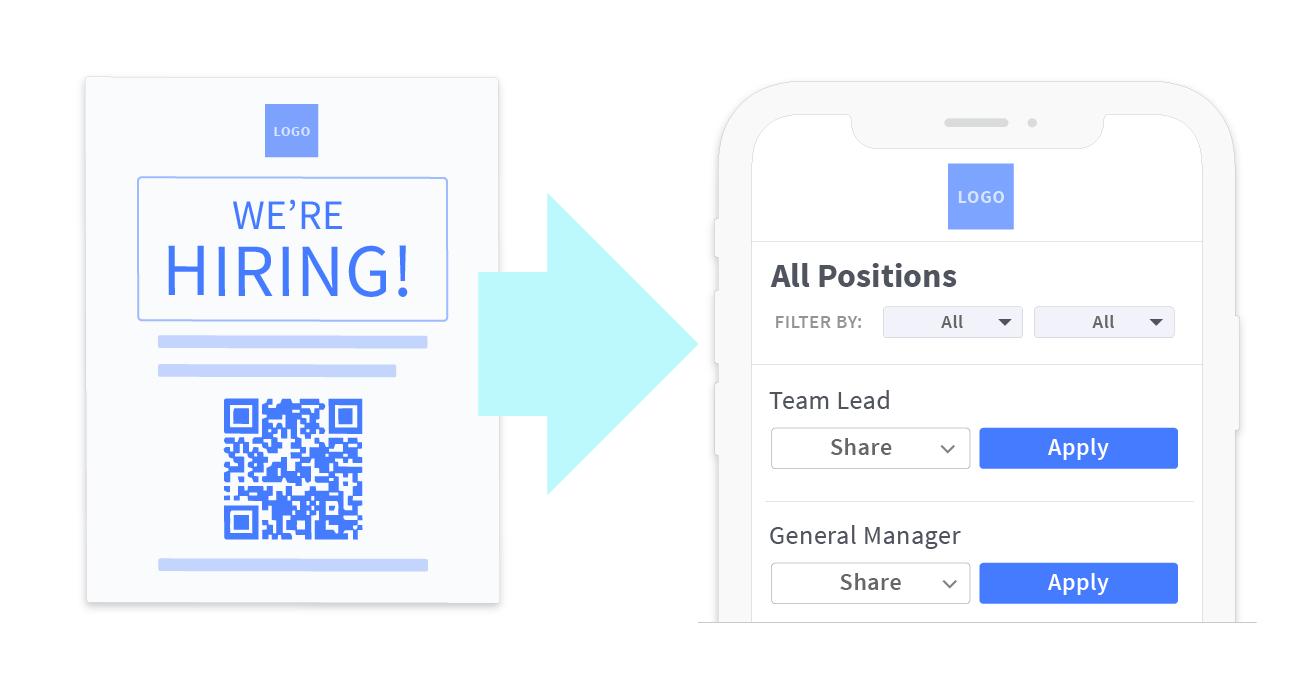 Job Board Integrations
Both of the platforms are integrated with different job boards available in the market. HigherMe has direct integrations with approximately 20 job boards and thousands of others in those networks. On the other hand, Workstream has 25,000 job boards under our belt, allowing us to reach out to many potential quality candidates in just a single click. One thing's for sure - the visibility of your job ad will not be an issue should you employ our services or HigherMe's.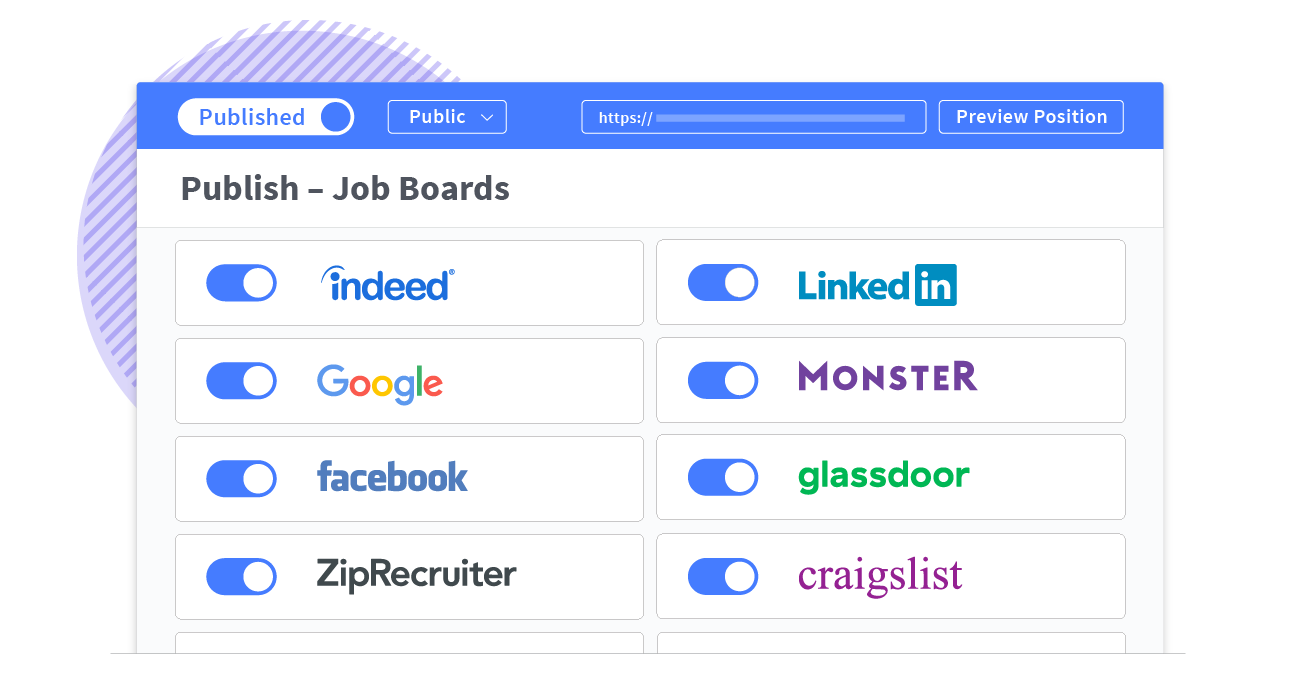 Initial Screening Process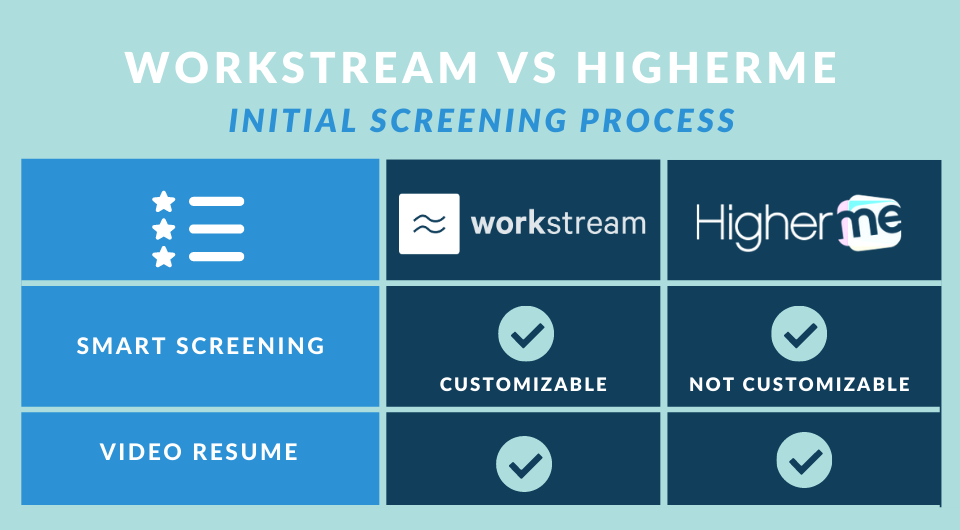 Smart Screening
Both Workstream and HigherMe use smart screening to pick out the most suitable candidates based on the qualities you are looking for in your hourly workers. This allows your hiring managers to save precious time as they no longer have to go through the resumes of every applicant. However, there is a slight variation in the smart screening feature of each platform.
HigherMe uses a Smart FitScore algorithm which assesses how suitable a candidate is by comparing their experience to the job prerequisites, their distance from the job location and their availability. Pre-screening questions will also impact their FitScore to ensure that only suitable candidates are shortlisted. The algorithm will then give each candidate a score of zero to 100 so that hiring managers can see the best candidates without reading their resumes.
Similarly, Workstream helps you screen your applicants to assess their fit for the job. You are also allowed to customize your screening questions so that you are not limited to the requirements set by the platform. In other words, you can set your own criteria based on the job position you are hiring for. If the candidate is deemed unfit for the position based on their responses, they will be automatically rejected for the position they applied for.
Video Resumes
Before selecting your candidates, Workstream and HigherMe let you request candidates to submit a short video to introduce themselves as part of the application process. With this, you are able to ascertain who is really interested in a position and whether their personality is a right fit for the job.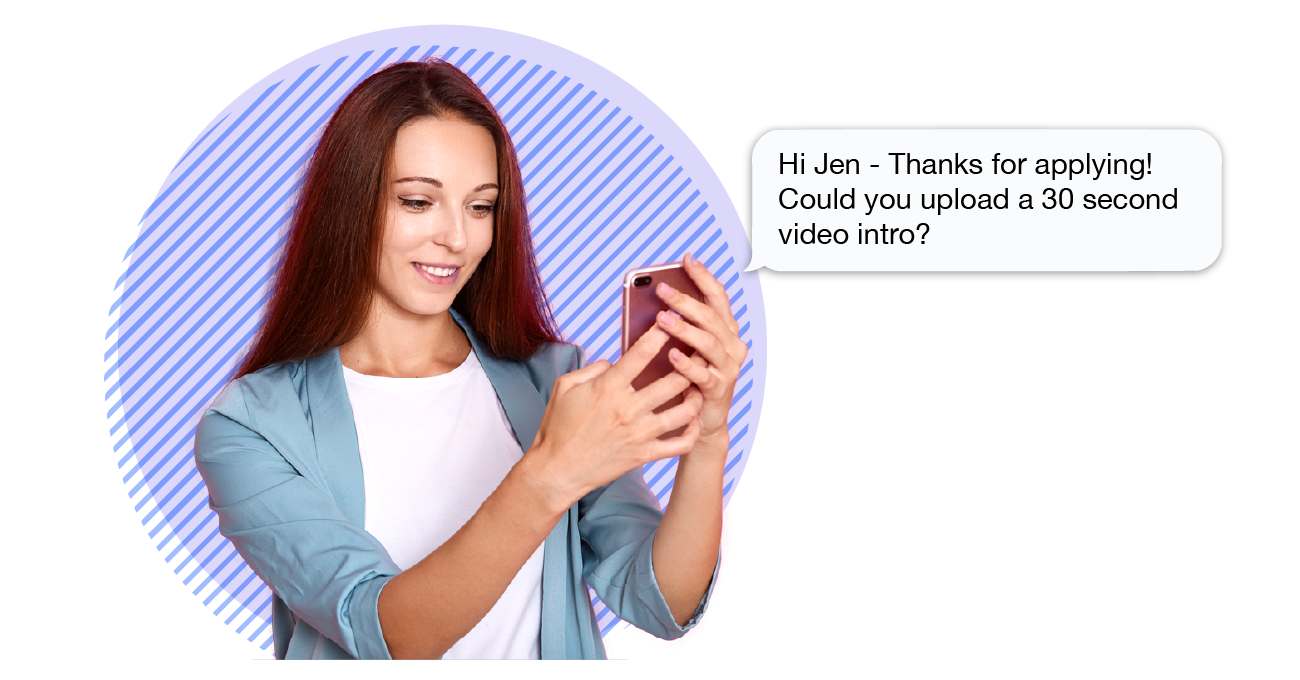 Interview Scheduling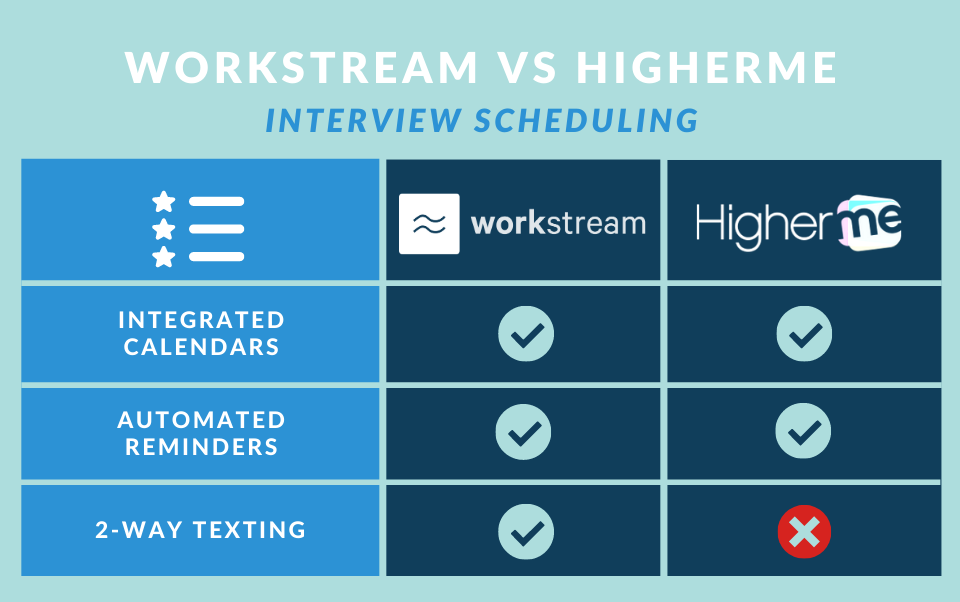 Integrated Calendar
To increase the convenience of setting up interviews, Workstream and HigherMe allow you to have your calendar integrated into your workflow. Qualified candidates will have access to your calendar and are able to choose their interview dates based on your availability. This reduces the back and forth that is usually required when setting up an interview date via traditional methods.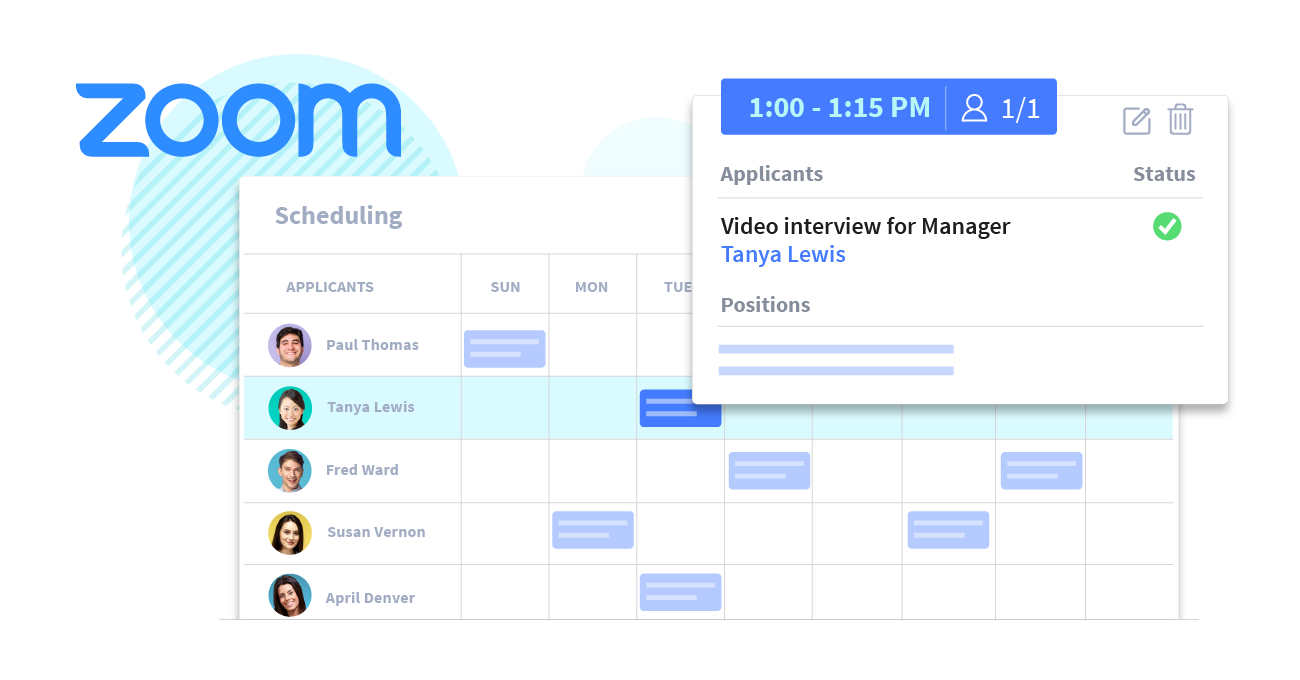 Automated Reminders
Both Workstream and HigherMe have automated reminders that are sent to the candidates before their scheduled interview to reduce ghosting. For HigherMe, the messages are sent a day before the interview. With Workstream, you can choose when you would like to have the reminder sent out, be it a day or even just a few hours before.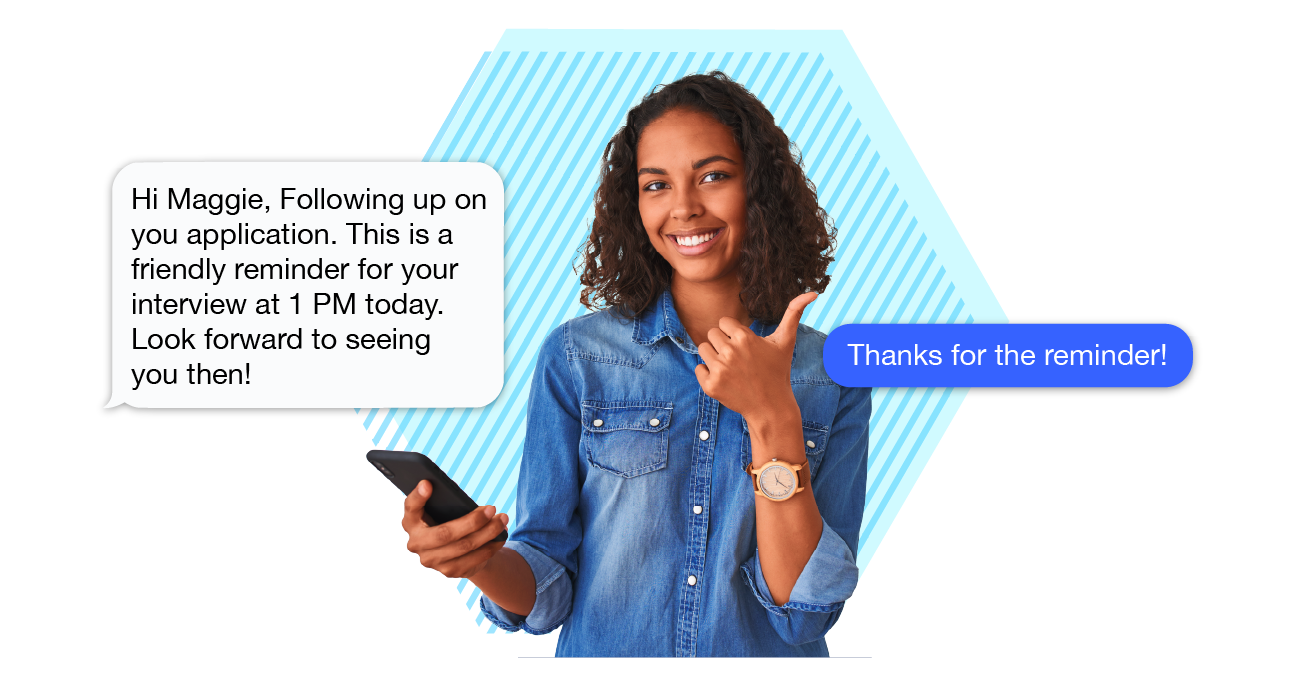 2-Way Texting
Additionally, Workstream provides 2-way texting to make the process of rescheduling easier for both applicants and hiring managers. By making it more convenient to reschedule, we reduce the likelihood of a candidate ghosting merely because they find it a hassle to rearrange their interview slot. Concerned about whose number the candidates will be texting? Don't fret. We will be providing you with a contact number so you need not worry about having your personal contact number being circulated.
Other Features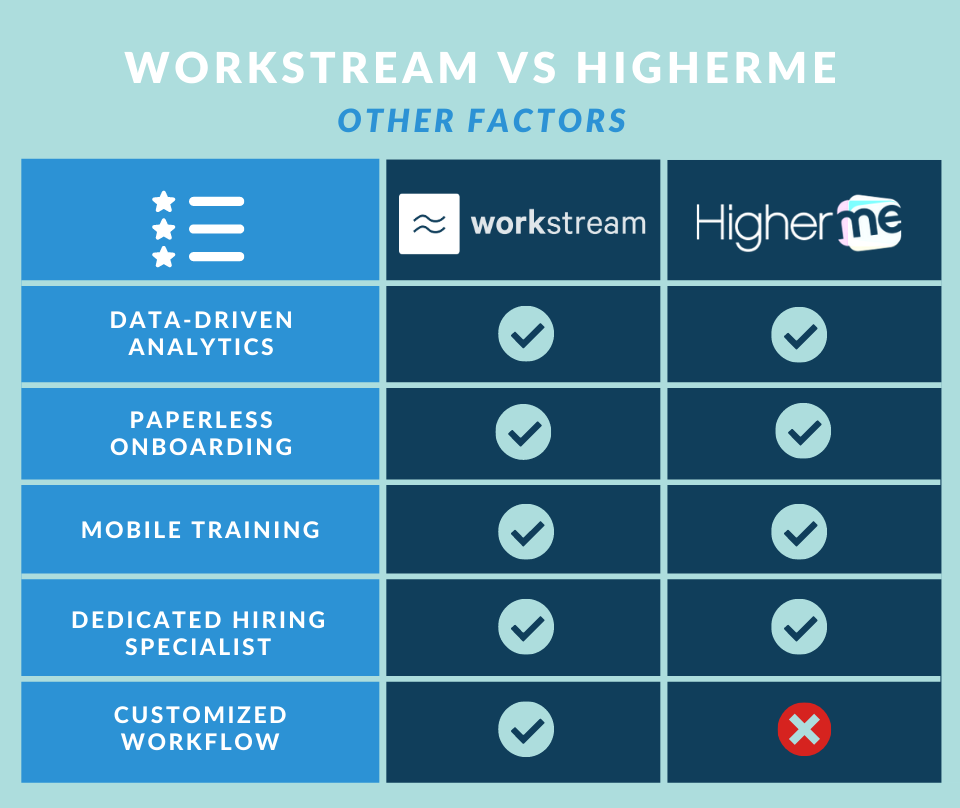 Data-Driven Analytics
Workstream and HigherMe analyze data from the job boards they are integrated with so that you know where most of your quality candidates are coming from. This allows you to identify job boards that are more efficient in bringing you long-term hires. While doing so, you are able to reduce spending in other areas that do not provide as much returns.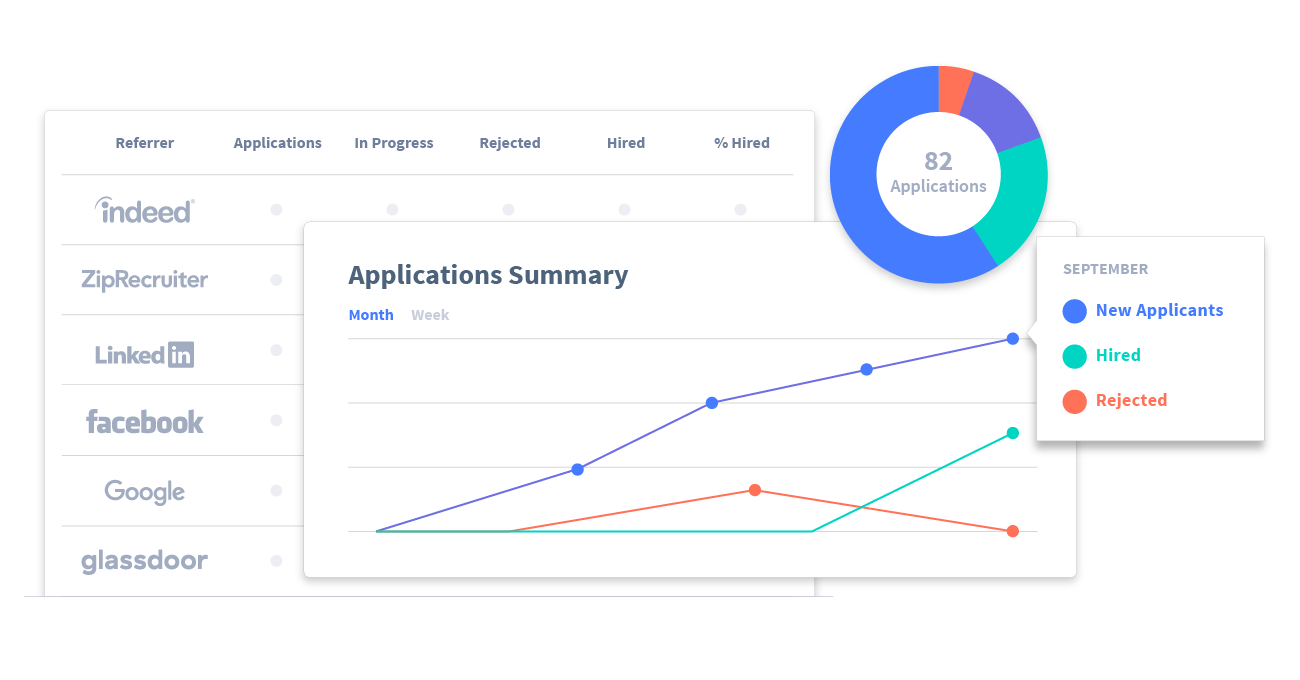 Paperless Onboarding
As soon as candidates are hired into your company, Workstream and HigherMe will send an automated text to them which contains relevant documents necessary for their onboarding (e.g. policy documents, I-9, W-4 and more). Alerts will also be sent to ensure that the paperwork is complete.
By going paperless for the onboarding of new hires, you will be able to reduce the tedious work of sifting through paperwork. This has also been proven to save substantial time for their existing clients.
Mobile Training
In addition to paperless onboarding, both platforms also take a step further to include mobile training for your new hires. With us, you are able to send handbooks, checklists and training videos through a text message before your employees start their first day of work. SMS reminders are also sent to ensure they complete their mobile training.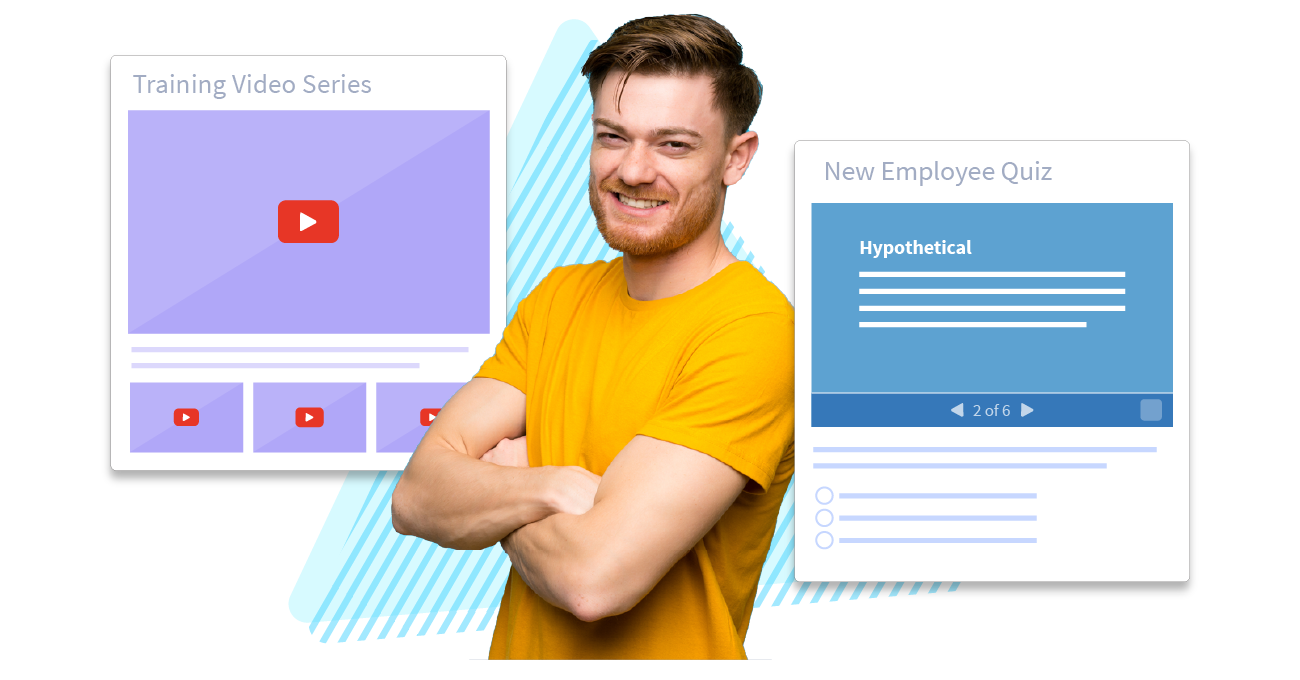 Dedicated Hiring Specialist
Upon registration with Workstream and HigherMe, you will be assigned a dedicated hiring specialist who will guide you through the setting up of your hiring workflow. Our support team is also available 24/7 to address any of your questions while you create your very own hiring process.
Customized Workflow
We understand that different jobs may require a different set of hiring processes. That is why we allow you to set up your own workflow. With this, you can determine the number of stages and send automated messages whenever an applicant progresses to the next stage.
If you are convinced that Workstream is the hiring platform for you, schedule a free demo with us! We can help you get 4x the number of qualified applicants and reduce your time-to-hire by 70%. Join the growing number of hiring managers we have assisted today!
Workstream is a hiring platform that helps employers get 4x the number of qualified applicants. The world's most trusted brands use Workstream to optimize job board postings, automate screening and interview scheduling, communicate via text message, and streamline the onboarding/training process. See what all the buzz is about by scheduling a demo or email us info@workstream.is!