When it comes to the world of fast food, McDonald's is undoubtedly a force to be reckoned with. With an annual average revenue per restaurant of $2.7 million and over 13,000 restaurants in the US, the fast food giant continues to reign supreme.
Growth Strategy
In recent years, there has been an increase in the rate at which fast food brands are embracing digital transformation, to which McDonald's is no stranger to.
The franchise launched its Velocity Growth Plan in 2017 in order to accelerate its growth. This strategy focused on three pillars of growth:
Retaining existing customers

Regaining customers lost

Turning casual customers into committed
In order to achieve its goals, McDonald's focused on several things - food, value, and customer experience. In doing so, the brand has identified and aggressively implemented three growth accelerators:
Experience of The Future: Restaurant modernization and technological upgrades to enhance customer experience and brand perception

Digital: More options for customers to order and pay via digital touchpoints such as apps and self-order kiosks etc.

Delivery: Restaurants offer delivery independently and/or partner with companies like Uber Eats and DoorDash.
When McDonald's first announced their growth plans in 2017, they aimed for 85% of its restaurants to be owned by franchisees. Today, franchisees make up 95% in the U.S. locations and over 90% worldwide. That's a 10% increase from their initial plan. In 2019, McDonald's emerged top among the 10 most valuable fast food brands worldwide in (in million U.S. dollars).
Photo credit: https://www.statista.com/statistics/273057/value-of-the-most-valuable-fast-food-brands-worldwide/
Employee/Hiring Data
Photo credit: https://www.statista.com/statistics/819966/mcdonald-s-number-of-employees/
Photo credit: https://www.statista.com/statistics/219454/mcdonalds-restaurants-worldwide/
While growth statistics appear to be moving in the right direction, other numbers seem to be going in the completely opposite way. The number of McDonald's restaurants have been increasing steadily over the years. Yet, as the brand continues to grow steadily, the number of employees have been declining over time.
According to Macrotrends, the number of employees fell by an astounding 37.33% from 2016 to 2017, before decreasing by an additional 10.64% from 2017 to 2018. These sharp declines in the number of employees occurred around the same time the fast food superpower launched its rapid growth strategy.
But with the implementation of new technology to enhance the services provided, existing employees should experience a smoother and more efficient workflow, right?
Implications of Declining Employees
The huge decline in employees has resulted in severe understaffing in McDonald's branches across the world. This has in turn increased the pressure on existing employees to work faster even though this may jeopardize their safety. This problem is intensified during peak periods when the crowd is greater than usual. In 2015, employees filed 28 complaints against the fast food giant alleging that the workplace injuries they received were a result of understaffing and the pressure to work fast.
The plan to implement new technologies aimed to improve customer experience by making it easier and more convenient for customers to order and pay for food. By default, this would mean that customer-facing employees should have an easier time at work since they would not have to take the time and trouble to customize orders and ask many questions. Yet, the implementation of new technologies such as self-order kiosks could be the very reason why McDonald's employee retention rates are decreasing rapidly.
Former McDonald's employees told Bloomberg in 2018 that the implementation of new technologies was the exact reason they left. Former employee Dudley Dickerson said that the new equipment makes things a lot more difficult for employees.
Furthermore, employees were not given sufficient training to manage new technologies such as apps and kiosks. They were not even paid for these additional roles. And the new machines break down often.
What's Next for McDonald's?
According to the US Bureau of Labor Statistics, the unemployment rate is currently among the lowest in the past 10 years. As of November 2019, the number of unemployed persons as of 2019 is 0.9. The power is in the hands of the applicants and employees.
And as the restaurant industry continues growth, an additional 1.6 million jobs are expected to be created by 2029. The competition to hire the best candidates is fiercer than ever.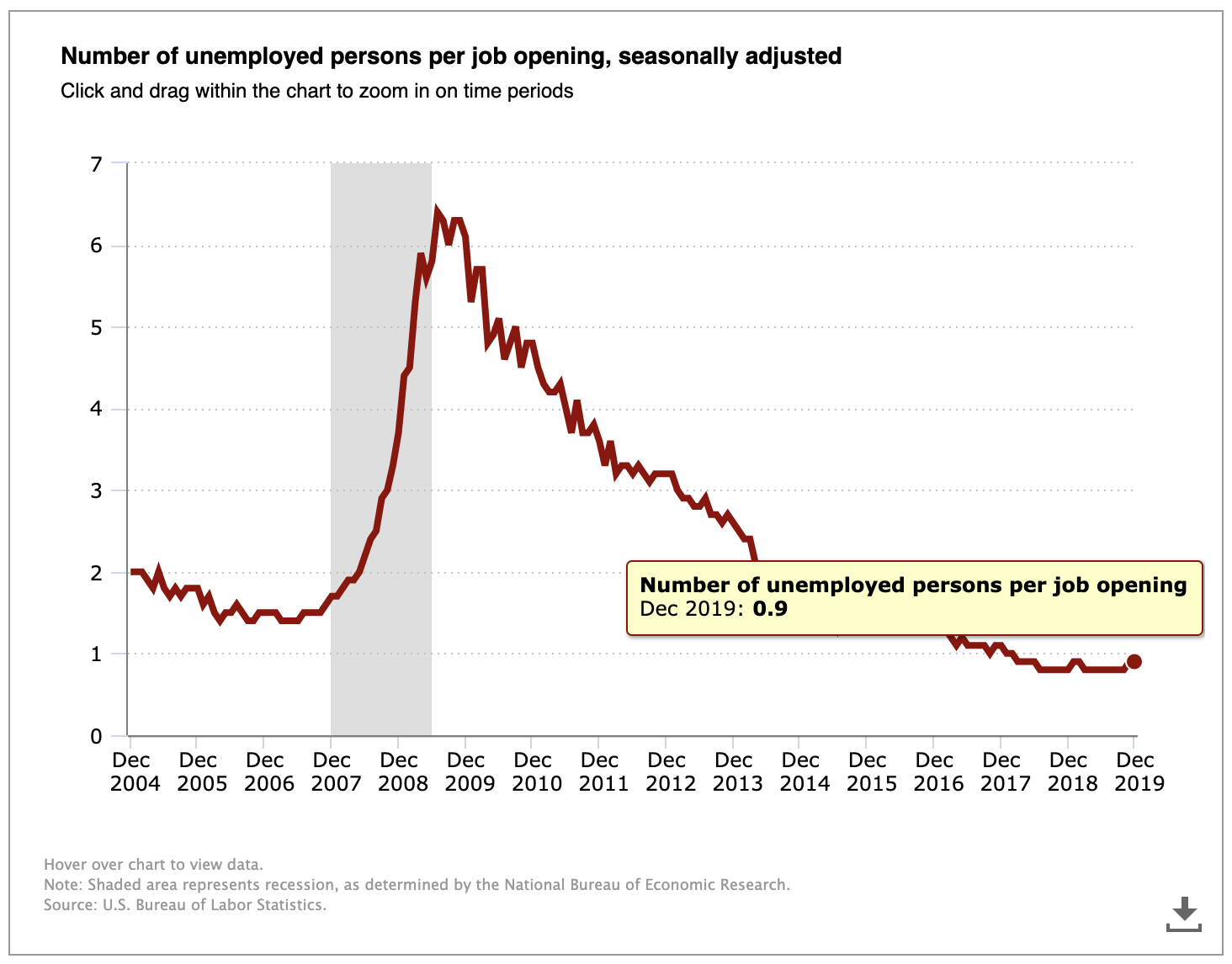 Photo credit: https://www.bls.gov/charts/job-openings-and-labor-turnover/unemp-per-job-opening.htm
Nigel is not just a marketer at Workstream, he is also a graduate of Psychology and Marketing of Singapore Management University. He has multiple experiences in various areas of marketing - advertising, email marketing, and content writing. Fun fact, prior to joining Workstream, he took a semester off school to intern at SAP in Brazil.