Don't be fooled by the "Mc" in its name - McHire was not built by McDonalds. McHire is a talent recruiting platform built by Paradox for McDonald's corporate branches. It is a modified version of Paradox's hiring chatbot.
Workstream is a talent recruiting platform designed for franchise owners. Workstream helps streamline the hiring process. Franchise owners report getting 4x the number of applicants and a reduction in time to hire by 70%. Here's why franchise owners and operators choose Workstream.

Workstream was created specifically to cater to the hiring needs of franchise owners - we understand that their needs are different from corporate. Workstream helps increase the number of applicants you get, track their progress, automate scheduling, and streamline employee onboarding.
Also, Workstream is more flexible. McHire requires a one-year contract and prices all locations the same. Workstream is more flexible with month-to-month pricing and volume discounts. We also take into consideration the unemployment rate of your franchise locations to determine which features you need and price accordingly.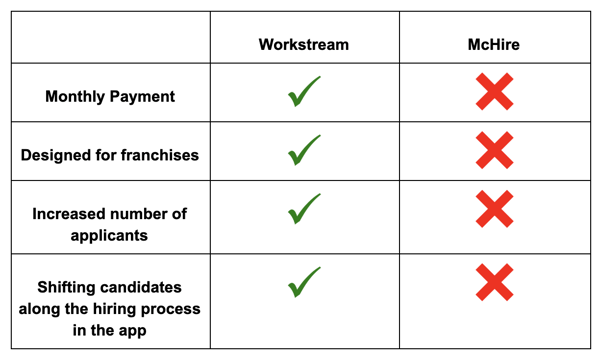 Alex Andrewman, Director of Operations, Halal Guys:
"Before Workstream, our main challenges were not getting enough applicants and streamlining the whole onboarding process. One of the features Workstream provides is a constant influx of applicants and a streamlined hiring process. We can also use Workstream to send applicants forms via messaging. By automating the entire process, we are saving a lot of time and allows for digital record keeping which eliminates the need for files within the store. "

Rachel Heus, HR Director, Chick-fil-A:
"Workstream streamlines everything from screening applicants to paperwork. We can hire an employee overnight. It takes so much less time."
"Something we struggle with is to attract and vet qualified people. One of the beauties of Workstream is that they've simplified it for us. Everything is computer-based. So not only can you bet that candidates have emails and resumes coming to you, you can respond via text message and email without giving your personal number away, it's all through the system."
Find out what more of our clients have to say about Workstream, and what makes it one of the best recruiting platforms out there.
Nigel is not just a marketer at Workstream, he is also a graduate of Psychology and Marketing of Singapore Management University. He has multiple experiences in various areas of marketing - advertising, email marketing, and content writing. Fun fact, prior to joining Workstream, he took a semester off school to intern at SAP in Brazil.