"Public sector employees are the eyes and ears on the ground for the communities they serve." - James P. Hoffa
In this week's newsletter, we examine the big difference in job recovery in the private and public sectors, the jobs in the highest demand during this pandemic, and the potential V-shaped recovery of the hospitality industry.
In other news, you can claim up to $2,400 for hiring someone who was unemployed and up to $9,000 for hiring someone who was on Temporary Assistance for Needy Families (TANF). We're going over the full WOTC program and changes to legislation this Wednesday at 11 AM. Join the live webinar and Q&A!
The private sector is back! The public sector is, well…
The May jobs report was unexpected, to say the least. And despite some issues with good data (which we covered in our blog post), it showed that jobs are coming back - at least in the private sector.
While employers added about 3 million jobs in May, state and local governments were still shedding jobs as they did in April. According to CNN, these are the worst 2 months for public sector jobs since 1955, having lost 1.5 million jobs on the state and local level. So while many jobs are coming back, that's not the case yet for public school teachers, social service workers, and parks and recreation employees, among others.
State and local governments are the largest employers in the nation, so a slow recovery here will hit the economy hard, even with private sector jobs recovering.
The Takeaway: No jobs recovery will be complete without public sector jobs coming back as well. But due to the massive amounts of borrowed monies due to the pandemic, government jobs may have to wait until there is adequate funding to rehire all these employees.
Essential goods movers: the highest demand jobs right now.
Glassdoor (via Yahoo! Finance) compiled data to show us something we probably knew intuitively, but is still eye-opening to see collected onto a chart like this: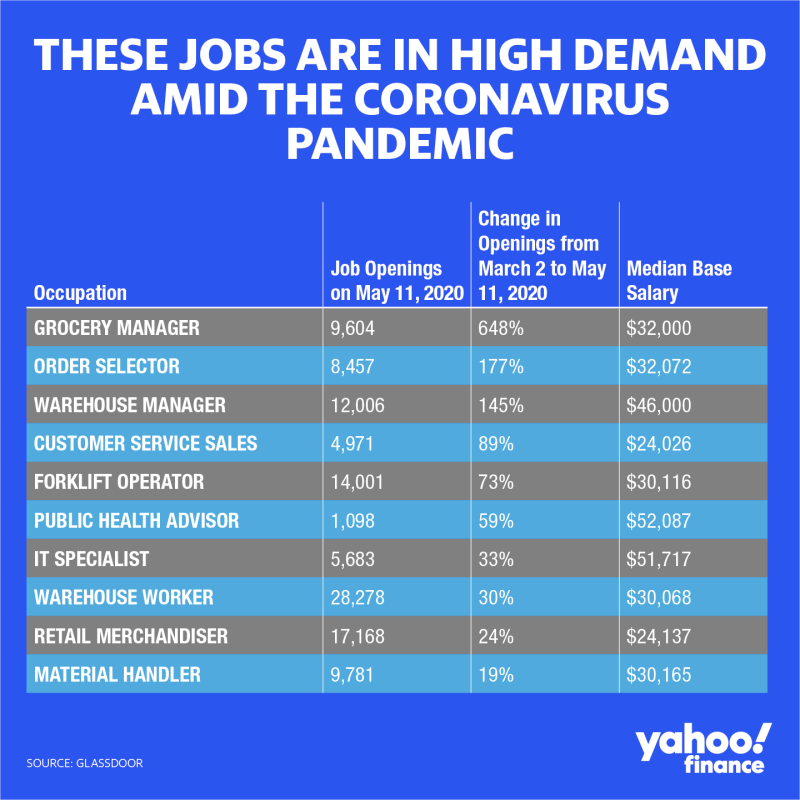 Sure, a 33% increase in demand for IT Specialists from March to May is impressive, but a 648% increase for grocery managers? 177% increase for order selectors? The current need for workers who can manage and move essential goods and supplies is something we've never seen before. And experts don't predict these hiring surges will go away even as businesses reopen and restrictions relax.
Meanwhile, jobs like booksellers, tutors, and catering assistants have seen over an 80% drop. While these are important jobs during normal times, this disparity gives us a good idea of which sectors will be hiring, and which won't be, as we continue on the road to recovery.
The Takeaway: This pandemic is giving us insight into what "essential" jobs really mean, and which jobs are sadly not considered vital at this time. With potential second waves, and thus second lock downs, possible in the winter, these hiring and not-hiring trends may continue through the end of the year.
Wanderlusted.
After being home sick, Americans seem to be sick of being home as travel appears to be ticking up heading into the summer months. TSA data shows that 440,000 people flew this past Sunday, the highest level of travelers since mid-March. And hotels were about 37% full, very much up from the lows of about 22% in April. The year-over-year numbers are still far below normal, but this somewhat early recovery in travel and hospitality is a great sign.
One travel option to watch for? Road trips. There is "tremendous pent-up demand for the leisure segment," said David Kong, president and CEO of Best Western Hotels & Resorts. "Demand is going to be dominated by road trips. People prefer to drive in the safety of their cars than fly." This means hotels may recover quicker than flights, and in fact, nearly a third of US consumers plan to stay in a hotel in the next three months.
The Takeaway: For better or for worse, Americans are shedding some worries over the coronavirus and taking to travel again. But with continuing financial concerns and high unemployment, expect travel to be on the less expensive side with a lot more driving this summer.
Need help hiring the right people? Workstream can help. Our platform gets you 4x the number of qualified applicants and reduces your time-to-hire by 70%.
Robert Woo is a freelance content creator for various companies from startup to enterprise-level. When not writing SEO-friendly articles, he writes and performs comedy, plays guitar, and champions the Oxford comma.