"We believe that if men have the talent to invent new machines that put men out of work, they have the talent to put those men back to work." - John F. Kennedy

In this week's newsletter, we examine reports of jobs that are going away permanently, Amazon's ability to surge their hiring during the pandemic, and how one university abroad is tackling the lack of female hires.
Due to popular demand, we're bringing back our WOTC Live Webinar for a second run this week! Last week's webinar was capped at 500 participants, and many folks weren't able to secure a slot. Don't miss this last chance at learning how to claim up to $9K in tax credits, and having your questions answered in our live Q&A!
The reasons why some jobs just won't come back.
Hiring hit an all-time low of 2.7% back in April, and though we've rebounded a bit in recent months, there's still a long way to go for a full recovery. The big problem is that some jobs will be permanently gone -- about 30% of U.S. job losses might not return, according to new studies by Bloomberg Economics. This echos similar numbers from research done in the UK and in Chicago a month ago. But what is the reason behind the permanent loss?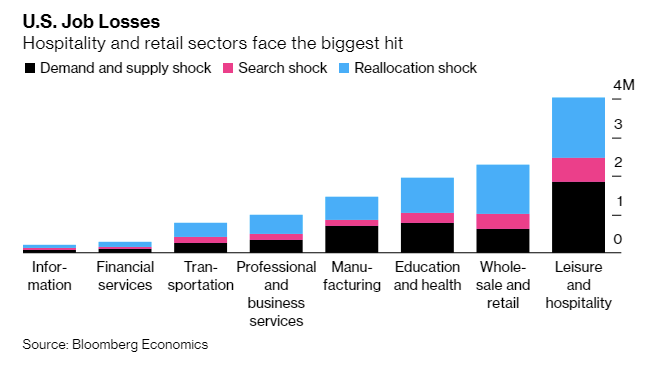 At it's core, it's the uncertainty of the virus in both economical and emotional ways. If there was a clear end date to partial reopenings, businesses could plan around these restriction and run lean until full reopening. But with virus numbers spiking across the country, it's impossible to "wait it out" and businesses are forced to close for good. And with trepidation of venturing out, not enough consumers are spending to keep businesses afloat and workers employed.
Hiring will look very different for the next year or more due to the sudden shift from record low unemployment to high, sustained unemployment. This also leads to skills being lost, exacerbating the hiring issue the longer it goes on.
The Takeaway: Finding good candidates will consist of filtering out hundreds of applications in the near future. There will also be millions looking to retrain into a new industry. For hiring managers, this is a good time to find smart, dedicated workers at a discount.
How Amazon hired 175,000 workers is like an HR thriller.
If there is ever an action movie based around hiring, the story behind Amazon's surge to hire during COVID19 might make for a good screenplay. MIT Technology Review's recent article on how Amazon went about hiring so many workers in such a short amount of time is fairly mind-blowing, even given the amount of resources that the tech giant has. After all, no matter how much money you have, there will always be bottlenecks to onboarding.
But there are some big lessons to be learned from Amazon's massive hiring spree:
Converting almost completely to a virtual hiring and onboarding system was key to their success, and perhaps the new normal moving forward.
The issues were less on rushed hiring, but rather what happens on the floor on day one. Executives figured out the funnel of getting new workers, but not how to properly deploy them in their warehouses.
The time from application to first work day was less than 10 days for many workers.
The entire article is worth a read for hiring tips, if not just the inside story.
The Takeaway: Big ships take longer to turn, but Amazon converted its hiring to a virtual process nearly overnight. While the safety concerns of the virus made working difficult, the update to their hiring process showed that these big changes in strange times can be accomplished on a massive scale.
Only hire women: a radical approach or just what they need?
The Eindhoven University of Technology in the Netherlands knew it had a male/female problem with just 15% of its professors being women... even though about half of their graduates were women. They decided to do something fairly radical to improve the numbers: only hire women until that number increases to 30%.
There has already been pushback, as the Netherlands Institute for Human Rights is now involved, debating whether the women-first initiative is discriminatory. But many others have applauded the university's commitment to rectifying a gender imbalance in the workplace.
The Takeaway: Could this idea happen in the US? Not with the current laws in the books. A business is allowed to hire just one gender only if it's crucial to the job itself (think Hooters). But from an HR perspective, it's incredibly interesting to see how this Dutch university's initiative will shake out. While it might not set a precedent for the US, sentiments change, and it is an approach to hiring to keep an eye on.
Need help hiring the right people? Workstream can help. Our platform gets you 4x the number of qualified applicants and reduces your time-to-hire by 70%.
Robert Woo is a freelance content creator for various companies from startup to enterprise-level. When not writing SEO-friendly articles, he writes and performs comedy, plays guitar, and champions the Oxford comma.