"The trouble with unemployment is that the minute you wake up in the morning, you're on the job." - Slappy White
In this week's post, we find some solace in a hiring rate that seems to have bottomed out, encourage PPP loan recipients to do their due diligence (again), and examine why healthcare benefits are the new hotness for recruiting.
This week's webinar will be an exclusive Q&A with Executives in Assisted Living. Do seize this rare opportunity to pick the brains of 5 very established leaders in their field. Together with Lydia, we'll seek to address this pertinent issue: how to succeed in this current climate?
Join us this Wednesday at 11 AM PST!
The hiring rate may be at the lowest it will go.
According to data from LinkedIn, "the hiring rate in the US on May 8th was down nearly 34% year over year." Considering the numbers showed that it was down about 38% in mid April, a month of consistency in the hiring rate may show that this is as low as it will go. In short, the businesses that won't be hiring already aren't hiring, so the hope is that we can only go up from here.
China and France, according to the CNBC chart below, are arguably ahead of the US in recovery from the pandemic, and these nations are seeing a gradual increase in their respective hiring rates since the start of April: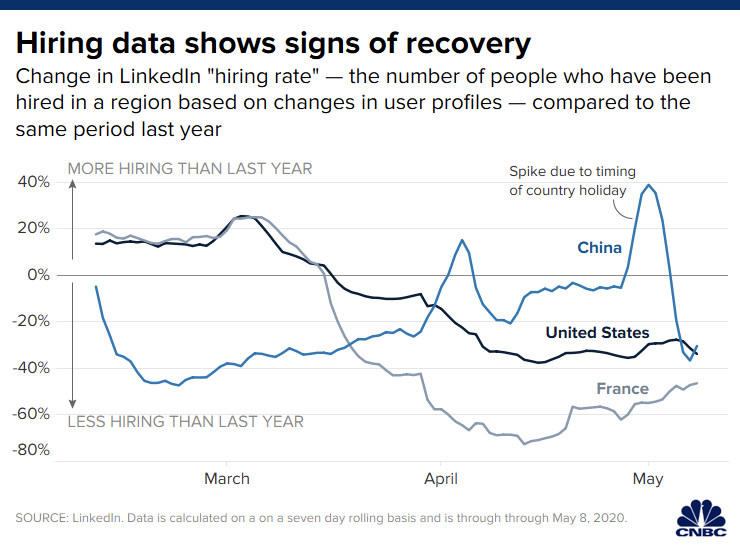 The Takeaway: While the hiring rate may have stabilized, all signs still point to a long, gradual recovery of the job market. In fact, new reports show that "hiring intentions" of many businesses have fallen to 2005 levels. Just 2 in every 5 employers are planning to recruit in the next three months. But the good news is that we seem to have bottomed out, and it can only get better from here.
Some PPP questions have been clarified! But just some.
The Paycheck Protection Program that has been designed to be a lifeline for businesses during the current COVID-19 crisis hasn't gotten off to a good start. One of the many questions on the PPP forgiveness requirements was how "full-time equivalents" would be determined, since it is contingent on retaining these employees near their full salary and hours.
To help clarify such questions, the Treasury and SBA have released an 11-page document addressing many of the questions around loan forgiveness. Considering how important this is to PPP recipients, we highly recommend reading through the new document and teasing out their explanations. It might give more guidance on whether your business will need to hire more full-time employees with the PPP loan, or whether multiple part-time employees can similarly fulfill its requirements.
The Takeaway: Getting your PPP loan forgiven can become an unexpected headache for many businesses in a few months. Be sure to read up on the new guidance (Forbes put it all into plain English) so you're not left footing the full bill when the government comes calling.
Healthcare will be the most important hiring benefit, full stop.
A new survey from Willis Towers Watson shows that nearly half of respondents will be enhancing their healthcare benefits and wellness programs due to the pandemic. It seems many employers are looking ahead as to how best to protect their employees from an ongoing health crisis. But it's a savvy move as well for hiring, since job seekers will have a newfound interest in health benefits as it will be top of mind.
Back in 2019, a MetLife survey showed that 30% of employees would take a lower salary for better benefits, and with a new health-concerned workforce across the US, we would expect that percentage to rise. Unless a plan for universal healthcare that is not tied to employment comes about, hiring managers should expect to field more questions and concerns about their company's health policies. In short, free lunches are nice, but better coverage will be key to landing better employees.
The Takeaway: Business owners need to prepare for the new reality of paying for top-notch healthcare benefits for employees, in order to hire top-notch talent. Luckily, due to the quick rise of telehealth during the current crisis, costs may drop for general treatment to help keep the price of health plans down.
Need help hiring the right people? Workstream can help. Our platform gets you 4x the number of qualified applicants and reduces your time-to-hire by 70%.
Robert Woo is a freelance content creator for various companies from startup to enterprise-level. When not writing SEO-friendly articles, he writes and performs comedy, plays guitar, and champions the Oxford comma.