In recent months, our team was fortunate enough to be able to help many businesses with their hiring processes. Even with the pandemic, numerous general managers found our hiring tools useful in engaging hourly workers for their operations. As we helped over 5,000 clients maximize their hiring strategies, we've made many insightful discoveries and we're thrilled to share them with you. But for the sake of brevity, allow us to highlight the three features we think are helping our clients the most:
1. Automated Scheduling
The wonders of automation - life is made easier when you can complete a task with just a click of a button. Lucky for you, Workstream's automated scheduling feature allows you to do just that. Potential candidates can now choose an interview session based on your availability with minimal action from you. You simply have to select the candidates you wish to move onto the interview stage and they will receive a text message asking them to choose their interview date. Rest assured, clashes in your schedule will be avoided as your work calendar is integrated into our system. According to most of our clients, this feature is the pivotal reason why they chose to partner with us.
While this is an amazing tool, many general managers have complained about the lack of hiring activity even when they have 39 applicants in the review stage ("Hiring Pool"). This was unfortunate, so we decided to improve on this workflow.

Our team at Workstream understands that you can't afford to over-discriminate applicants when they can get a job on DoorDash or Instacart in half an hour. That is why we have revised the workflow for this feature by removing the aforementioned review stage. Our typical template for new customers is as seen below.

Now, you can not only hire conveniently but faster, ensuring that you're the early bird that catches the worm. With this workflow, your review process will be automated through the use of customized qualifying questions. Simply choose your set of pre-screening questions depending on the job position and leave it up to Workstream to move your potential candidates to the 'Onsite Interview' stage. As mentioned before, this is where they will receive an automated text to set their interview session.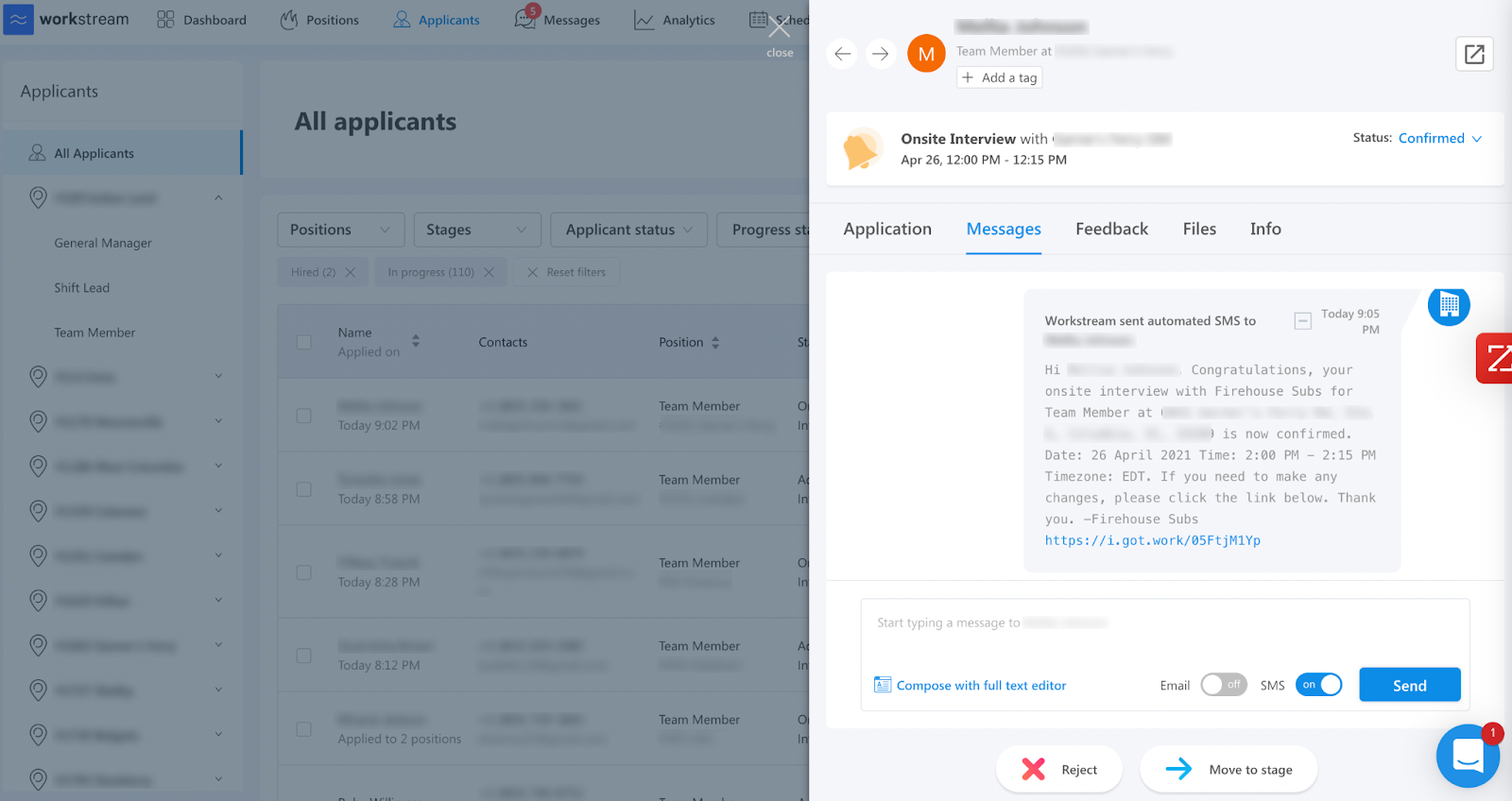 To prove how effective this is: we have had candidates apply at 1am in the morning and have interviews lined up for the next morning to get hired. Talk about the future of hiring!
Why is it important in HR?
Timing is crucial when hiring hourly employees. You want to reduce back and forths with your prospective workers as candidates for hourly positions usually expect a fast and easy application. The faster you get back to them, the higher the chance of them accepting your job offer. Aside from that, you are also able to focus on tasks that require your attention more, increasing your efficiency in the workplace.
2. Publishing Multiple Positions
With Workstream, you can post multiple positions at once. What's more, we don't bill per position posted. Thus, you do not have to worry about being charged an exorbitant amount when you upload multiple job advertisements.

Using our data-driven analytics, you will also be able to ascertain the most popular job title and the platform from which most of your candidates are coming from. So feel free to post a team member, cashier, shift leader, or sandwich artist position and see what gets the most hit for applicants. In most locations, we've found that the title "Cashier" attracts more applicants than "Team Member", so we will post both positions for our clients to draw out more candidates. Ultimately, our aim is to reach out to as many applicants as possible.
Why is it important in HR?
Not limiting your job posting to a particular position can help bring more applicants to your hiring process. With this, you are widening your talent pool and your search for quality candidates will be more successful.
3. Utilizing Our Mobile Application
Finally, we have come to the favorite part for most of our general managers - Workstream's mobile application. A mobile application is pretty much essential in this day and age where 85% of the population owns a smartphone. The best part about our application? Being able to review new applications and see who is coming in for interviews right upon opening the application.
With the usage of our application, you are provided with a one-stop solution for all your hiring needs. For one, it allows easy collaboration with other team members. This is especially useful when you have more than one person interviewing prospective employees as it makes it easier for the team to review them even after some time. Such feedback can be retrieved from the candidate's profile along with their other important details.
Our application also supports two-way texting to make the process of rescheduling easier for both applicants and hiring managers. This feature allows you to communicate with your candidates in real-time and reduces the likelihood of a candidate ghosting just because they find it a hassle to reschedule their interview. With this, you are also providing a better candidate experience since they are given a convenient platform to contact you from.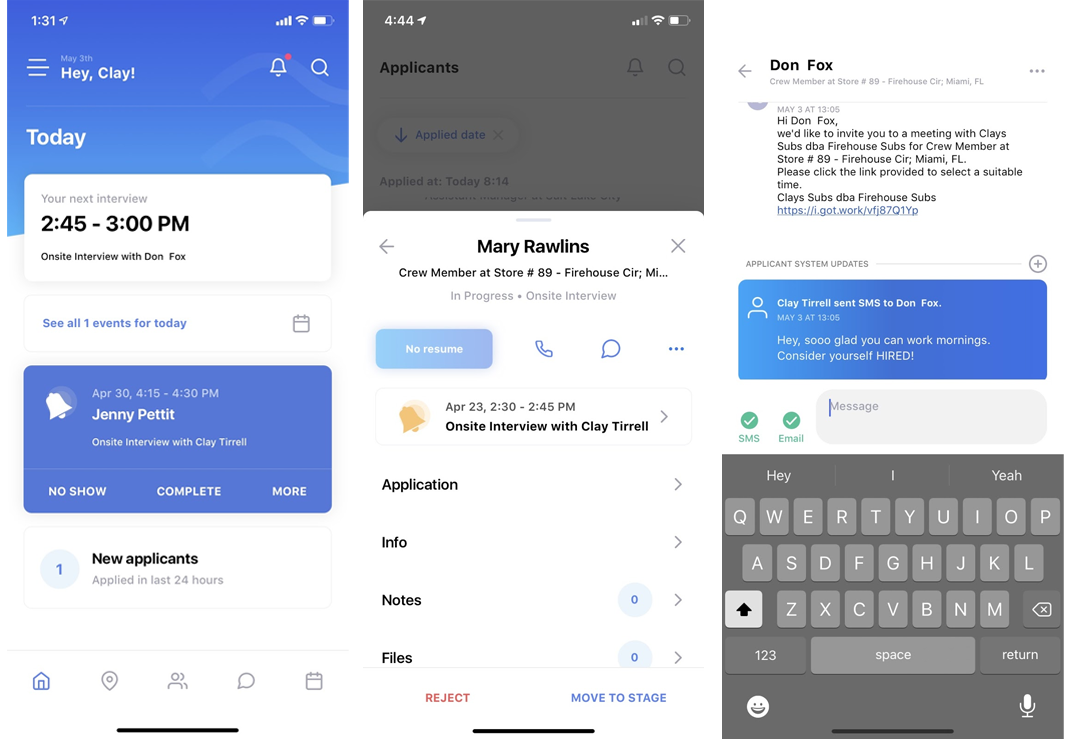 Why is it important in HR?
To reiterate, timing is vital when it comes to recruitment. With the mobile application, hiring managers who are also on the front line of business operations have the luxury of providing their applicants with a prompt response. They also have the convenience of hiring hourly workers on the go. And if you ask us, that is certainly more accessible than having to use a laptop/computer to respond to a list of applicants for a particular job position. Imagine dealing with a busy restaurant and rushing to hire new employees. Definitely not a situation we want to get ourselves into!
There are still many other features I am unable to touch upon in this article but one thing's for sure, Workstream's hiring tools have undoubtedly helped many organizations streamline their hiring processes. Thus far, we were able to cast a wider net for talent and reduce time-to-hire by 70% for our clients. If you are interested in improving your hiring workflow, contact us today for a free demo!
Hiring Specialist @ Workstream