Feeling feverish lately? Or perhaps you've got a pesky cough that won't let you breathe easy? With the US hitting almost 500,000 in coronavirus cases as of April 11, it's more crucial than ever to be aware of the state of your health. There's no need to panic either - we've put together a list of what you need to do next if you think you've been infected.
But first, what are the symptoms? According to the Centers for Disease Control and Prevention (CDC), cough and fever are among the common symptoms that appear within the incubation period (anywhere from 2 to 14 days). Emergency warning signs, for which you need to seek immediate medical attention, include but are not limited to: trouble breathing, chest pains or feeling of heaviness, bluish lips or face, state of confusion. Since the coronavirus targets the respiratory system, these emergency signs are indicative of a crucial drop in oxygen levels, and must not be overlooked.
Here's a rundown of what you can do in case you exhibit symptoms:
#StayHome
This hashtag is everywhere - in the news, on social media, in health advisories - and for good reason. The disease is transmitted via droplets, from person-to-person exposure or by contact with a contaminated surface. By lessening the contact and exposure, we can then curb transmission. #StayHome applies not only to those who are sick, but to the public in general, as studies show that it's possible for asymptomatic individuals to be carriers too.
Along with staying at home comes the second rule: home isolation. If you are exhibiting symptoms, you must self-isolate from the rest of your family, friends, housemates. There should be a designated "sick room" where you can stay to avoid contact with the rest of the household.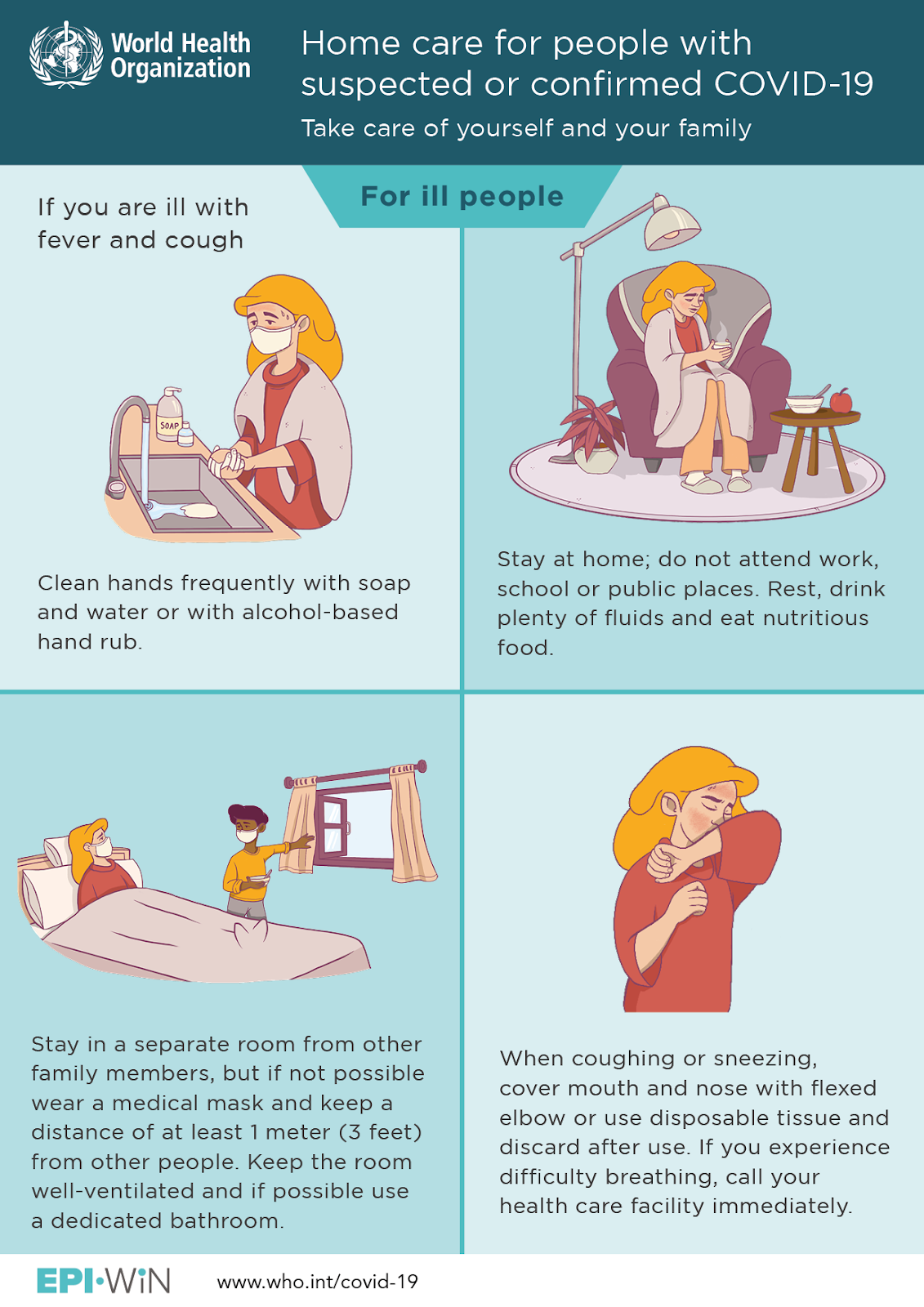 Seek Professional Help
If you are exhibiting symptoms, don't delay in seeking professional help. The CDC advises keeping in touch with your doctor and following guidelines strictly. Given the current state of healthcare facilities, it's best to call before proceeding directly to any hospitals or clinics, as they may already be at full capacity. Calling ahead will also give medical practitioners more time to prepare, reducing risk of transmission as they attend to you.
You can reach out to the CDC for coronavirus-related questions or concerns, via 1-800-232-4636 (1-800-CDC-INFO) or TTY 888-232-6348. You can also call your state health department's main contact numbers. Some states have even set up their own dedicated coronavirus hotlines, such as Florida, New York, Illinois.
Get Tested
At the moment, there are limited options for coronavirus testing. While there are tests being developed for in-home testing, at the time of writing they have not been approved by the Food and Drug Administration (FDA) for commercial use. Until these pass the FDA's strict standards, we are limited to a few options, which include CDC labs, approved testing centers, and drive thru facilities.
There are stringent policies regarding testing: the test must be requested by your doctor or a healthcare practitioner first, as there are still shortages in testing kits, supplies, and facilities. Your doctor will likely perform other checks first to rule out flu or similar illnesses that may be causing your symptoms.
What to Expect
If you do end up getting tested and the result is positive for the virus, chances are you will be advised to stay at home to recuperate. You may be thinking, why stay home when I'm sick? In many cases, those who contract the disease display mild symptoms, and are able to recover without needing hospital confinement. Healthcare facilities are currently overloaded and understaffed, and many healthcare workers have fallen victim to the coronavirus as well.
If you have mild symptoms, it's better to recuperate at home, with proper isolation and constant sanitization, than risk spreading the virus further at your local hospital. Currently, there is no vaccine for COVID-19 or any FDA-approved cures for it. For now, the usual treatment is to manage and alleviate the symptoms. For those with a sore throat, for example, taking warm showers can help, as well as installing a room humidifier. For those with more severe symptoms, breathing aids such as ventilators may be necessary.
Your next question may be: when do I consider myself fully recovered? The CDC has released detailed guidelines on when you can stop self-isolating, which you can refer to here. Always keep in mind: isolating yourself is one of the best ways to help curb transmission and flatten the curve, and should be your guiding rule throughout your experience with the disease.
Part-time content marketing writer at Workstream, full-time mom and chef wannabe. Currently catching up on her reading and trying out new recipes in the kitchen.