The ongoing COVID-19 pandemic has hit restaurants hard. It seems like everyday, another chain is posting record low numbers or even filing bankruptcy. With most people afraid to step out of their homes, constant changes to whether locations can remain open or not, and lowered capacity for in-dining, how can any restaurant business do well in this climate?

Enter Wingstop. According to a new report, Wingstop has seen their same-store sales increase by a whopping 31.9% in the second quarter. In April, May, June? During the most confusing and difficult time of the pandemic thus far?
Let's examine Wingstop's secret sauce of thriving during the pandemic.
1. Ghost Kitchens
Maintaining a sit-down restaurant during COVID-19 is a tall order. As mentioned above, many cities and states are mandating reduced seating capacities, down to 50-60% or even less depending on how 6-foot distances can be upheld for adequate social distancing between guests.
While this may be easier to accomplish at larger locations, it may not be enough to cover the cost of rent and maintenance given the usual slim profit margins for the food services industry.
Wingstop has avoided this challenge by pivoting more toward "ghost kitchens," smaller locations without guest seating areas that solely serve as pick-up and delivery restaurants. The average Wingstop location was around 1750 square feet, but these ghost kitchens are less than 400. Not only do these stores cost less to operate and lease, but can be located in less expensive areas not frequented by foot traffic.
During Q2, Wingstop actually opened 23 net new restaurants and expects to open 120 more for 2020; likely focusing on more ghost kitchens that are cheaper and faster to get off the ground.
This can serve as a great example for any restaurant chain looking to find a new, profitable business model during the time of quarantine.
2. Going Digital
Another factor in Wingstop's success is doubling down on digital delivery. The current crisis has exacerbated the need for restaurants to invest in mobile, contactless transactions, and it's happening faster than anyone could have imagined. Digital and delivery orders have increased 65%, and digital orders are expected to triple by the end of the year.
In a sense, "fast" food is becoming even faster. Mobile apps that can purchase a meal at the touch of a fingerprint is boosting sales of chains such as Pizza Hut and Domino's. Likewise, Wingstop has seen their business thrive by making it easy for customers to order from their phones… without having to actually speak through them.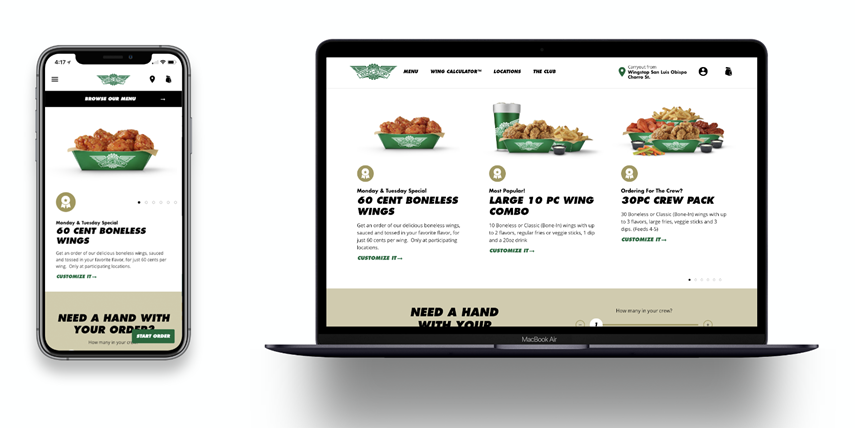 In Q2, Wingstop's digital sales were over 63%. Pre-COVID-19, it was around 40%. As more restaurants adopt a "digital delivery first" mindset and business model, they should see similar percentages as their new normal. The key is to lower the "barrier to entry" by making ordering food dead simple and a great customer experience. Wingstop succeeded in this and saw an uptick in frequency of orders from their core customers.
3. Automated Hiring
Just as Wingstop embraced digital delivery, they have also embraced digital hiring. Opening 23 new locations means a slew of hiring that has to come with it, let alone the 120+ locations Wingstop is planning to open this year. Bringing these stores online means not only finding and vetting new workers, but onboarding them as fast as possible, especially with new COVID-19 related training requirements.
Wingstop and Workstream partnered to streamline their hiring process, allowing them to interview more candidates, faster, with better results; as well as providing a digital onboarding system that helps get employees acclimated to their stores in the shortest amount of time.
For example, during this time of social distancing, the Workstream feature of having applicants upload 30-second videos of themselves can serve as a quick way to have a preliminary "interview" without ever having to schedule face-to-face time or even an online conversation. Tara Lindstrom, a multi-unit franchise owner, said it has changed the game on how she hires at her locations, effectively whittling down which applicants to move on to the interview phase of the hiring process.
By innovating and working with new technology during the pandemic, Wingstop has thrived where other restaurants have stumbled. Can your business pivot to this new normal as well? Change and adaptation are the crucial elements to surviving, even thriving, during COVID-19.
Need help hiring the right people? Workstream can help. Our platform gets you 4x the number of qualified applicants and reduces your time-to-hire by 70%.
Robert Woo is a freelance content creator for various companies from startup to enterprise-level. When not writing SEO-friendly articles, he writes and performs comedy, plays guitar, and champions the Oxford comma.