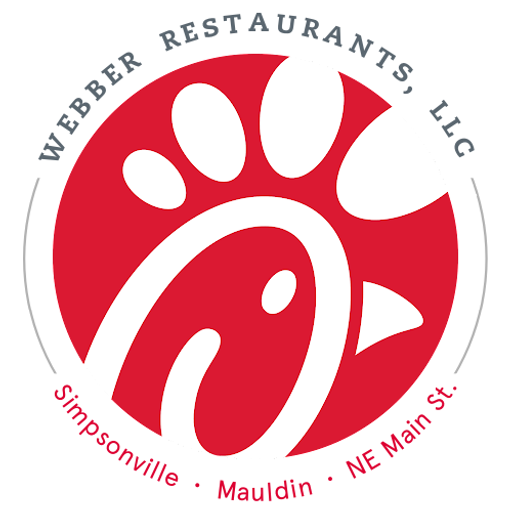 Chick-fil-A Careers
Chick-fil-A Careers and Jobs
Chick-fil-A, Inc. is a family-owned and privately held restaurant company founded in 1967 by S. Truett Cathy. Devoted to serving the local communities in which its franchised restaurants operate, and known for its original chicken sandwich, Chick-fil-A serves freshly prepared food in more than 2,300 restaurants in 47 states and Washington, D.C. Our Operator, Matt Webber, is both humbled and honored to be the CEO of Webber Restaurants, LLC and Owner-Operator of our Chick-fil-A locations in Upstate South Carolina. When Matt first started working at Chick-fil-A at the age of 15, he didn't realize it was the beginning of a lifelong
...
Show full description
career journey that has brought him where he is today. A lot has evolved over the years, but our people have always been the key to our success. Let's talk about your career dreams!
Show less
Care. Contribute. Have Fun! This is who we are! At Chick-fil-A Simpsonville, Mauldin & NE Main St., we strive to be a place where our people feel a sense of belonging and are valued as individuals. We promote transparency, inclusiveness, and trust. We celebrate personal milestones as well as team goals. At Chick-fil-A, we are family.
• Paid Time Off • Competitive Pay • College Scholarships • Free Tuition • Free meals • Growth Opportunities • Closed Sundays • Health Insurance • 401(k) Match • Professional Environment
Our mission is "Be your B.E.S.T. to care for others." B elieve in your neighbor E xpect excellence S erve with your heart T each and be taught These are the basis of all growth opportunities with us at Chick-fil-A Simpsonville, Mauldin & NE Main St.! We love to promote from within and develop team members through our Leadership Development Program. We currently have 25+ Shift Leaders, 15+ Directors , and 3 Operating Partners that compose our leadership teams at our three restaurants. You can learn more about our leaders at webbercfa.com!