Social media has become a popular channel for sourcing hourly workers. But it takes more than standing up an account and publishing a "now hiring" post to attract applicants. Businesses across a variety of industries have seen success creating content that engages fans while also enticing prospective employees.
If being creative on social media sounds like something you don't have time for, know that you don't have to recreate the wheel. Here are some proven post formats for engaging applicants and customers alike:
A day in the life
One of the most popular ways businesses are showing up on social media today is through a day in the life videos. This genre of social post gives viewers a unique behind-the-scenes look at your business and what it would be like to work there. Whether it's a brand viewers love or a job they've never seen done before, these videos are so shareable that some have even gone viral.
The Walt Disney Company
Take inspiration from brands that do this well. One such example is The Walt Disney Company (@disneyparks on TikTok). In a more obvious push to source applicants, they posted a day in the life from the perspective of one of their lifeguards with a clear call for viewers to apply.
Their get ready with me videos give viewers a behind-the-scenes look at performers preparing for work while talking about what they like about their job and how they get their start in the art.
They also post videos showing employees making popular food items at the park, which is a fun way to show off the work a role is responsible for while also getting customers excited to come try your products.
McDonald's
McDonald's takes a unique approach to food preparation videos. On Linkedin, they show some of their chefs trying out new recipes suggested by the fans. Not only does this encourage fans to continue engaging with their brand, but it also shows prospective applicants the fun side of working there.
Now your turn
Create your own a day in the life posts by capturing videos of:
Hour-by-hour timelapse from open to close

Employees interacting with customers

Employees giving a tour of the facility

Employees sharing their favorite "hacks"

What it's like during the night shift vs. the day shift

The lunch or dinner rush

Employees demoing a unique tool used on the job

Employees sharing their favorite parts of their job

Employees debunking rumors about the job
Employee shoutouts
Give shoutouts on social media to people who join your team or employees doing an amazing job. Your team members will feel compelled to reshare these posts to their own followers, effectively widening the reach. It's also great to show prospective employees and customers that you appreciate your staff.
Chick-fil-A
Chick-fil-A does this well by consistently posting close-up, high-resolution photos of their employees on their Instagram page. The accompanying captions also often carry a friendly tone, with interactive elements which encourage followers to respond (effectively bumping up engagement scores too!). One such example is 'What's your go-to order?', which prompted fans to reply with their favorites.
Now your turn
Highlighting your employees is a great way to humanize your brand and celebrate your team—while also showing applicants what kind of team they could be joining. Consider sharing:
Quick employee bios

Employee anniversaries

Employee of the month

Employees going above and beyond

Great customer feedback about an employee
Employee perks and benefits
The competition over hourly workers has pushed businesses to overhaul everything from pay to perks in hopes of attracting more applicants. And while you're probably showcasing these benefits on your job postings, don't forget to share them on social media too. Not only does this entice prospective employees, but it also shows your customers that you're a good employer and boosts your brand's reputation.
Chick-fil-A
Chick-fil-A annually awards select team members with its Remarkable Futures scholarship and shares photos of the winners. This feel-good post gets employees sharing why they love working for the brand, earning it even more good publicity.
Wendy's
Special company events can also entice prospective applicants by giving them a look at your company culture. Wendy's recently posted a photo from their in-person onboarding event, which was a great opportunity to show the emphasis the company puts on building their community, while also giving fans a look at what it's like to join the Wendy's team.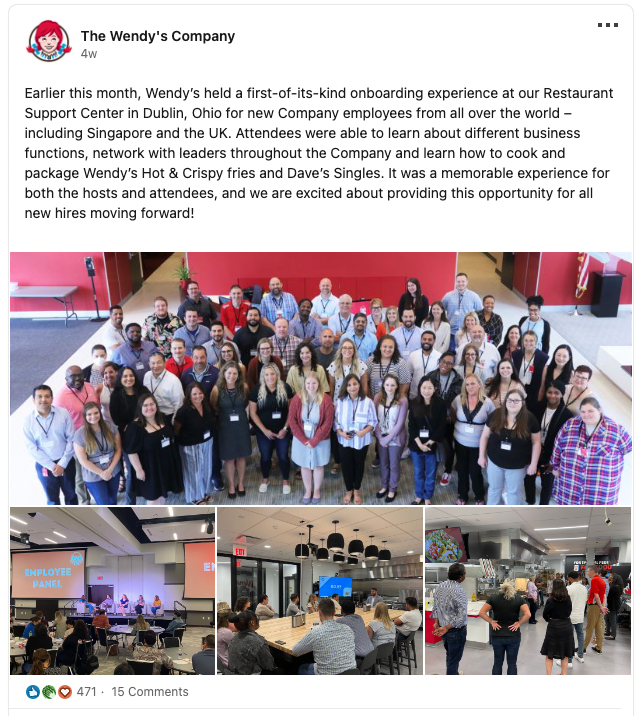 Now your turn
The best way to highlight your business' unique perks and benefits is to share them from the perspective of your employees. It allows you to promote your perks with real-life examples. Consider the following perks and some ways you can authentically post about them:
Paid time off: Share a vacation photo and a quote from an employee about why this vacation was special to them
Education reimbursement: Share a photo or video of an employee learning or demonstrating a skill they learned using their reimbursement
Childcare services: Everyone loves cute kids! If your employees are comfortable with it, have them share a photo of their kids in your brand's gear and allow the employee to caption it.
Charitable donations: If your team participates in charity activities together, capture those moments and share how you're giving back to your community together.
Ready to get started?
There are many ways to attract hourly ways through social media, and these are just a few examples to get you started. Look into what makes your brand and business stand out from your competitors and showcase it. And don't forget to let your employees be the stars and even create the content for you!



Workstream is a hiring platform that helps employers get 4x the number of qualified applicants. The world's most trusted brands use Workstream to optimize job board postings, automate screening and interview scheduling, communicate via text message, and streamline the onboarding/training process. See what all the buzz is about by scheduling a demo or email us info@workstream.is!