When people think of industries with high turnover rates, they often assume that establishments such as restaurants, hotels, and convenience stores have the hardest time holding onto employees—but the real answer might surprise you.
The senior living industry has a turnover rate of 50% according to the Bureau of Labor Statistics—and this number is quickly rising (source: CNBC). To put this figure into better perspective, if your facility has 1,000 residents, you need to hire 500 new employees every year to maintain the status quo.

This high employee turnover rate is very detrimental to businesses, causing the following:
Burnout: Employees are overworked because facilities can't keep up with hiring. When assisted living employees leave suddenly, the remaining staff has to pick up additional shifts and training duties.
Decrease in revenue: It costs centers $3,500 to $5,000 per hire when you factor in job board costs, onboarding, and training.
Negative impact on employee culture: Employees are happier when they work with people they are familiar with. If there is a continuous cycle of people leaving, it can make for a stressful work environment.
Lack of consistency of care: Residents are more at ease being cared for by those they know. Constant changeover of staff can be very emotionally disruptive for assisted living residents.
Drop in the quality of care: When employees leave, they need to train their replacements; some tasks will fall through the cracks, resulting in lower quality of care.
So what are the factors that often lead to high turnover numbers?
Challenging workload
Working at assisted living facilities can be both physically and emotionally taxing. The daily tasks are hard enough. Add the inevitable burnout due to the lack of staff, and the fact that employees often get emotionally attached to their assigned residents.
Low pay
Hourly workers at assisted living facilities receive relatively low pay considering the tiring nature of their work. Nursing assistants can get paid around $12 per hour, with nurses faring a bit better at $20. According to a survey performed by Indeed, Half of all employees at assisted living facilities believe they are not paid fairly. The low pay rate has driven many workers to seek more roles elsewhere in the healthcare industry.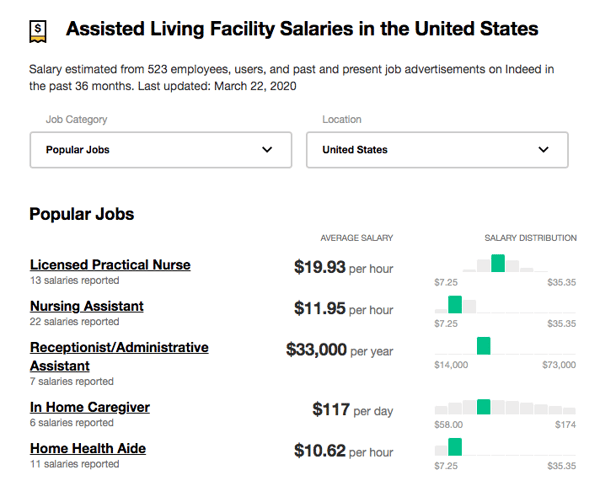 Lack of career growth
Entry-level workers can struggle to break into senior ranks of employment in the senior care industry, particularly if there is a lack of training or other investment by the facility. Lack of staff development programs can be detrimental to an employee's sense of belonging, leading to apathy among staff.
Offering opportunities for career growth, as well as increasing engagement, can lead to better retention. Read more on how to drive employee engagement in this post.
Very competitive labor market
As of August 2019, there were roughly 39,000 job openings posted by direct employers in the senior living industry, including those for assisted living facilities. Given the abundance of opportunities, workers feel less apprehensive going elsewhere when they feel unsatisfied with their current employment.
Given the urgent need in the industry and the stiff competition for hiring in the field, it's more important than ever to focus on the right screening process. Employee retention starts at the very first step of recruitment: making sure to find competent, dedicated candidates to match the qualifications of each job opening you post.
Workstream is committed to streamlining and automating recruitment strategies so that every employer can get the best solutions for different hiring challenges. Workstream has helped hire thousands of assisted living employees and care drivers for companies including Brightstar, Morrison Living, Nurse Next Door, Envoy, and Clarion Medical Transport. We reduce their time to hire by 72% and help them find 4x the number of qualified applicants.
Let's talk about how we can help you.
Desmond Lim is co-founder and CEO of Workstream, a text-based hiring platform for local businesses hiring hourly workers. He is a graduate of Harvard University and MIT Media Lab, former Product Manager at WeChat, and investor at Dorm Room Fund. He contributes to Entrepreneur.com, Workstream Blog, and Huffington Post. He splits his time between San Francisco and Utah, and represented the Singapore National Team in basketball.