Picking the right job can sometimes be confusing. There are tons of different factors to consider: potential workload, company culture, benefits, growth opportunities, and so much more. There's also the choice between going for an hourly job or a salaried one. Before you decide, you need to find out: what's the difference? This article emphasizes the benefits of both and offers tips to help identify which is best for you.
According to the latest Labor Department Data, 82.3 million workers ages 16+ were paid at hourly rates. That's a whopping 58.1% of all workers in the US, while the other 41.9% makes up the rest of the salaried workforce. These numbers tell us that there are many job options available, both hourly and salaried, so the question becomes, which is better?
Time and time again, employees share stories about jobs that they accepted without knowing enough information about the position first. This can mean unknowingly signing up for overtime, or being scheduled to work holidays, depending on the specific position. The most important thing to do before accepting a job offer is to do your research, read over your contract, and ask questions. Below you'll find an in-depth analysis of hourly vs. salaried positions.
1. Hourly employees receive additional compensation for overtime, whereas salaried employees collect regular and consistent paychecks.
If you're an hourly employee working overtime you'll receive time-and-a-half for every additional hour after your first forty hours. If you regularly work more than forty hours a week, you may earn more money than you would in a salaried position. However, some companies keep their costs down by preventing employees from working overtime and limiting their hours.
If you're a salaried employee, you'll receive regular and consistent paychecks, but if you're required to work overtime, you won't receive compensation for the extra hours. It's important to find out how frequently you might be asked to work overtime at a salaried position, because if it's often, you may actually make less per hour than your hourly counterparts. Another thing to consider is that some states have expanded eligibility for overtime, so be sure to check your State's Department of Labor guidelines.
2. Hourly employees receive holiday pay, whereas salaried employees usually receive paid time off and additional benefits.



If you don't mind working on holidays, hourly positions are great because they often pay extra for shifts that take place on holidays. However, there are no federal or state laws requiring companies to pay more than your hourly rate on holidays.
If you're a salaried employee and you go on leave for a holiday, your employer must still pay you the commensurate salary. Salaried employees also receive additional benefits such as paid sick days, time off, and sometimes even health insurance. Be aware that some companies do deduct from salaried workers' paychecks when they miss too many hours, which is legal under certain circumstances. Inquiring about the specific benefits of the position you're considering will help you to determine what best suits your specific needs and wants.
3. Hourly employees have more control over their schedule, whereas salaried employees have a predetermined schedule, and mandatory overtime when needed.



Hourly employees have more control over their schedules because they can determine when they have availability to work. If you're trying to balance work with personal projects, school, or a career-building internship, an hourly position is likely ideal because you can work around your other commitments.
On the other hand, if you work a salaried job that pays less per hour but is in a field that you'd like to continue working in, or you're trying to start a family, benefits such as health insurance and paid maternity/paternity leave might suit you better.
In summary: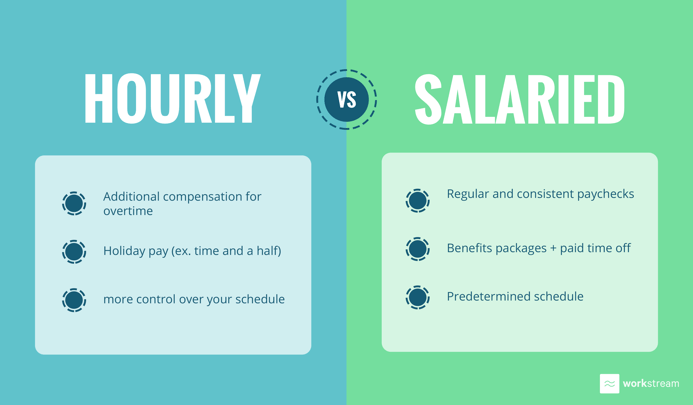 Some other factors to consider when determining what kind of job is best for you are: what kind of manager you'll have, and if there are potential opportunities for growth within the company. Your manager will play an important part in your career, so it's important that you establish mutual respect and trust. Always consider who your employers are and if you can see yourself working with them long-term. Also, consider if there are opportunities to grow from your position. This will depend entirely on your place of employment and the structures they have in place.
It is impossible to state whether it's better to work an hourly or salaried position without knowing the specific details of your contract. Each individual job has its pros and cons, so the best thing you can do is to research your employers and ask specific questions that will help you to determine what position is right for you. But regardless of what position you choose, it is important to review your contract and the overtime pay rules closely.
Workstream's automated hiring software helps employers source, screen, hire, and onboard hourly employees. If you're looking to reel in more applicants and hire more hourly workers, schedule your free Workstream demo to streamline your hiring process and reduce your turnover rates.
Bela Aznar is a freelance content writer, copywriter, and blogger for various companies. She's also a life coach, and a yoga teacher for private clients. When she's not writing, coaching, or teaching, she's writing creatively, reading, or exploring one of her many interests.