Chains are on a Hiring Spree
Some good news this week as medical experts are hopeful about the announcement of a COVID-19 vaccine that is more than 90% effective. Even better news is that a second company, Moderna, could have a very similar vaccine announced soon as well. We like the sound of doubling the chances that businesses can reopen in a big way!
Of course, many QSRs haven't had to wait for good vaccination news to be on a tear lately. In the last week, we've been seeing restaurant chains go on hiring sprees across the nation. Just a few quick hits:
And we're seeing hiring spikes in grocery stores as well; all great news for a job market that has seen another drop in unemployment to 6.9%.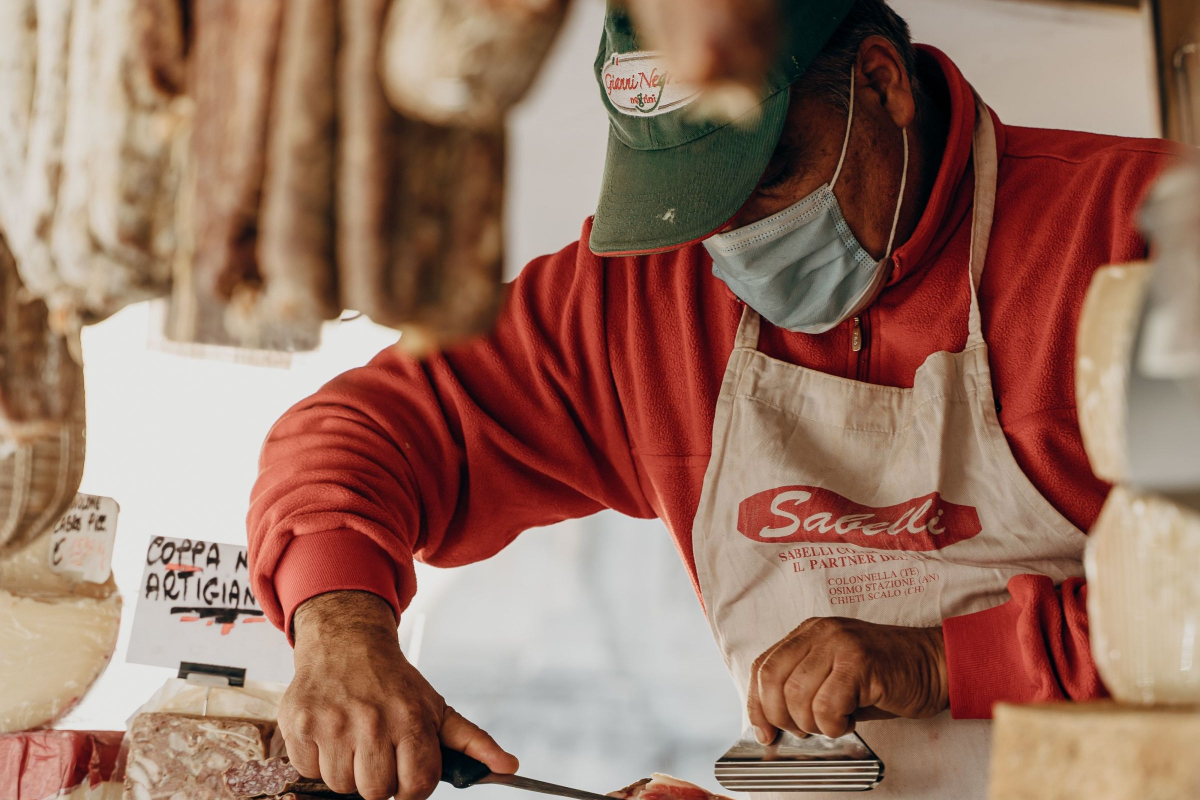 But Will The Overall Industry Pull Through?
Of course, not all restaurants are QSRs and winter is coming. While chains are seeing big business, dine-in restaurants are having to contend with two pieces of bad news at the same time.
One we saw coming: the colder weather. Even as restaurants get creative to remain open outdoors during winter months, there are new questions about how safe these outdoor setups really are with a virus as contagious as COVID-19.
The second piece of bad news: cases are suddenly at an all-time high. So even though there is promising news of a vaccine to come early next year, new restrictions and shut-downs may be coming before then that might hurt an industry already hanging by a thread.
We Just Need A Little More Time... And Help
Fortunately, experts say that there is still time to avert a "third wave" in cases in hard-hit places such as Los Angeles. Couple that with the new administration's coming stricter mask mandate, and the potential for more stimulus support from Congress, the restaurant industry has a good chance of staying afloat until businesses can truly reopen again.
And additional support seems to be coming from local government and businesses, even as national stimulus talks continue. Grubhub is giving $10,000 grants to help restaurants over winter through the Restaurant Strong Fund. The city of Cleveland is giving out grants to restaurants as well. So is Baltimore.
It's been amazing to see restaurants see support in this way. And with the light at the end of the tunnel now seemingly in sight, it just might be enough to do the job.
Is It Actually Bad News?
A recent survey of HR executives conducted by the Conference Board revealed some information about how companies will or won't hire to close out the year in light of COVID-19. While the survey had some interesting data, what was more interesting is how USA Today decided to report its findings.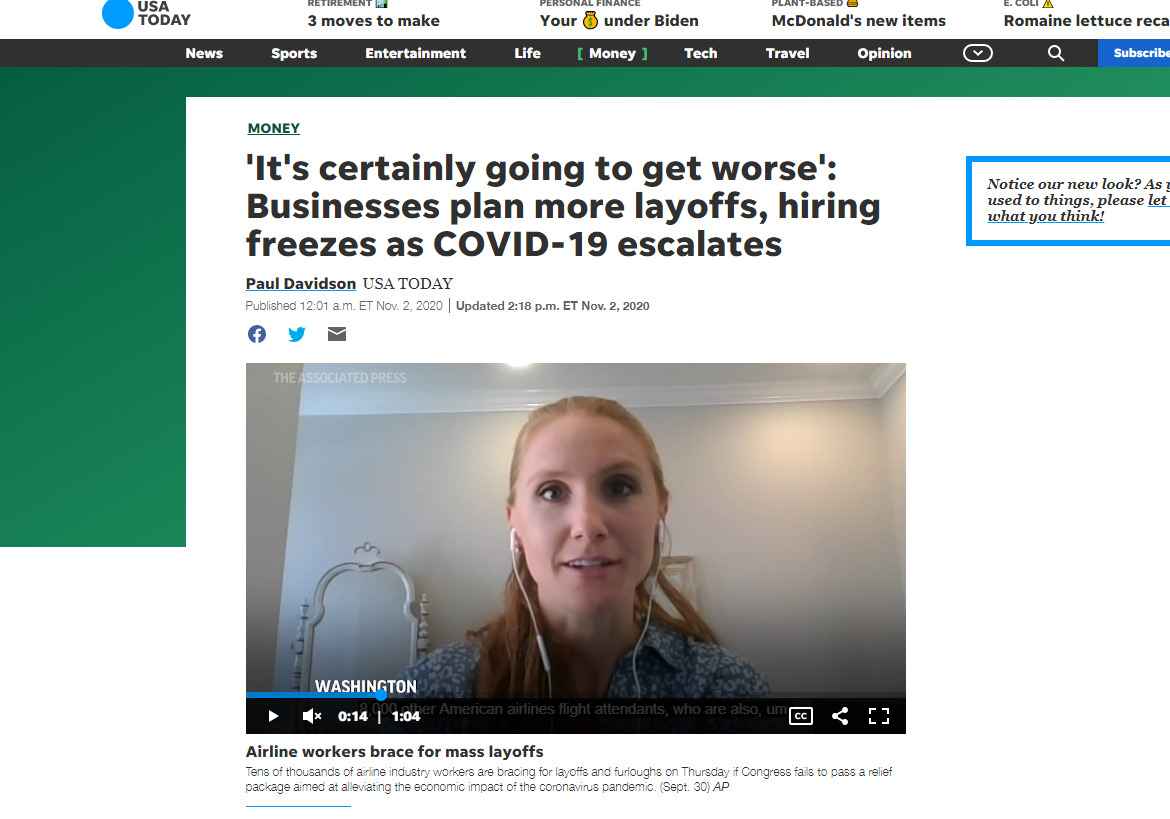 The article led with that headline and the fact that "nearly one in 10 U.S. businesses plan to lay off workers during the final three months of the year as a result of the outbreak."
Nearly one in ten is 9%, by the way, according to the actual survey. But what did they bury toward the very bottom of the article?
"Twelve percent of businesses surveyed by the Conference Board plan to increase hiring in the final three months of the year." [emphasis ours]
Last we checked, 12 is bigger than 9.
The USA Today article tries to bury the lede here that overall, more companies are hiring than laying off workers. This would explain why jobs continue to recover, with the unemployment rate climbing to 6.9% just recently. The point here is that hiring isn't down across the board. Overall, the numbers are getting much better. However...
The Actual Problem is K-Shaped
Poor journalism aside, the survey and article do highlight the very strange job recovery we are seeing. Tech, e-commerce, housing, and consumer products have seen a boom over the past few months, and these are the companies that are doing most of the hiring. Amazon, CVS, Apple, Google have all been on hiring sprees.
Meanwhile, traditional dine-in restaurants, hospitality, travel, and other industries that rely on customer service are the ones continuing to see layoffs. We are seeing a great divide in hiring between these industry buckets, so while overall the recovery is currently happening, only one bucket is benefitting.
And while the hiring bucket seems to be larger than the non-hiring bucket at this stage, that doesn't help the businesses on the short end of the stick.
Hiring to Close Out The Year
We here at Workstream know that a lot of hiring still happens in the last couple months of the year (that companies don't hire in November and December is somewhat of a myth), which means that for the companies who are hiring, competition might be fierce and talent can get snatched up quickly. So if your company is in the fortunate position to hire, it's important to start right now with a good strategy in place.
We also expect the K-shaped recovery to get better as hard-hit industries get somewhat of a boost during the holiday season. Even now, many hospitality businesses are hiring back furloughed employees. And with the news of a 90% effective vaccine hitting this week as well, there seems to be a light at the end of this dark tunnel.
Need help hiring the right people? Workstream can help. Our platform gets you 4x the number of qualified applicants and reduces your time-to-hire by 70%.
Robert Woo is a freelance content creator for various companies from startup to enterprise-level. When not writing SEO-friendly articles, he writes and performs comedy, plays guitar, and champions the Oxford comma.