We're living in very challenging times - for both ends of the spectrum, whether you're a business owner or if you're an employee. The coronavirus pandemic is leaving its mark all across the globe, triggering an unprecedented economic downturn that has seen more than 33 million people file unemployment claims at the time of writing.
With states going into lockdown and non-essential businesses forced to suspend operations, many employees are facing tremendous uncertainty. Companies have been forced to resort to drastic measures, even going so far as furloughing or laying off workers on a massive scale. Since payroll expenses take up a huge chunk of a company's budget, this is often a quick way to lessen costs. Bigger, well-known companies have started implementing this tactic as well. Macy's, the giant department store chain, announced that they are furloughing most of their 130,000-strong roster of employees, and even President Trump's hotels and golf courses have let go of roughly 2,600 workers.
But what do those terms even mean - is there a difference between the two? The short answer is yes, there is a simple difference between being furloughed and getting laid off. In general, we're more familiar with the term laid off, with it being a permanent termination of employment, usually for reasons other than unsatisfactory job performance. On the other hand, furloughing is akin to a mandatory, unpaid leave of absence. The duration of the furlough is determined by the employer and as such can vary from one company to the next.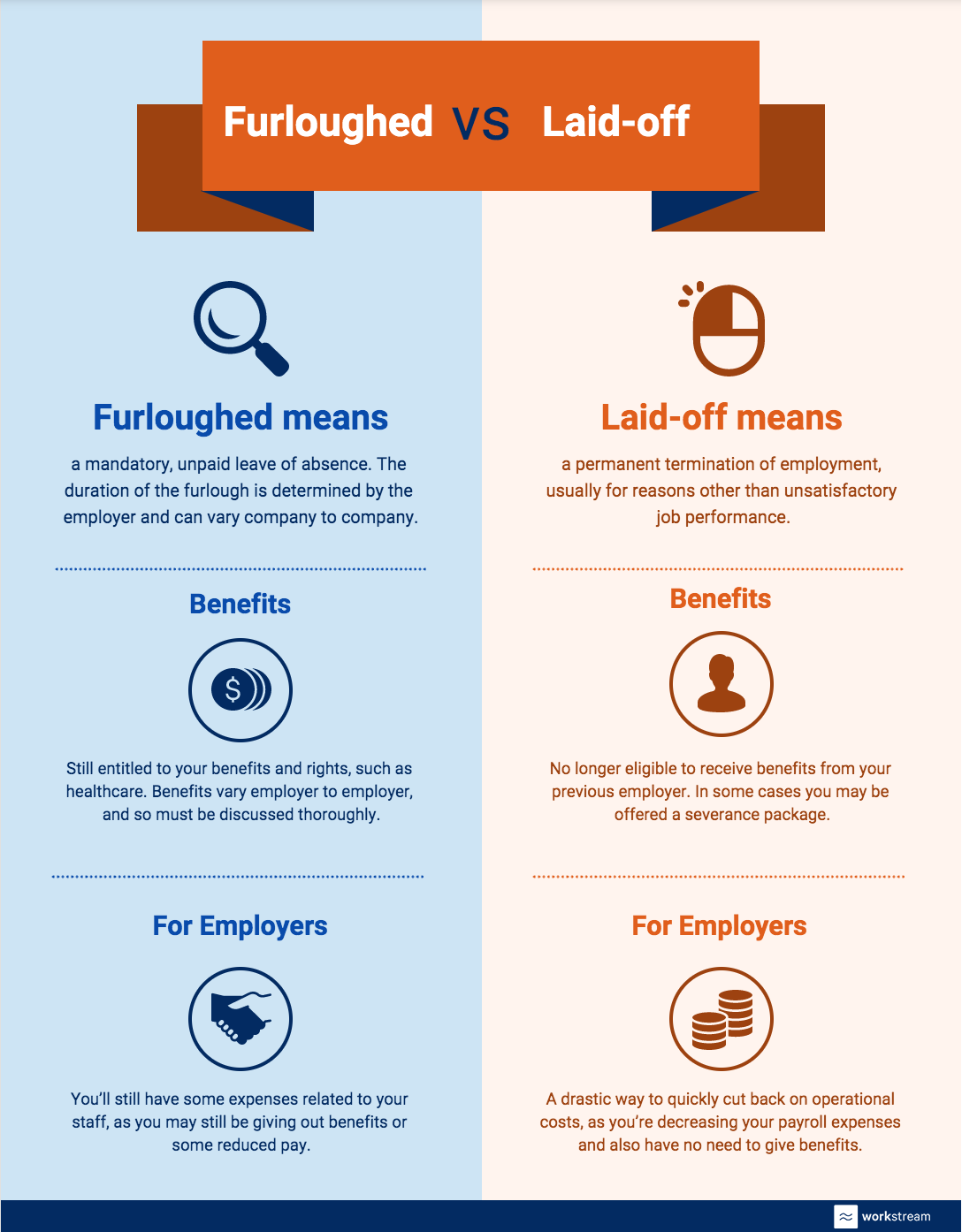 Different Types of Furloughs
For hourly workers - you can experience two furloughs: reduction of hours, or zero hours. In reduction of hours, you may see a drastic cut in the number of hours that you are required to report to work. For the zero hour furlough, this typically happens when a business closes temporarily, with no certain reopening date. Many restaurants and hotels have implemented this, where employees are still listed as employed on the company roster, but are no longer reporting to work.
For salaried employees - you can experience a pay cut when you are furloughed as a salaried employee, as long as the pay is consistent from week to week. You can also be given a furlough similar to the zero hour scheme, where you are technically employed by the company, but cannot do any work. Under this type of furlough, you can find your access to company assets and portals cut-off for the duration, such as email or files on the company server.
Now that we've gone in-depth into the definition and types of furloughs, what are other differences between that and laying off?
Benefits
Getting laid off means you are no longer eligible to receive benefits from your previous employer, although in some cases you may be offered a severance package to help blunt the impact of losing your source of income. Be warned though, that accepting a severance package may affect your unemployment benefits.

Going on furlough means that you are technically still an employee of the company, and in general are thus still entitled to your benefits and rights, such as healthcare. The extent of the benefits you will receive will vary employer to employer, and so must be discussed thoroughly.

Employees furloughed due to the coronavirus crisis are also eligible to claim unemployment insurance, thanks to the coronavirus stimulus package recently passed by Congress. This means an additional $600 a week in financial aid, lasting until the end of July.
Getting Rehired and Other Means of Employment
While you are of course encouraged to seek other means of employment once laid off, surprisingly, it's a similar scenario when you get furloughed. You can look for another, more stable job - provided that it's a permanent position, otherwise you can be found in violation of your employment contract.

When furloughed, there is more of a guarantee that once the business finds itself on firm footing again, you'll be back to normal working conditions. This is because you are still technically employed by the company. Once you are laid off, in general you can only go back to work for your previous employer if you go through the hiring process all over again.
What's in It for Employers?
Laying off is a drastic way to quickly cut back on operational costs, as you're decreasing your payroll expenses and also have no need to give benefits. However, it may end up costing you in the long run, as you scramble to hire competent employees once the company gets back on its feet.
Furloughing means you'll still have some expenses related to your staff, as you may still be doling out benefits or some reduced pay. Still, many companies choose to furlough rather than lay off as this means they will still have access to experienced, skilled workers who won't need to be trained, once the crisis has passed.
In the end, furloughing and laying off still both mean that you're taking a huge hit to your source of income, while the coronavirus and its repercussions run their course. And for businesses, both are viable options to help lessen the burden of operational expenses - it's just a matter of thinking both options through and seeing which is the better fit for your business model and your employees.
For more relevant articles, webinars, and coronavirus resources, visit the Workstream blog.
Part-time content marketing writer at Workstream, full-time mom and chef wannabe. Currently catching up on her reading and trying out new recipes in the kitchen.