Amazon may have started off their journey in the online space, but recently, they have been expanding their presence in the brick-and-mortar scene as well. Just last February, the tech giant launched a full sized grocery store, Amazon Go Grocery Store. And what better way for a store to represent Amazon than to make it as tech-savvy as possible? From cashierless stores to shopping carts that allow customers to skip that annoying checkout queue, Amazon is continually coming up with innovative ways to make their consumers' shopping experience as seamless as possible. Ever wondered how Amazon got this far in the food retail industry? Let us unpack it for you!

Amazon's Grocery Strategy
The multi-prong grocery strategy of the world's largest retailer may be perplexing at first. From the acquisition of Whole Foods Market in 2017 to bundling its grocery services with their Amazon Prime membership, one may be left wondering about the direction Amazon is taking in this competitive industry. However, this multifaceted strategy actually serves as a foundation for Amazon to determine what works best for them as a new player in the market.
When Amazon first came up with Amazon Fresh, their online delivery grocery service, they were able to leverage on their huge, loyal customer base from Amazon Prime. Now, they are enticing prospective users by relying on a loss leader strategy - recently, Amazon changed their pricing model such that Prime members can now enjoy Amazon Fresh and Whole Foods Market grocery deliveries free of charge. And considering that the average order value of Prime members is almost double that of non-Prime members, this change is likely to work to their advantage in the long run.
As for Amazon Go, Amazon does what it excels in best - technology. Spearheading the incorporation of technology in the physical grocery store, the tech giant made waves when they first entered the market with impressive automations. In addition to acquiring Whole Foods Market to make their presence larger in the industry, Amazon is also constantly expanding and innovating on their own Amazon Go stores to ensure they are staying relevant to their consumers and meeting their changing needs.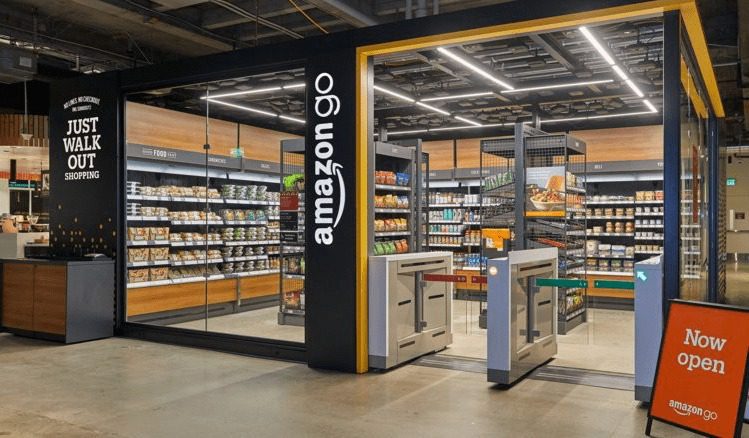 The Future of Grocery
Leveraging technology
Amazon's first full fledged cashierless grocery store is pretty much leading the technological aspect of the food retail industry. The store is an upgrade from its Amazon Go convenience shops as it offers a wider range of foods and products. Customers need only walk in, scan the Amazon app on a turnstile, pick out whatever they need and walk out once they are done. They will be charged for their items automatically when they leave the store.
According to the 2020 Retail Consumer Behavior Poll, shoppers prefer not to interact with humans while running their errands. Evidently, Amazon acknowledges this as the entire process of shopping in their grocery stores requires zero human interaction, though there will be staff available on the ground to answer their queries. This shows that Amazon's new grocery store not only provides shoppers with a seamless experience, it also adapts to the current consumers' taste and preferences. What's more, human manpower could be better utilized for more complex tasks, making the organization more efficient as a whole.
Technology is constantly evolving and reshaping our lives more than we know it. Thus, keeping up to date with the latest technological advancements is a never-ending endeavour. So what's next for Amazon? Perhaps, having Alexa do your grocery shopping? Whatever it is, Amazon is definitely doing it right by being in the forefront of their technological innovations.
Data-driven innovation
With the introduction of its new pricing model for Amazon Fresh and the establishment of its brick-and-mortar stores, Amazon is able to collect data from both online and in-store behavior and use it to their advantage. Using the data they have in hand, they will be able to identify the offers and services a particular household values more, making it easier for them to create a highly personalized experience for their customers in the future. And if all goes well, this may just possibly act as the differentiator between them and other big players in the industry.
Expansion of product offerings
As mentioned earlier, Amazon first started off with Amazon Go, which was designed as a small convenience store. After which, it launched Amazon Go Grocery Store to give customers a more diverse range of products. Now, another grocery store chain is in the talks and it is even bigger than what Amazon has to offer presently. With lower operating costs due to the minimal staff needed to run its store, Amazon has the opportunity to pass on these cost savings to its consumers, giving them a competitive edge over its competitors. Pair this with the usage of technology to increase convenience for customers, Amazon may be able to stand out in this saturated industry.
The important thing to note here is this - the merit of a grocery store no longer only lies in its products' prices but also how it accommodates to its consumers' changing needs. To gain a stronger foothold in the industry, Amazon has to ensure that they are able to match up to the standards of their competitors, or even outperform them. And by leveraging on their resources, they may even stand to gain a loyal following of consumers, especially via their Prime subscribers.
Maneuvering Through The Pandemic
Fortunately, Amazon's nature of business gives it a unique opportunity to expand and flourish despite the pandemic which has shaken many retail industries. That being said, Amazon has added about 400,000 jobs this year to meet the increasing demands from online shopping. However, Americans are still reluctant to return to the workforce due to the uncertainties revolving around the pandemic. In fact, in an effort to attract prospective employees, Amazon even rolled out hiring bonuses as high as $3,000 to ensure they have enough manpower to get through the holiday season this year. This goes to show that even though Amazon may have thrived in the pandemic, they will still have to find a way to hire workers efficiently to meet the increasing demands of their customers.
If you're looking for a solution to streamline your hiring process during this difficult period, Workstream's end-to-end hiring platform is here for you. We help you hire employees faster and more efficiently by filtering only quality candidates (and more!). Book a demo with our hiring specialists today to find out how we can best assist your company's needs.
How Other Grocery Brands Can Stay Competitive
As Amazon introduces cutting-edge technology into its grocery stores, other brands in the industry are bound to feel pressured to incorporate such innovations in their business model as well. After all, who would want to be left behind on the technological advancements in the market?
Many startups, such as Caper, are working to replicate Amazon Go's technology in order to provide a seamless experience for shop-goers. One such product is a smartcart which allows shoppers to scan the barcode of their purchases as they fill their cart. This cart also has a scale for items which are sold by weight. The main idea behind this is to avoid the checkout queue and to minimize the time required for shoppers to fulfill their purchases.
Needless to say, in order to remain relevant in the market, other grocery brands should start implementing such technology into their stores to improve their customers' shopping experience. As the industry grows to be more tech-savvy, customers will be more inclined to shop in a store which allows them to run their errands the quickest and with the least amount of human interaction. Thus, automating services wherever possible will be advantageous for other grocery brands to remain competitive.
Amazon's entrance into the food retail industry has definitely brought about changes in the shopping experience for customers. While they have not yet gained a strong foothold in the market, their future expansions and service innovations are an imminent threat to the giant players in the industry. Therefore, staying up to date with the latest innovations in the market is imperative for other grocery brands to remain significant in the industry.
Stay updated with the news from the industry by subscribing to our blog today!
Zakiyah is a freelance content writer. She's a lifelong learner, looking for opportunities to expand her horizons whenever she can. She loves traveling, playing volleyball and reading up on general developments in the industry.