Chris Bredesen's passion for the local restaurant industry was instilled in him at a young age. Growing up in Southern California, Bredesen learned the ins-and-outs of the business from his father, a successful restaurateur with over 40 years of experience. Chris was a professional Longboard surfer during his High School days, allowing him to travel the globe in pursuit of the perfect wave. His travels allowed him to better understand different cultures and their unique cuisines.
After graduating from USC, then with an MBA from Pepperdine University, Bredesen followed in his father's footsteps and over the course of the past six years, has opened and invested in seven restaurants. Bredesen and partner Allen Sanford started the successful gastropub concept The Rockefeller in 2011, with their first location opening its doors in Hermosa Beach. Soon after, Bredesen purchased Captain Kidd's Fish Market & Restaurant, a struggling restaurant which had been a South Bay staple since 1976. He has transformed the local landmark into a hugely successful restaurant.

In 2013, he joined forces with Allen Sanford once again as the two launched The Rockefeller's second location in Manhattan Beach. Later that year, they partnered with Allen's brother, Jed Sanford, and together opened Hermosa's Dia de Campo.

The in late 2016 they opened Primo Italia, known to locals as the best new Italian restaurant in the entire South Bay. Finally in late 2018 they opened their 3rd Rockefeller location in Redondo Beach, CA. New locations for The Rockefeller, Captain Kidds and Primo are being discussed and evaluated at this time, with the goal of expanding each brand throughout Southern California.

Chris oversees the management team at each location. From directing the managers to analyzing numbers and projections to instituting protocols and quality checks, he governs his business with the mantra, "to set up my employees for success." Chris enjoys traveling (to remote surf spots), being with his family, and making his brands the best they can be each and every day.
Q: What professional accomplishments are you most proud of since you start the Rockefeller project?

Chris: When I think about my professional accomplishments I always come back the same answer:Creating jobs for great people.We have such amazing people that work in our organization, and it is their hard work and dedication that has allowed theRockefeller Brand(and our other brands) to grow and succeed.

Specifically talking about the Rockefeller Brand, it is so rare to open a restaurant and have it be successful for almost a decade, but it is even more rare to expand into multiple other locations and have them be just as successful. I am thankful everyday, but I am also proud of our work ethic to constantly keep improving the brand inside and out.

Q: What is one piece of advice that you will give someone running a restaurant?

Chris: When someone asks me for advice about running a restaurant it is normally a very long conversation as there are so many moving parts in the restaurant industry. But if I had to only give one piece of advice it would be to HIRE GREAT PEOPLE.

You will never succeed if you're not surrounded by "A players". Spend the time, hire correctly and hire people that you can rely on to make your business better than your competitors. By doing this, you will allow yourself the TIME to fix other issues. (improve operations, menu updates, repairs, marketing, etc.)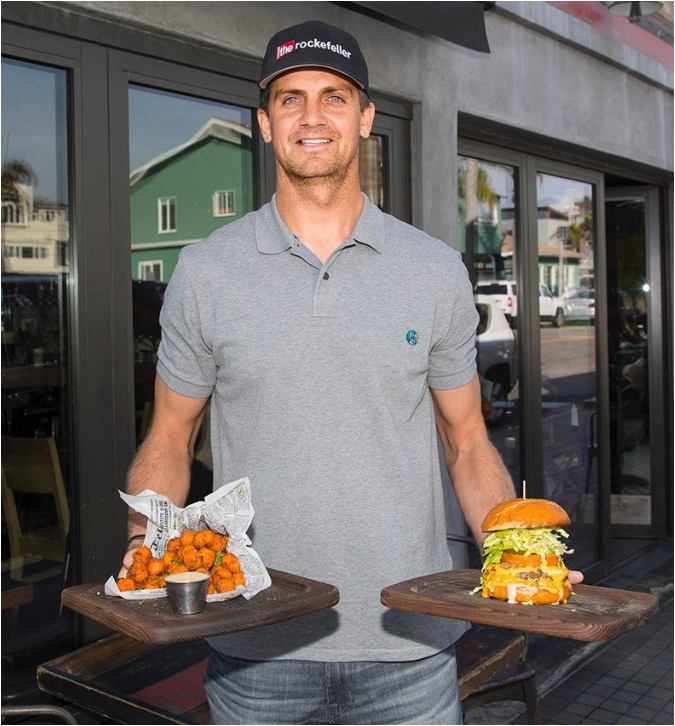 Q: What is the biggest challenge you have met in your career?

Chris: The biggest challenge I have met in my career was during the first few months of our first restaurant opening back in 2011. We thought we had it all figured out, but in fact we did not. The build out was beautiful, the beer was cold, the staff was solid, but the food was not up to par. The issue was that we relied on our head chef to handle the food menu and we put all our trust in his decisions. It took up 3-4 months to find a new chef, change the menu, and convince customers to come back and give us another shot. It was the worst 6 months in my career and there were times I was not sure this industry was for me.

What I learned was: Hire Great People and Systems are the key

We put detailed recipe books together, we costed out everything, we put in the time meticulously on the menu so we could immediately make a better hire and they could take over kitchen operations seamlessly and we would not have to start from scratch.

Q: What are some challenges or trends you see in hiring today?

Chris: Hiring today, specifically in California, has many challenges. The economy seems to be firing on all cylinders and that actually makes hiring a bit more difficult, as people are already working and the pool of potential hires is smaller than normal. The goal is to build a business that allows people a good paying job, in a positive environment, with opportunity growth. With minimum wage increases each year until 2022/2023 the cost of business is increasing drastically so you have to adapt.

The answer is NOT to just increase prices because that is not fair to the customer, but instead adapt and figure out solutions to the problems. We have begun to get the kitchen staff part of the tips, which allows us to be more competitive with pay and to hire quality people.

Another challenge is the legal issues in California surrounding hiring. We have spent years getting our hiring paperwork and HR team to where it is today. When you have great systems, you hire great people and your ability to be successful increases drastically.
Q: Have you ever had an hourly job? If yes, please share with us your experience

Chris: I have had a ton of hourly jobs growing up. My main hourly job was a LA County Ocean Lifeguard. In addition to making ocean rescues and performing emergency medical tasks, I learned the value of hard work. Doing what I do now, I look back and have great respect for the Captains and Lieutenants that I worked with and all the hourly personnel they had to manage. It was a great time in my life with a bit less stress than today.
Its a different animal when you worked for years to save up enough money to invest in a business and you HAVE to have it succeed. Only getting a paycheck IF the business is successful changes your mindset.
Workstream is a hiring platform that helps employers get 4x the number of qualified applicants. The world's most trusted brands use Workstream to optimize job board postings, automate screening and interview scheduling, communicate via text message, and streamline the onboarding/training process. See what all the buzz is about by scheduling a demo or email us hello@workstream.is!