Conducting an interview is probably the best way to get to know your candidate inside out. And if we're being honest, looking for a candidate who can fit in the company is just as important as finding someone with the relevant skills for the position. These days, it is not just about experience or qualifications. You want someone who can fit into your company's culture as this would improve employee engagement, retention, and satisfaction.

Why and How to Hire for Culture Fit
Interviews may very well be the most vital step in the hiring process of an hourly employee. Not only does it allow you to assess the prospective employee's abilities, but it will also let you know whether the individual connects well with your company's culture. Some hiring managers may not see the importance of cultural interview questions. After all, why bother when all we really need in an hourly worker is someone who can do their job perfectly, right?
Well, not quite. A study by Vadequa showed that 36% of hiring failures were mostly because of employee incompatibility in the company. To corroborate this, another study by Monster.com found that companies that took cultural fit into account during their interviews have 30% less employee turnover than companies that do not. Evidently, neglecting the importance of cultural fit will result in a higher employee turnover rate which will, in turn, incur additional hiring costs for the company. Not to mention, employees who do not see where they fit in the company may also have a lower motivation to work which impacts their productivity.
Creating a Good Impression
Now that we know the importance of cultural interview questions, how then shall we conduct a cultural fit interview? An interview is not just meant for us to judge a candidate - it also provides an opportunity for them to create an impression of your company. Thus, everything that you do matters. From your greeting at the beginning to your etiquette during the interview itself, all of them reflect the culture in your company.
Asking the Right Questions
The key to conducting a successful interview is by asking the right questions. This is crucial to get to know the type of person your candidate is. Here's a tip from Lee-Anne Edwards, CEO, and founder of talent matchmaking firm, OneinaMil: Ask questions pertaining to how a candidate is like outside of work through hypothetical scenarios. This gives you an idea of their personality and lets you in on what exactly motivates them and whether it complements your company culture. Don't fret, we will be going through some of the questions that you may use to draw out the right candidate for your company in the next section.
Finding the Right Balance
While hiring for organizational culture fit is important, it is not the only aspect that matters. Ultimately, it is about finding the right balance between experience and culture fit. For Lee-Anne, 'culture fit wins every time'. That is if she was presented with a non-ideal situation where a candidate has a perfect fit but lacks technical expertise, she will be willing to take him/her in as a long-term investment. As long as the candidate is coachable and is willing to learn, she thinks that half the battle is already won.
Nonetheless, always remember to reach a consensus with your team on the balance all of you would like to have regarding cultural fit and technical expertise prior to the interview.
Top Cultural Fit Interview Questions
To prepare you for the ideal interview, here are some of the cultural fit interview questions we have rounded up for you. It is best if a candidate uses the STAR framework to answer these questions. If they don't, it will be good to ask them follow-up questions based on the STAR approach to probe them further in giving more details in their answers.
1. What would be an ideal work environment for you?
The purpose of this question is self-explanatory and is probably the most effective question to determine an individual's company culture fit. Based on their replies, you can ascertain whether he/she will be happy when working in your organization.
What to look out for in candidates' response:
You would want someone who is able to seamlessly fit into the general working style of your company. Based on their answers, determine whether the structure of your company will complement them or tire them out. A few small differences should not be a problem. But if the incompatibility is too drastic to ignore, consider disengaging them from your hiring process.
For example, if you are in the quick-service restaurant (QSR) industry, look out for candidates who thrive in a fast-paced environment and are consistently seeking to learn. As hourly employees in this industry have to adapt to new technology that is ever-changing in their line of service, having such aspects in their ideal work environment will be rather advantageous for you. An exceptional candidate will be able to weave in your company's vision/mission into their answer as well.
2. Which according to you is the most effective managerial style?
A manager plays a pivotal role in an organization, especially in the QSR industry where they are essential in ensuring the front-end operations of the restaurant run smoothly. Thus, this question is important as it ensures that the candidate will be able to work well under your company's management style. It also allows you to prevent any potential friction between a manager and employee which can negatively affect the company's operations.
What to look out for in candidates' response:
The pointers you should focus on really depends on the managerial style of your company. Are the managers more hands-on or are employees expected to be more independent in their learning? If it is the latter, you will definitely want to hire someone who can take charge of their own learning without much supervision.
3. Do you prefer working alone or as part of a team?
This is a very important question as a large element of a company's culture is how its employees are expected to work. Some companies may require employees to work behind closed doors while others will require them to be consistently surrounded by their colleagues for frequent collaboration. Asking this question lets you know whether the candidate will thrive in your organization depending on their preferred working style.
What to look out for in candidates' response:
Ultimately, the task an hourly employee takes up is usually a small part of a much bigger process. Thus, having a team-oriented individual is mostly preferred than one who is not. Look out for candidates who prefer a collaborative working style. However, try not to write off those who prefer to work independently. While some do favor working alone, they may still be flexible enough to work well in a team.
4. What motivates you?
Needless to say, this question lets you in on what makes an individual tick and is a way to determine whether his/her motivators will be compatible with their job duties. It also gives you insights into their priorities while on the job.
What to look out for in candidates' response:
Look out for motivators that are in line with your company's aims and structure. For example, if you own a retail store that offers your hourly employee commission when they sell your product, a candidate whose motivation is money might just be the perfect fit for the job. Alternatively, if you are a QSR franchise owner and your company's aim is to provide a good experience for all of your customers, a candidate who thrives on his passion to serve people is probably the right candidate for hire.
5. What are your hobbies outside of work?
As Lee-Anne mentioned, knowing what a person is interested in outside of work gives you insights into their personality and lets you discover the genuine person within. Asking this question will let you gauge the type of person he/she is not only in a working environment but outside of it as well. And for all you know, you may even shape their key characteristics into personal brands, making it easier to decide if they really do fit into your company.
What to look out for in candidates' response:
Keep an ear out for the type of activities a candidate engages in as it gives you a clue about how they work in relation to colleagues and how they engage with their tasks. For example, a sportsman/woman who regularly trains after work shows his/her commitment to a group, which may be an important aspect of some companies.
A solid candidate will also be able to showcase how his hobbies gave him an opportunity to develop soft skills which allowed him to grow as a person. Consider the importance of these skills and whether they are highly valued in your company.
6. How heavily do you rely on technology while working?
It is no doubt that we are living in an increasingly tech-savvy world. And for industries such as the QSR, processes are becoming more and more automated. To assess whether a candidate is a good fit with the company technologically, you may ask this question to gauge how much they rely on technology or technological gadgets to get a job done.
What to look out for in candidates' response:
Preferably, you would want to look out for candidates who are comfortable with technology. And if they are not, make sure that they are always willing to learn new technological processes that are commonly used in the industry. With the rapid advancements of technology, you would not want to hire someone with a primitive mindset as it will affect the efficiency of your operations greatly.
7. Give us an instance, when you went out of your way to please a customer?
If your organization is one that prioritizes customers, you can never go wrong with an employee who puts their customers before anything else. For QSR businesses, customers are of paramount importance and are probably what makes or breaks the company. Asking this question lets you know how far an individual is willing to go to keep his customers happy.
What to look out for in candidates' response:
For this question, you would want to draw out concrete examples from the candidate which showcases exemplary interaction with a previous customer. Was their attitude and action towards the customer something that is endorsed by your company? If it is, then it is safe to say that the candidate will assimilate perfectly well in the company
8. What is the biggest challenge you faced in your previous workplace?
By asking this question, you are able to get an idea of any potential problems that are likely to arise should the candidate work in your organization. You may also have a better understanding of how this applicant deals with challenges in the workplace.
What to look out for in candidates' response:
A challenge may not necessarily reflect badly on the candidate. Rather, it is how he/she tackles it that matters. Look out for responses that clearly showcases the actions taken by the candidate to resolve the challenge he/she faced. Depending on their answer, you will be able to gauge how well their problem-solving skills are. For a fast-paced industry like the QSR, such skills are important for employees to carry out their job well.
9. What approach do you use for solving issues at work?
This question gives you a chance to identify your candidate's critical thinking and decision making skills. Depending on the nature of the industry, certain methods of solving are more efficient than others. Use this question to gauge if the candidate will be able to successfully resolve issues in your company.
What to look out for in candidates' response:
For job positions that are customer-facing with a bustling environment, you would want to look out for candidates who are able to think on their feet and manage issues proactively. Additionally, take note of the way the candidate resolves his/her problems. Do they usually implement solutions by themselves or do they consult their peers before taking action? The workplace culture in your company may be more suited to one than the other.
10. Tell me about an incident when you and your team leader had opposing views.
Disagreements are a normal occurrence in any team and each member has a role to play in ensuring it does not escalate into something detrimental for the team. Thus, this last question helps to provide insights on the candidate's communication and, possibly, conflict resolution skills.
What to look out for in candidates' response:
You would want to look out for an individual who is able to articulate their ideas well to the team and yet overcome criticism when they are met with it. As a team member, ensure that the candidate understands that his/her idea may not be implemented in any final decision. This shows their humility when they are in the workspace and also showcases the respect they have for their leaders, a trait that is definitely sought after in every organization.
Following Up After a Cultural Fit Interview
Undoubtedly, humans are susceptible to bias and such biases tend to be reflected in our overall ratings of the applicant. Thus, for every interview, our advice is to conduct a debriefing meeting to consolidate the cultural assessments of each candidate. This is to ensure that an agreement between the interviewers is reached with regard to the results of every candidate. By having such meetings, unconscious biases could be avoided resulting in a fairer assessment of the candidate pool.
There are three essential things that should be discussed by the interviewers during the meeting - their first impression of the candidates, followed by a review of the responses and questions asked by them, and finally, voting for the top candidate based on the information shared by everyone. It will be best if you can successfully find someone who has the skills and cultural fit for your company. If not, make a decision based on the balance your team has agreed on and choose the candidate for hire or select a few shortlisted applicants to move on to the next round, depending on your hiring process.
At Workstream, we can help you manage your backend hiring processes so you can focus on what matters. We provide smart screening of your applicants, among others, and our services include moving applicants down the pipeline easily, requiring little to no action from you. To date, we have helped over 5,000 hiring managers streamline their interview processes.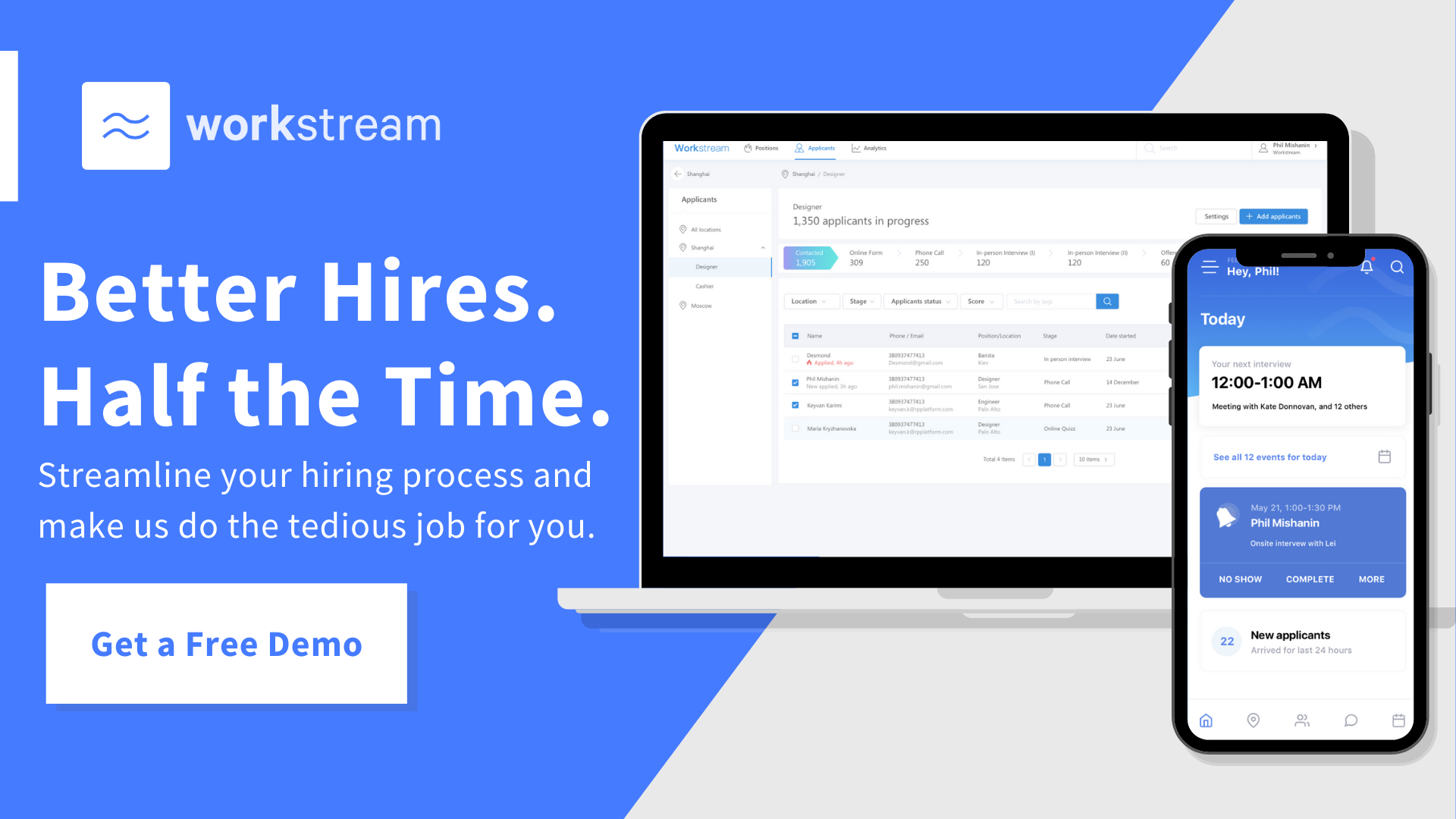 Cultural fit is a valuable aspect of a candidate that should never be overlooked. Consider using some of the questions we have listed above and you might just find the perfect hourly employee for your organization. And when perfect candidates are hard to find, establish a balance between their technical expertise, and fit in the company. The key takeaway here is to always take cultural fit into consideration as it can bring more advantages to your company than you would expect.
If you are looking for ways to streamline your hiring process, look no further. Book a free demo with our hiring specialists today.
Zakiyah is a freelance content writer. She's a lifelong learner, looking for opportunities to expand her horizons whenever she can. She loves traveling, playing volleyball and reading up on general developments in the industry.