One of the most important aspects of running a restaurant is hiring the right people. You want to hire the most qualified individuals for your business. Unfortunately, many people think that restaurants, especially quick-service restaurants (QSR), just hire anyone who shows up.

Restaurant operations require a specific set of skills, and even flipping burgers or serving French fries requires training and experience. Restaurants need to hire individuals who are hard-working and smart. Knowing how to find and hire these individuals is an essential part of running a restaurant.
Why is Hiring for Restaurants a Challenging Process?
Many restaurant owners don't take the hiring process seriously. You will often see these types of restaurants on shows like Kitchen Nightmares. The food and service you provide will reflect the level of staff training and staff motivation. Top restaurants understand this and get the best people for the job.
There are many different positions you need to fill in a restaurant. Each role requires a different skill set. For example, a good fry cook won't necessarily make great sushi, and a person who makes a good latte isn't always good at bussing tables.
Whether you run the restaurant alone or have a dedicated HR person, you need to be aware of the different skill requirements for each position. Aside from the differences in skill sets, you also have to deal with employee turnover.
The QSR industry has the highest turnover rate across industries, with many restaurants facing between 50% to 100% employee turnover every year. Fast food restaurants also spend a total of $3.4 billion on hiring and training employees annually.
What contributes to this trend? Age is one factor: a vast majority of QSR workers are 35 years old or younger, and close to 30% of QSR employees are between 19 to 26 years old. Many school students and college students work in fast food chains. You also have a lot of people employed in the sector who are looking for better job opportunities.
What does this mean for you as a restaurant owner? Following the right practices of hiring for restaurant operations will not just improve the quality of your food or service. It will also save you a lot of time and money.
6 Steps for Effective Hiring for Restaurants
Hiring for restaurant openings can be done through different channels. These include word-of-mouth, classified ads in newspapers, social media posts, referrals, job portals, or employment agencies. Regardless of the hiring channel, though, you need to follow a few best practices that have been proven to bring in great hires, regardless of the industry:
1. Identify the roles that need to be filled.
Before you can build an efficient team, you need to determine the roles that you need to fill. A typical fast-food restaurant will require cashiers or service reps, cooks or food preparers, shift supervisors, and upper management.
The type of food or drinks you serve will also determine the roles that you'll hire for. Most coffee places, for example, don't require dedicated cooks. Instead, they will likely serve pre-made sandwiches that need a few seconds in the microwave to prepare. However, coffee houses will require baristas, especially for specialty drinks.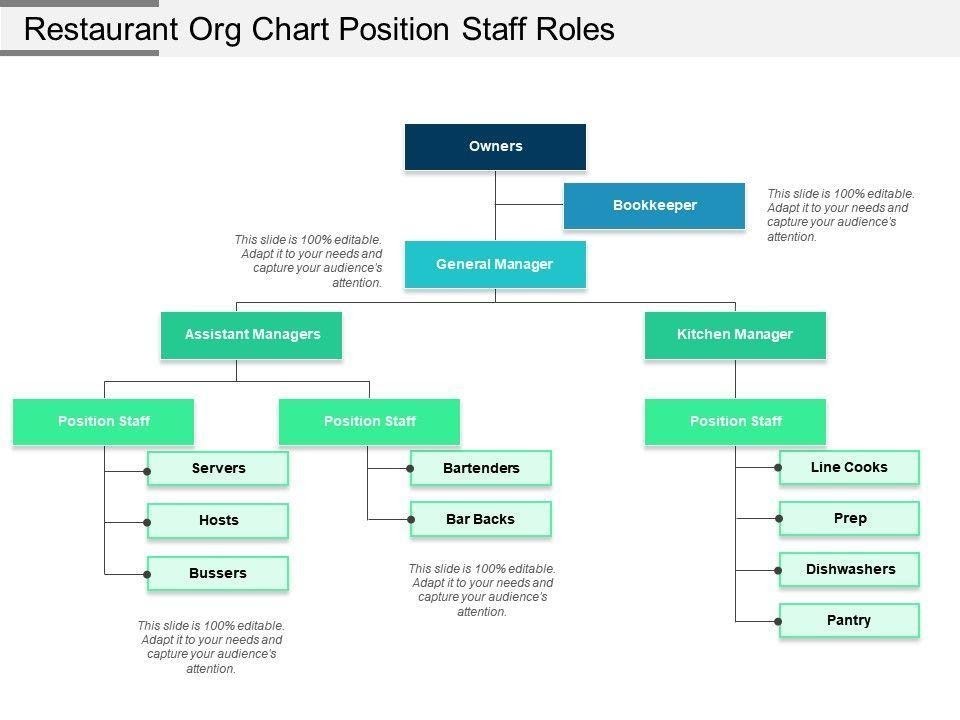 Source: Slideteam
The size and location of the restaurant will also play a role in the number and type of job openings. Restaurants in small towns, for example, might have fewer customers than those in high-traffic areas, which means a food server can also double as a busser.
2. Create an outline of responsibilities.
Whether you're running a Michelin-starred restaurant or a small pop-up, you need a competent crew. You should create a detailed outline of responsibilities for each position to ensure that whoever is in charge of recruitment will get the right hires.
I recommend you start this process by listing the responsibilities of each member of your team. You should then create a template job description for each position. Ensure to also assign salary ranges for the various positions.
The example below is a template for the job description of a waiter.
Job Description
Position: Waiter/Waitress
Main Responsibilities:
- Taking orders and delivering food and beverages.
- Helping guests with menu recommendations.
- Providing exceptional customer experience.
Waiter/Waitress Job Description:
Our restaurant is looking for a waiter/waitress with remarkable hard skills and engaging people skills. The right person for this job should be able to handle food and beverage orders, as well as deliveries. As our restaurant prides itself in providing excellent customer service, we are looking for a waiter/waitress who will treat our guests with attentiveness, patience, and a positive attitude.
To help our restaurant provide a pleasurable dining experience, a good waiter/waitress should be able to ensure that our guests are fully satisfied by being friendly, courteous, accommodating, and reliable. A suitable candidate for the job should also be a problem-solver and a team player.
Responsibilities of a Waiter/Waitress:
- Greeting and escorting guests to their seats.
- Providing menu recommendations and additional information.
- Upselling additional products when appropriate.
- Checking ID's to prevent minors from ordering alcoholic beverages.
- Taking orders using software, order slips, or memorization.
- Communicating order details to the kitchen staff.
- Delivering food and beverages in a timely fashion.
- Delivering checks and collecting bill payments.
- Cleaning and maintaining the appearance of tables and tableware.
- Providing exceptional customer experience.
Waiter/Waitress Job Requirements:
- Must have prior experience as a waiter/waitress.
- Must showcase teamwork and communication skills.
- Must be able to handle money and credit card transactions responsibly.
- Must be able to multitask and act quickly.
- Must be flexible and ready to work in shifts.
- Must possess at least a high school diploma, or equivalent.
There are a lot of sites online where you can find job description templates. Creating templates for each position will speed up the process of putting out job advertisements.
You should also research how your employment offer compares to other restaurants in your area. If the salary you are offering is less than the average, you'll struggle to find great staff. If it is better than the average for your area, you'll find it easy to get great staff. A bit of competitive intelligence can provide you with great insights that will help you secure the best staff for your restaurant.
3. Identify the best way to promote the job opening.
You will only attract the best available talent if you advertise your job openings effectively. Start by identifying the best marketing channel for hiring staff. There are two logical ways to identify effective marketing channels for finding new hires.
First, you can ask members of your staff how they found their role. Note down the channel that most people highlight. The second thing you should do is review what channels competitors are using to find new hires.
Many candidates respond to "Help Wanted" ads they see on community bulletin boards. For example, Facebook can be a great place to post jobs. Posting a job on Facebook will allow you to reach more applicants easily. You may either post a job in a local jobseeker group or through your restaurant's business page.
You will also have to address employee attrition, especially in an industry where employees don't tend to stay long. Here are some tips for posting your jobs:
Be upfront: Your candidates are aware of the long hours and working conditions, so there's no need to sugarcoat the job. Specifying the working hours will allow you to attract the best candidates.
Use simple language: The QSR industry has spawned its jargon, but most first-time applicants would probably not understand it in a job description. Using simple language will help you attract candidates.
Address employee safety: In the current health crisis, many applicants are hesitant about taking on jobs that require face-to-face customer interaction. Sharing how you intend to keep staff safe, including

health protocols

and house rules, will convince potential employees that you care about their well-being.
Highlight the benefits: You need to highlight what makes working at your restaurant special. The more effectively you can transmit the benefits, the more applications you will receive.
Your job advertisement is often the first point of contact for a potential employee. Try to make your job advertisement stand out. An important part of this will revolve around your ability to explain what makes working at your restaurant such a great opportunity.
4. Create an effective selection process.
There is a good chance that your candidates have applied for jobs at other restaurants. In this industry, your recruitment process needs to be short and quick. Otherwise, you'll end up losing qualified applicants to your competition.
Many applicants say that complicated hiring processes turn them off from working at an otherwise excellent workplace. Asking candidates to send their resumes and then sitting on a pile of CVs won't do your candidates and hiring team any favors.
Your online recruitment process needs to be simple. A large number of job seekers use either smartphones or tablets to look for a job. While many job board apps are designed specifically for mobile devices, you need to use one that integrates with your applicant tracking system (ATS) so that you can easily access and process candidate data. Workstream's all-in-one applicant dashboard provides you with a holistic view of your applicants, allowing you to review and tailor processes for different candidates.
McDonald's has mastered the art of mobile recruitment marketing through the Snapchat app. Using a Snapchat lens, McDonald's allowed users to take pictures of themselves in a McDonald's uniform and submit their applications - all in just 10 seconds.
The Snapchat application highlights how restaurants can use new marketing channels to connect with potential employees. That ability to utilize new marketing channels effectively can help you get more job applicants.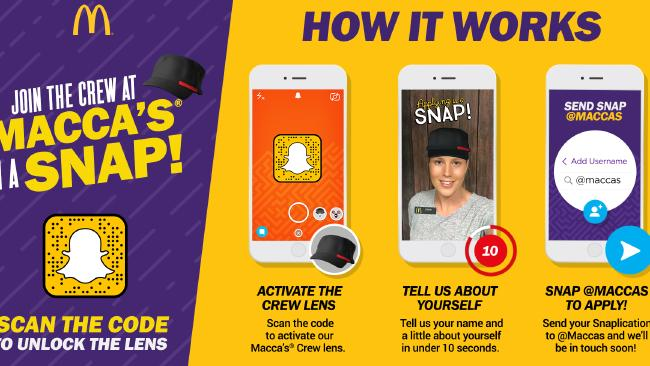 Source: Snapchat Daily
In one of the process's pilot runs in Australia, McDonald's received 3,000 Snapplications in the first 24 hours and hired its first crew member in just two days. Overall, 15% of applicants went to the final interview stages. It's also being used now in the U.S, where Snapchat has a total user base of around 100 million people.
5. Make the interview count with the right questions.
When you're hiring for restaurant jobs, it's important to ask the right questions. Many of the candidates who come into the interview will have very little idea about working in a restaurant. The interview can also serve as an introduction to the industry.
Here are some questions you can ask during a restaurant job interview:
Have you ever worked in fast food before? While restaurants are different from each other, some aspects are true across the food industry. This question will help you gauge the amount of training you'll need to do if the candidate gets the job.
What hours are you available? Many restaurant employees work part-time, especially if they're still studying. Asking this question will give you an idea of the amount of time they can spend on the job.
How would you handle an angry customer? Handling angry customers is part of working in a restaurant and restaurant workers should possess lots of patience. Asking

situational questions

like this will help you assess how the candidate will react in a possible scenario in the restaurant.
What are your career goals? Fast-food workers don't tend to stay in one job for long, but those who do tend to advance to management positions.
Do you have any questions to ask us? This question allows the applicant to share their opinions about the restaurant and how they treat workers. You can follow up with a question like this by introducing the applicant to your safety protocols, wellness programs, and benefits package.
The questions above are oriented towards customer service. They give you a good idea of a potential crew member's attitude towards the job, the customers, and your restaurant. Additionally, it will also be prudent to ask some cultural fit questions to assess whether they are a right fit for the organization.
6. Provide proper training.
The recruitment process doesn't end when you tell an applicant that they're hired. There is a bit of paperwork left to finish which is essential for onboarding. Systematic onboarding and training are important for a restaurant. You need to train your staff, especially if they are interacting with your customers.
A well-trained staff member can help save your restaurant thousands of dollars worth of missed orders, spills, and accidents. Before the successful candidate starts work, they need to be trained properly for their position. You need to get them up to speed on health codes, fire codes, and safety protocols. You might also need to educate them on the finer points of dealing with customers, especially angry ones.
To make the onboarding and training process smoother amidst the pandemic, Workstream offers the option to onboard and train your new hires remotely. Text messages containing the relevant documents for onboarding will be sent automatically the moment they are hired. Training materials such as handbooks, checklists, and training videos are also sent via the same medium. An automated reminder is then sent to ensure that your new employees have completed their onboarding documents and mobile training contents.
It is important that you order your training sessions logically. You want to get your staff trained and working fast. For this, you can use employee scheduling software to organize your training.
A properly trained employee is poised to make a positive impact on restaurant operations. By seeing how they respond to the training, you will get a better idea of their personality and job fit.
Bottomline
Many restaurant owners seem to think that an efficient hiring process will only succeed in producing low-quality hires. However, just like everything else in the QSR industry, speed determines who succeeds. The less efficient your process is, the more likely you will lose a promising employee to a competitor.
You should start by making an organizational chart of all of the positions at your restaurant. Then, list the various roles and their responsibilities. Creating this resource base will help to speed up the hiring process for your restaurant.
Once you have done this, you need to determine the best channels for promoting your job openings. Check which channels your competitors use, and review where you have got the best candidates in the past. Make sure the hiring process is straightforward.
Finally, create a meticulous selection and interview process. Then, once you've selected a candidate, make sure to train the successful candidate, either physically or virtually. Best of luck with your hiring process!
Owen Jones is the Senior Content Marketer at ZoomShift, an online schedule maker app. He is an experienced SaaS marketer, specializing in content marketing, CRO, and FB advertising. He likes to share his knowledge with others to help them increase results.