Michael Rypka started out as a fry cook at Popeyes but is now the founder of Torchy's Tacos, the fastest-growing fast-food chain set to have 46 locations by the end of 2020. Fueled by his passion for cooking, innovation and a focus on street food, he married the concepts to serve up Tacos raking up profits almost equivalent to Chick-fil-A and other QSR giants.

By prioritizing traceability and best-sourced products, they have built a good relationship with both the vendors and customers. It wasn't always easy - sales in the first two years were slow, with Rypka personally giving out Tacos to people who were driving by. He was also maxing out his credit cards and taking loans to start out. However, they managed to gain their footing in the fast-food restaurant sector over time and grew from a single food truck to a chain of brick-and-mortar stores. Their popularity was further boosted when President Barack Obama placed orders from them when he was in Austin.
Their first food-truck is still in operation, but Rypka prides himself for reaching his goal of getting into a brick-and-mortar restaurant. Their slogan, "Damn Good", was coined after hearing customer's comments when they tasted the tacos, and emphasizes the importance of customer feedback to Torchy's Tacos. The taco-of-the-month special also allows them to further innovate and bring in new concepts to their fast food restaurant, and have customers coming back for more.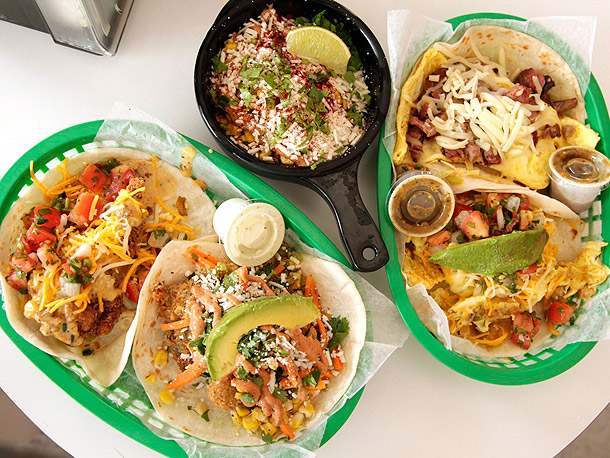 Let's delve further into how they managed to successfully kick start their business, to become the successful chain of fast-food restaurants they are today.
Growing Through Redistribution
The fresh, high-quality ingredients are what contribute to Torchy's Tacos' "damn good tacos", which means that they have to ensure timely deliveries of these ingredients to meet customer expectations. This can be attributed to efficient distribution centers and a redistribution program, which helps in maintaining quality, while at the same time reducing costs and improving inventory planning.
With their flexible business model, expansion and growth can be accounted for, even across different markets across the globe. Produce can be sent to each store five days a week, while also maximizing the shelf life of perishables, by managing the environments (and temperature) in which the produce are delivered.
Furthermore, the redistribution centers improve information management, allowing them to construct accurate demand-planning strategies and buy the right quantities of products. With transparent communication and a selection of limited suppliers, they are also able to maintain close relationships and maximize expansion, while ensuring consistent quality across their supply chain.
Adapting in a Pandemic
COVID-19 hit the QSR industry hard, and Torchy's Tacos was not left unscathed - they lost 50% of their sales and had to make an unfortunate decision to furlough hundreds of employees. It also halted their initial expansion plans, where they had a goal to open 100 new restaurants and build a presence in 17 states over five years. However, they were able to successfully turn this around by keeping their stores open by pivoting their business to fit changing consumer behaviors as a result of the pandemic.
Expansion, Growth and Recruitment
With careful consideration, Torchy's Tacos decided to go ahead with their expansion plan. Funds from the Paycheck Protection Program loan were crucial in securing jobs for their previously furloughed employees and enabled the onboarding of 1,000 new employees to aid in the expansion plan. They have also opened stores in new locations, to cater to people who wanted Torchy's Tacos in areas where they never operated previously.
Changing Business Model
As a result of the newly implemented safety measures, many fast-food restaurants were forced to shut down their dine-in service offerings. Torchy's reacted quickly by setting up tentages and outdoor point-of-sale systems to leverage patronage from curbside deliveries and drive-thrus. An outlet in Austin metro even went the extra mile to create a makeshift drive-thru, and Torchy's Tacos has also partnered with DoorDash to provide contactless delivery, which conveniences customers and simplifies delivery. All stores have also implemented additional safety measures such as the use of protective gear and rigorous cleaning processes.
Other plans in the pipeline include ghost kitchens which act as a distribution and delivery hub instead of serving customers directly. Companies have also come forward to help in providing spaces for the setting up of such kitchens, making it easier for them to follow through with their plans. They are also considering a shift to smaller restaurants, which will still contain their signature patios, bars and unique signage, but at a smaller scale.
Changes in Menu Offerings
Torchy's Tacos has included family packages to feed a larger group, alongside alcohol delivery and do-it-yourself kits which allow customers to create their signature margaritas in their own time, which have been popular among customers.
They continue to differentiate themselves from competitors with their 'craft-casual' branding, through quality food offerings and innovative menus. All food is made fresh, and the Taco of the Month keeps customers coming back for more since they have new offerings to look forward to every month.
Adept Management Structure
The store operators at Torchy's are managing partners and receive 7% of the operating profits every month, incentivizing them to incorporate innovative measures to drive profits and save the business.
By understanding and talking to the customers, they have also developed a neighborhood delivery concept that allows pre-orders and click-to-collect options for food pickups. This also allows them to improve their customer relationship management through personalization since customer information can be collected without going through a third-party service.
Adaptation of Corporate Offices
Apart from their restaurants, Torchy's Tacos has looked into improving the efficiency of their corporate offices, where the majority of staff are working from home. The successful implementation of the style of working led the founders to reconsider their choice of moving to a larger working space.
Penetrating the Retail Market
Torchy's Tacos has also ventured into the retail sector, by selling their very own sauces (Green Chile Queso and Diablo Sauce) at Whole Foods. Customers can now pair these fan-favorite sauces with their homemade meals and enjoy the unique flavors in the comfort of their homes. With the sauces retailing at $7.99 and $9.99 respectively, Torchy's Tacos is able to diversify and grow their brand, while providing a unique experience for their fans.
Fundraise with New Investors
Torchy's Tacos is also leveraging investor funding in a bid to realize their expansion plans and goals. They have called for a round of funding, and CEO G.J. Hart has vocalized his hopes of expanding Torchy's Tacos by doubling in size and conquering 15 states by 2023. Alongside these, their high revenues and willingness to take risks in opening in small to mid-sized cities, have made them especially appealing, capturing the hearts of investors.
They successfully sold a $400 million stake in the company to a new group of investors, while Rypka and other members of the original ownership group will continue reinvesting as individuals.
Furthermore, investors are happy with the growth of the brand over the years since their initial investment and are confident that Torchy's Tacos will continue to exceed their expectations.
Torchy's Tacos was able to focus on their redistribution strategy, leverage changing consumer behaviors and gain investor funding, all of which contributed to the success of their stores even despite the ongoing COVID-19 pandemic. Therefore, by aligning your brand with what the consumers and investors are looking for, you too will be able to pivot your fast food restaurant in the right direction and benefit from expansion and growth.
Subscribe to our blog for more fast food restaurant news, secrets and strategies!
Kai Lin is a freelance writer and digital marketer well-versed in SEO. Apart from writing, she also seeks solace in traveling, photography and playing the piano.