Hiring has come a long way since "Help Wanted" signs and handshakes. Today, as companies move faster and rely more on digital solutions, hiring managers have access to powerful software that can help them source candidates and fill open positions with much better efficiency.
Enter the Applicant Tracking System (ATS).

What features does an ATS have?
Different Applicant Tracking Systems come with a suite of different features. Businesses should take care to evaluate the ones they need and weigh the cost of the ATS, which can range from hundreds to thousands of dollars a month. While there is no one-size-fits-all solution for every business, there are some features that may be the deciding factor for your business. Here is a list of some common and uncommon ATS features.
Post to multiple job sites at once -- An ATS that integrates with multiple job boards allows users to post job listings instantly, all at the same time. Not only does this help save time and effort, as mentioned before, but the posts can be scheduled as well, allowing for more convenience (load up job opening into the ATS on Friday, schedule them to post first thing Monday) and better coverage. This feature can be a major boost to a company having trouble sourcing good candidates.
Facilitate new methods to apply -- According to Indeed, 78% of people in the US would apply to jobs on their mobile devices if the process were simplified. ATS's can provide that portal (via text messaging or QR codes) for applicants to apply by phone to your business. Especially popular for younger job seekers, this feature can lower barriers when applying, resulting in more applications.
Intelligently optimize your job postings -- Many ATS's have built-in Artificial Intelligence (AI) that can automatically choose the best job boards for your job listing. Since the hundreds of places to post can be overwhelming, the algorithm can seek out the job boards that best performed for a given type of job opening in the past to get you the highest ROI, especially when some job boards charge a fee to post.
Filters out and sorts applicants -- One of the most crucial features of a good ATS is intelligently filtering out the qualified applicants from the unqualified, automatically. For example, if a role requires a certain certification or license, the ATS can scan resumes for those keywords and automatically reject the ones that do not meet the criteria. This way, hiring managers only have to spend their time on the candidates that actually have a chance to be hired.
Schedules interviews -- Like it or not, scheduling the job interview(s) or forgetting to show up for one are both common problems in the hiring process. The job of an ATS is to take care of this for you and the candidate, making it dead simple to put the interview into both party's calendars, as well as send timely reminders for the interview.
Visualized hiring dashboards -- Imagine if a hiring manager could log into a system and see how the various job openings at their company are progressing at a glance. Most applicant tracking systems provide easy-to-read dashboards to show the status of the hiring funnel.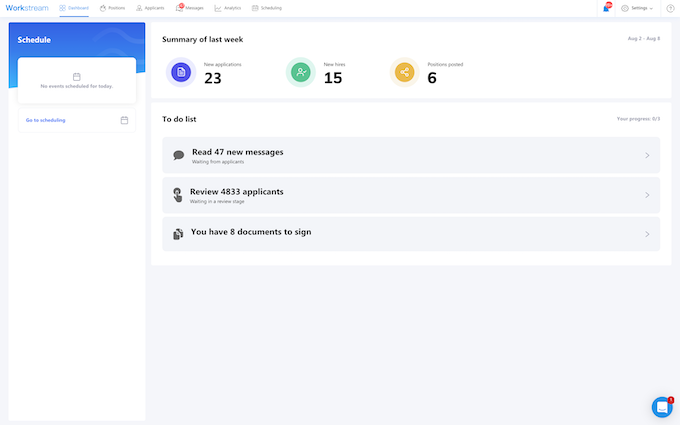 Provide hiring analytics -- With all the data collected by the ATS, users can pull trends in their hiring process to improve their whole funnel. Where are the bottlenecks? Which job boards perform the best? Is your time-to-hire decreasing overall? The system is not just a repository of candidate data, but a way to utilize the data to improve the process from top to bottom.
Paperless onboarding and training -- The ATS should be able to handle all the paperwork that used to be a headache when it was a manual process. As soon as a candidate is marked as hired, the ATS can send out W2 forms, employee handbooks, and even links to training videos to onboard new hires quickly. Especially during the COVID-19 pandemic, it can be useful to have an entirely paperless way of bringing on a new hire remotely.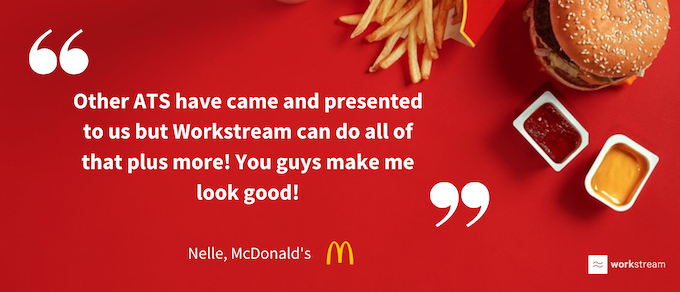 What is an ATS?
An Applicant Tracking System is a software application or platform that helps manage a company's hiring process by maintaining a database of candidates and job openings, while providing an organized, actionable flow of the hiring process.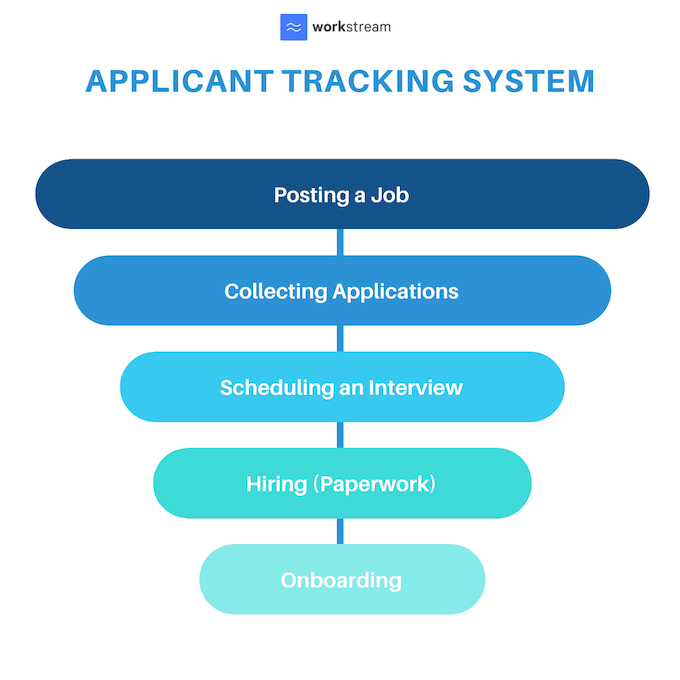 Typically, when a resume or job application is submitted online, the candidate's data is fed into an ATS. Once the candidate is stored in the database, the hiring manager can use the system to quickly bring up their information and take specific actions on their profile throughout the hiring process.
Why use an ATS?
If your local hardware store needs to hire a single employee, that business can manage just fine with a manual process. Joe Hardware can accept a paper resume in person, which can be filed in a drawer to be reviewed at the leisure of the manager. If the resume looks good, the manager can then reach out to schedule an interview.
Now consider a company like Amazon that has to hire 30,000 workers at a time. That manual way of hiring will quickly get out of hand, slowing down the process to fill these open positions. In fact, Amazon might have to hire just as many hiring managers to manage all their hiring!
Instead, Amazon and over 98% of Fortune 500 companies use an ATS to facilitate their hiring process. Using software, a small team of hiring managers can oversee the hiring of tens of thousands of employees. ATS's saves time, speeds up time-to-hire, and greatly reduces the cost of employing more HR professionals at these companies. Keep in mind, the average salary of an HR Manager runs around $104,572 according to salary.com. Using an ATS is nearly guaranteed to pay for itself over the course of a year.
Can an SMB benefit from an ATS?
While Applicant Tracking Systems are basically table-stakes for an enterprise-level company, small-to-medium sized companies may question whether they need to employ this software for their own hiring needs. After all, your company may have greater hiring needs than Joe Hardware, but you're nowhere near the level of an Amazon.
Well consider this: according to research out of Glassdoor, the average overall job interview process takes 22.9 days in the U.S. And that's the average! That means half of all hiring timetables last nearly a month, which is long enough that companies regularly lose out on talent who can go to their competition. SMBs can't afford to lose out on great talent since they make less hires. Speeding up the hiring process gives businesses a huge boost, especially in competitive industries.
Sourcing candidates is also tough for SMBs. Manually posting job openings to Monster, Craigslist, Indeed, etc. can take up a great deal of time; and that's only scratching the surface since there are literally hundreds of sites to post a listing. In fact, take Quick Service Restaurants (QSRs) as an example. Since fast-food locations mostly need lower-skilled employees, one could assume that sourcing talent may be relatively easy. In reality, over 56% of QSR hiring managers said they had a tough time sourcing hourly workers.
The point of an ATS is to give businesses more reach in less time. When time-to-hire and sourcing are two huge hurdles for SMBs with limited resources, ATS's can make the difference and solve these hiring pain points without having to pay high salaries for more HR personnel.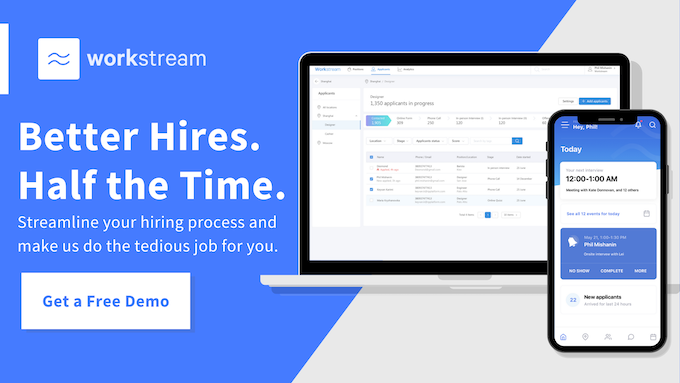 Interested in trying out Workstream's ATS? Click here to learn more, or to start a free demo of our software.
Robert Woo is a freelance content creator for various companies from startup to enterprise-level. When not writing SEO-friendly articles, he writes and performs comedy, plays guitar, and champions the Oxford comma.