When it comes to hiring hourly workers, a fast and frictionless experience is essential to ensuring your business is always fully staffed. That's what we set out to do when we launched Workstream with our two-way texting and automation technology. But the experience shouldn't stop once a candidate accepts your offer.
We're excited to announce Workstream Employee Onboarding, an extension of our product suite that makes onboarding new hires a quick and easy experience for both employees and employers.

Onboarding up until now has been a tedious, manual process that often results in errors. (In fact, 60-80% of paper I-9s are missing or incomplete, which can result in fines.) The pressure to fill out so much paperwork in those early days of a new job can cause employees to make mistakes or miss critical information.
Employee Onboarding brings the digital-first experience of our Hiring product to your onboarding flow so both you and your employees can zoom through the paperwork with accuracy and ease. With onboarding time cut down from hours to minutes, you can now focus those early interactions on the things that increase engagement and reduce turnover: building trust and a sense of community with your new hire.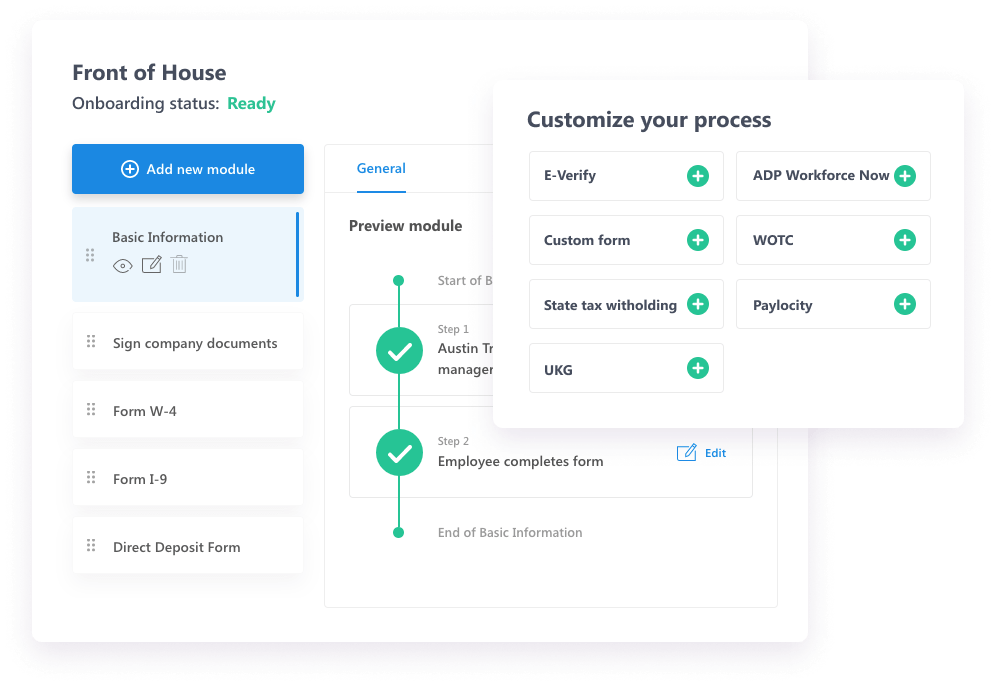 Improving the onboarding experience for all
Easy to use: Employee Onboarding is easy to customize so you can make the workflow unique to your business, the position, and the new hire. For instance, some roles might require extra paperwork like a vehicle use agreement or phone policy. Once you're ready, automatic alerts will prompt new hires to start completing their digital paperwork on their own.
Digital-first: Ditch the physical paperwork and move your entire onboarding process to our platform. With out-of-the-box templates, custom forms, electronic signatures, and digital document storage, you can get new hires up and running faster than ever before.
Employee-friendly: You've worked hard to build rapport with your new hire. Continue building that relationship with open communication and a stress-free onboarding experience that takes less than 10 minutes to complete.
Start new hires off on the right foot
Onboarding can be stressful for both employees and managers. With Employee Onboarding, you can give new team members an easy, digital way to get set up and start learning about their new job—while saving you time on the tedious aspects of the process.
We hope this evolution of our product suite makes managing how you hire and onboard even easier. Learn more about Employee Onboarding and how it can save you and your employees time in the early stages of their employment here.
Workstream is a hiring platform that helps employers get 4x the number of qualified applicants. The world's most trusted brands use Workstream to optimize job board postings, automate screening and interview scheduling, communicate via text message, and streamline the onboarding/training process. See what all the buzz is about by scheduling a demo or email us info@workstream.is!