Mark and Paul met in 2004 at Bahama Breeze. Mark had just relocated his family to Orlando to be the General Manager of the I Drive location and Paul was his bar manager. From the day they met it was more like brothers than friends. Days off, vacations and days on the boat, the families grew close and their kids grew up together. The boys talked and talked about starting their own restaurant.
Mark relocated to Las Vegas in 2007 and the friends stayed in touch. They could go a couple months without talking but then when they did it was as if no time passed, just picked up where they left off. Vacations still happened back to Orlando and the pair continued to talk of starting their "own" thing.

Paul continued to work his job at Bahama Breeze and raised his family in Orlando while Mark was doing his thing in Vegas. Time passed and Mark got a text message from Paul in August of 2016 "I quit my job"……. WHAT?????? Mark had a cushy life and all of the sudden Paul quit his 20 year job. What should we do?

At this point Mark had 5 restaurants in Las Vegas and 5 restaurants in LA that he over saw. Paul flew to LA and the boys spent 3 days eating. I know I know its tough work but someone had to do it. Mark took Paul to all of his favorites and some he didn't like. When the food fest was done, the road trip back to Vegas began. The friends talked all the way back to Vegas about what the concept had to have. They came up with three things: Incredible food, remarkable service and super easy to replicate.

It was a great drive and born out of the 4.5 hours was the Island Fin Poke Company!

Mark's Las Vegas kitchen became ground zero of poke. Friends and family gathered to taste test sauces. The house was never short on visitors when there were poke tasting parties. Over the course of the next few months, the creation of the house made sauces was complete.

Fresh, delicious, and all gluten free.

Give it a try and see for yourself, you will never eat a poke bowl from another restaurant.
Q: What is the biggest challenge you have met in your career?

Mark: The biggest challenge is always people. When I started my career the world was much different. I was a kitchen manager and I made Gordon Ramsay look like a teddy bear. I remember my 30th birthday like it was yesterday. My director came into my restaurant and handed me a gift. It was the book "Brutal Bosses". I have never read the book. Just the fact that he cared enough to give it to me impacted me immensely. Changed my life and reshaped my career. From that point, forward time was better spent coaching and teacher rather than being a brutal boss. It is amazing how when you treat the team with respect how much further you get. That doesn't mean there isn't accountability, there is always give and take and the standards must be met

Q: How you would describe your company culture, and what are the superpowers of your team?

Mark: The company culture here at Island Fin Poke Company is a culture of family. We have a huge graphic on the wall that says "Ohana, no friends just family" and we live that. Family meals, closed holidays for family time and welcoming everyone in.

I think the real superpowers of the team is the ability for each and every team member to take on our being of service mentality. We are a quick service but we do not have trash cans in the dining room. The team pre and engages the guest throughout their experience. No matter how big we get we always want to be the neighborhood joint.
Q: What are some challenges or trends you see in hiring today?

Mark: The best thing about our concept is we hire mostly first job team members. Our concept is super simple and easy to execute. We pay well and the kids genuinely love their jobs and the money they make. We don't need to hire experienced and jaded long time restaurant people. No bad habits.

Q: Who inspires you and why?

Mark: The greatest thing about this business is watching the team grow. I never wanted to be a teacher at all but honestly the most important aspect of this job, especially in the growth mode we are in is the education of the team. When we have the team trained properly to execute the concept the guest experience is through the roof. The comments, the reviews, the reaction on our social media just gets me fired up. There are so many choices out there for the guest to spend their money and our job is to make them choose us.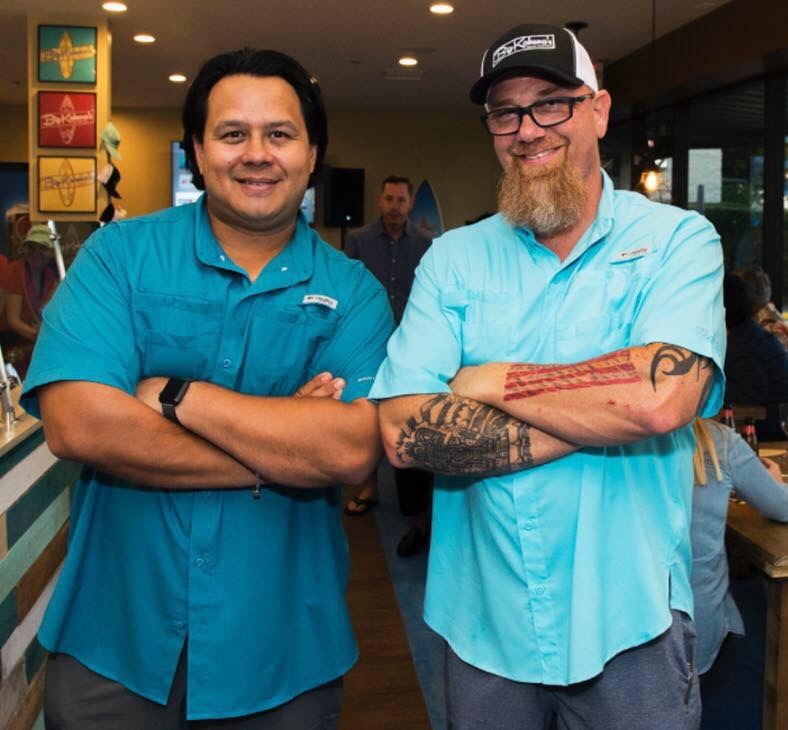 Q: How would you describe your leadership style?

Mark: Unfortunately, I am a perfectionist. It is tough in the restaurant business but I see no reason why we should not strive to be perfect every day, every shift and for every guest. I am very hands on and when I am in one of our restaurants I am very involved from prep to service to the overall guest experience. I like to be close to where the rubber meets the road. I like to hear from the guest and the team how we are doing. We are in the position we are in to serve people. We tell the team if you are not serving a guest, you are serving someone that is serving a guest. We live this.

Q: Have you ever had an hourly job? If yes, please share with us your experience.

Mark: Heck yes. My first job was as a dishwasher at an Elias Brothers Big Boy in Cascade Michigan. I loved working and the independence having my own money gave me. I worked hard and in 30 days was promoted to cook. I was the youngest person this franchise had ever promoted to cook.

It was awesome. I was super lucky, my mom would let me work as much as I wanted as long as my grades were good. That also made my boss happy. My kids both work at Island Fin and I am tough on them. My 18 year old basically runs the place. Sysco orders, payroll, everything. I love it!
Workstream is a hiring platform that helps employers get 4x the number of qualified applicants. The world's most trusted brands use Workstream to optimize job board postings, automate screening and interview scheduling, communicate via text message, and streamline the onboarding/training process. See what all the buzz is about by scheduling a demo or email us hello@workstream.is!