For most businesses, 2020 has been about mitigating the detrimental effects brought upon them by the coronavirus outbreak. This unfortunate circumstance has forced many to take drastic measures in hopes of keeping their business afloat, though not all have been successful in doing so.

As one would expect, our quick service restaurants (QSRs) have not been spared from the aftermath of this pandemic. In fact, they may be one of the hardest hit industries. Amongst others, NPC International Inc., one of the franchisees for Pizza Hut & Wendy's, and TooJay's have filed for bankruptcy due to the direct impacts of the virus.
Despite the seemingly bleak future, a select few QSRs have actually managed to thrive through this pandemic with their own innovative approaches (which we believe is a key element in ensuring your business survives this difficult period). Let's take a look at Carl's Jr. who, for one, has their fair share of effective solutions in keeping their business afloat and is thriving despite the crisis. Needless to say, we can definitely learn a thing or two from one of the most beloved global fast food chains.
Consumer-driven Innovation
In recent years, consumers have been leaning towards meat-free products, with at least 30% of Americans reducing their total meat consumption. With this shift in consumer preferences, the plant-based meat market is predicted to be increasingly lucrative in the upcoming years. Carl's Jr. caught on to this particular trend and became one of the first movers to roll out their own plant-based menu in 2019.
Along with sister chain, Hardee's, they partnered up with Beyond Meat to produce a meat-free menu and have been consistently updating it to meet increasing demands of consumers. And the best part? These vegan patties are customized to ensure that the brand's unique taste is not compromised. This move proved to be successful. After only 10 months since its launch, the brand had managed to sell more than 4.5 million of their Beyond Famous Star burgers, making it their most successful burger launch in the last 2 years.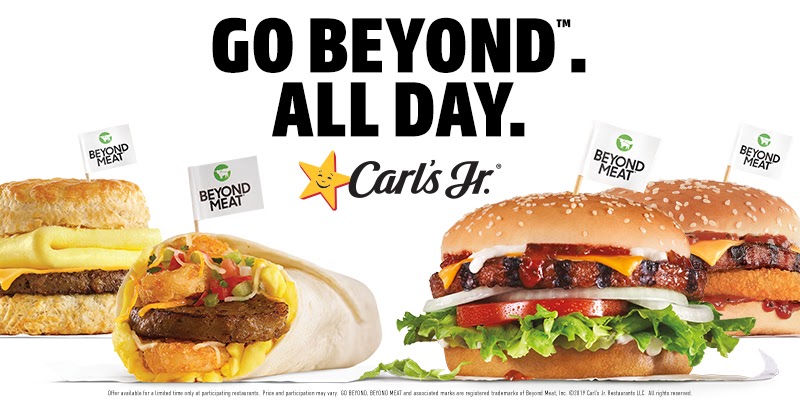 One thing's for sure - this group of consumers is not going away, and Carl's Jr. definitely has no plans of slowing down this particular section of their menu.
Aside from that, due to increased demand, Carl's Jr. also rolled out an All-Natural Turkey Burger back in 2015 and keto-friendly options earlier this year. They even introduced a Carl's Jr. menu which helps in curing hangovers back in February when the entire state was probably overindulging during the NFL Super Bowl! That, to us, is the perfect testament to how heavily consumer-driven their food innovations are.
Continue to Invest in Hiring the Right People
As Chick-fil-A owner/operator, Dusty Pyne, said, "We aren't in the restaurant business - we're in the people business."
The same holds true for Carl's Jr. as well. Even with the setbacks they have experienced due to the coronavirus, they insist on taking their hiring processes seriously. Since customer service is of utmost importance to them, they prioritize relevant characteristics of new hires to ensure they are able to deliver top-notch services to their customers.
With the pandemic crisis, it will undoubtedly be more difficult to hire the right people. To overcome this, Carl's Jr. utilizes new technology from Workstream to enhance their hiring process. They were the first to incorporate a 30-second video submission in their recruitment process to understand their candidates better. In this video, applicants were asked open-ended questions (e.g. 'Why do you want to work for Carl's Jr. and this specific position?') and recruiters have the opportunity to analyze how applicants articulate their thoughts to others. Such segments allow them to make an informed decision on who they should invite for an interview, making the process to hire the right people more efficient despite the outbreak.
If you would like to adopt similar hiring styles, feel free to contact us at Workstream. Having worked with over 5000 hiring managers, our experienced hiring specialists will gladly provide free expert consultations on how to improve your hiring process!
Building Strong Partnerships
Another strategy that Carl's Jr. has done right is establishing strong partnerships with innovative companies. Especially in light of the pandemic, building partnerships with the right businesses are essential to keep their operations going. And this is exactly what Carl's' Jr. had done - initiating a partnership with the industry leader of food delivery, Postmates.
To celebrate their 79th birthday, Carl's Jr. presented their customers with 'free gifts' when they placed their order via Postmates during said birthday weekend. This is a great strategy, mainly because most consumers have significantly increased their usage of delivery services during the crisis in a bid to avoid leaving home.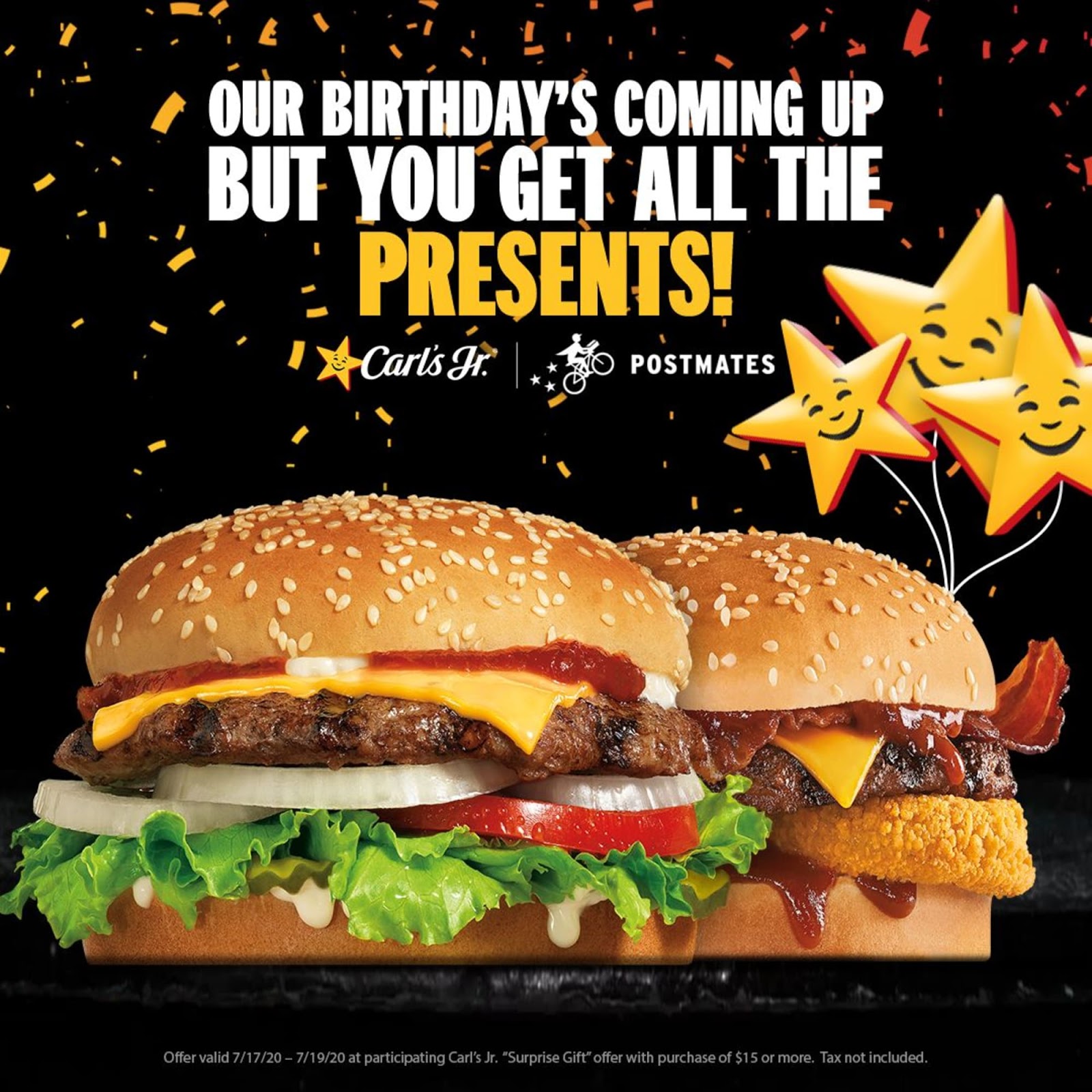 In addition to that, Carl's Jr. also provides free delivery when customers order through Postmates and UberEats. This is made possible only with strong partnerships established between the delivery services and themselves.
Our advice to you? As a business owner, it is best that you keep effective and relevant collaborations in mind whenever an unprecedented situation occurs.
Adopt a Data-Driven Approach
Some of us may be familiar with this - Carl's Jr. was once (or still) known for their racy ads, showcasing women in scantily clad clothings. While we don't advocate these controversial ads (that are arguably offensive), one cannot deny that these ads made waves. It had 2.5 billion earned media impressions before it even ran as a Super Bowl commercial. The brand was well-aware of the statistics - these ads were memorable, and they stuck with consumers.
Nevertheless, criticisms from the general public after the "#MeToo" movement and evolving societal expectations have pushed them to steer away from the raunchy image they have developed for themselves over the years. Instead, they have moved to placing focus on their foods, since that is what's driving their profits anyway.
Our main takeaway here is to utilize your data to establish your brand and determine your next marketing campaign. It ensures you stay relevant in the industry and more importantly, prevents backlash from your own pool of consumers.
Focus on Nuances of Sales Strategy Execution
Just like how Carl's Jr. led the way in suggestive selling at drive-thrus, franchisees should focus on the execution nuances of their sales strategies.
According to data collected, Carl's Jr. leads all QSR brands in degree of cross-selling and upselling during their greeting in drive-thrus. With such suggestive selling (also commonly known as cross-selling and up-selling), average order values are bound to increase. Needless to say, as consumption patterns shift towards delivery and drive-thru purchases amidst the coronavirus outbreak, QSRs have more to gain when they emulate such approaches by Carl's Jr.
The key takeaway here is this: avoid simply rolling out a generic strategy. Make sure you manage the execution of it, down to how each employee carries it out during day-to-day operations. All QSRs institutionalize suggestive selling amongst employees, but Carl's Jr.'s execution gave them the edge to thrive, especially during this pandemic.
By constantly innovating and staying abreast with technology, while understanding their consumers' needs and demands, Carl's Jr. was able to survive through, and is still surviving, the pandemic. These approaches could perhaps be the pivotal solution for your company to weather the storm during this crisis. What are your plans to keep your business going during this period? Let us know at hello@workstream.us!
For more insights and updates, subscribe to Workstream blog.
Zakiyah is a freelance content writer. She's a lifelong learner, looking for opportunities to expand her horizons whenever she can. She loves traveling, playing volleyball and reading up on general developments in the industry.