Born from its humble beginnings in Quincy, Massachusetts, Dunkin' has come a long way as a quick-service restaurant (QSR). Despite being an 8th-grade dropout, founder William Rosenberg always had an entrepreneurial spirit in him. From buying blocks of ice to sell ice chips to purchasing vehicles and converting them to mobile food trucks, Rosenberg already started running his own businesses in his early years.
After noticing the popularity of donuts and coffee during his food truck business stint, Rosenberg decided to open his own restaurant, named Open Kettle, which focuses on snacks (yes, donuts!) and beverages. This will eventually grow to be the Dunkin' that we know today. The brand has had its fair share of corporate changes and even rebranded itself recently in order to stay abreast with the current trends. With 2018 being their most transformational year, what exactly was done by the brand which led them to be one of the top 10 fast-food chains in the world?
Read on as we unpack their impeccable success in the QSR industry!
Building a Digital Presence
"It's not just time to make the donuts - it's time to go social" - these are the words of John Costello, Dunkin's President of Global Marketing and Innovation. And indeed they have. Diving into social media is possibly the best thing they have done to build their online presence. By using the new platforms to share content that inspires their customers, they are able to better engage with their customers on a more personal level.
Moreover, Dunkin' treats all of their social channels separately and refrains from posting repetitive content across their channels. Their Twitter, for example, serves as a platform for them to speak one-on-one with their followers while their Facebook account is used to let fans in on the behind-the-scenes happenings of the stores. By having different purposes for the respective platforms, they are able to deepen their relationship with their customers, fostering a sense of loyalty for the brand. And by being in an industry filled with many established competitors, increased loyalty will definitely bring Dunkin' to greater heights in the long-run.
Adapting to Different Markets & Trends
Global Expansion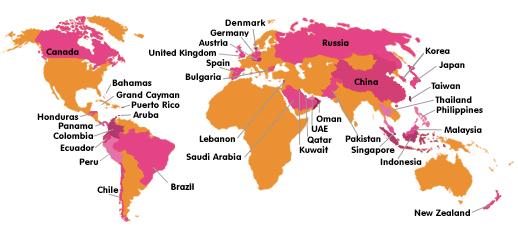 While Dunkin' may have started off in the US, there is no denying their popularity outside the country. How else could the brand open over 3,100 stores in over 30 countries outside of the US? Their success overseas is not by sheer luck though. Dunkin' made it a point to adapt their offerings depending on the country the store is in.
To make this happen, Dunkin' has a team dedicated to do research on what best fits the local tastes. And since the stores are completely franchised, this gives them a competitive advantage over global brands which might not provide a local touch to its overseas outlets. Some examples of menu innovations outside of the US include caramel macchiato with coffee cubes in South Korea. They even have kimchi-stuffed savory donuts to meet the spice preference of the locals there. In other countries, food products are not the only aspect that is modified to fit the culture. In Holland, for example, even their stores incorporate local culture by using Delft tiles.
Becoming Sustainable
In an effort to become a more socially responsible brand, Dunkin' has ramped up its efforts to be more sustainable. This includes the complete elimination of foam cups globally by the end of this year. In place of them will be their very own double-walled paper cups and recyclable coffee cup lids. Their efforts to be more sustainable are not only limited to this. Previously, the QSR has also committed to using only sustainable ingredients in their food products and even partnered up with World Coffee Research and the Sustainable Coffee Challenge to attain a more sustainable coffee supply chain.
According to Dunkin' Brands' Senior Sustainability Specialist, Danielle Wood, 86% of their packaging in the US is made from "renewable resources, recyclable, and/or made from certified material". Ultimately, the brand's aim is to find a sustainable alternative that is able to replace single-use plastic packaging. And as more consumers become increasingly environmentally-conscious, this strategic move will likely benefit Dunkin' in the long-run.
Increase in Health-conscious Consumers
As with other QSRs, Dunkin' picked up on the rising trend of consumers opting for healthier options. And let's be honest, can we really park donuts under that category?
This is why they have come up with healthier menu offerings to meet the needs of their health-conscious customers. It may also be the reason why they've decided to drop the word 'Donuts' from their highly acclaimed former label, 'Dunkin' Donuts'. Fearing that they may be overly affiliated with the term 'donuts' and drive new health-conscious customers away, they decided to rebrand themselves as a beverage-led brand since 60% of their sales are generated by their drinks anyway. But more on that in the next section.
The important thing to note here is this - Dunkin' is flexible enough to adapt to the changing needs and trends of different markets. And one thing's for sure - their adaptability has definitely gained them a sizable fan base, enough to make them one of the top fast-food chains in the world.
Successful Rebranding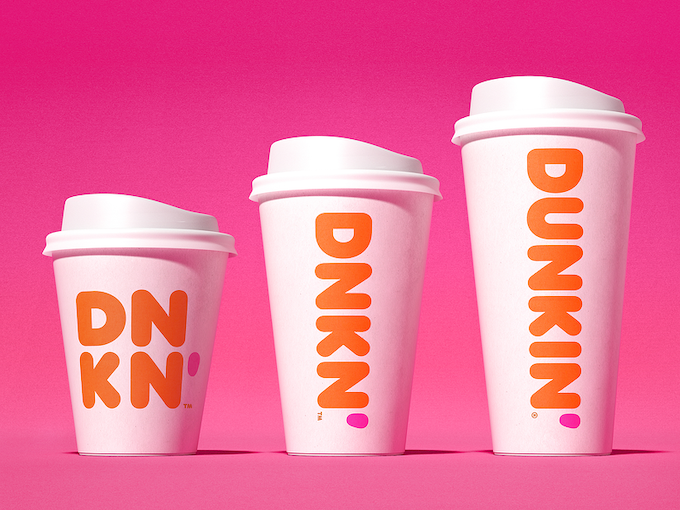 With a tongue-in-cheek ad campaign in September 2018, Dunkin' told the world that they want to be on a "first-name basis" with their customers and removed 'Donuts' from their brand name. This is part of their rebranding journey to be known for more than just their donuts since they have other notable items on the menu as well (shout-out to their coffee). This move was also done in a bid to appeal to the younger crowd by upgrading its image and technology, especially because coffee-drinkers are getting younger and younger every year. By moving away from the 'donut' term, Dunkin' has the flexibility to widen their reach into new consumer demographics, giving them an opportunity to strengthen their foothold in the coffee sector, which they are already dominating alongside Starbucks.
Aside from changing their name, Dunkin' also added a number of changes to their stores as part of their rebranding movement. For one, they cut back on their menu offerings by 10% in an effort to simplify operations and launched their value menu, Dunkin' Go2s and Dunkin' Run $2, nationally. All of these are implemented purposefully to show that Dunkin' is evolving and is dedicated to being the on-the-go brand people can always depend on.
Fortunately, the rebranding efforts are proving to be successful as customers did notice improvements in service quality, in terms of the brand's speed and accuracy of fulfilling orders. What's more, the new name has received positive feedback too as guests still associate it with the pink-colored brand they have come to know and love. To make things better, Dunkin' stock price has more than doubled on the New York Stock Exchange just in the past 3 years as compared to competitor Starbucks, which has only increased by 20% over the same period. At least for now, this goes to show that the rebranding campaign has indeed paid off for the fast-food chain.
Digital Innovation
Mobile Ordering and Expansion of Delivery Methods
Knowing that many of their customers use digital services, Dunkin' has also improved on their existing mobile app to offer their customers greater speed and convenience when ordering. Some of the services offered in the latest app include the On-the-Go Mobile Ordering in 2016 which allows users of the apps to order ahead. By utilizing this service, customers are able to skip in-store queues and simply pick up their orders in the store or via their drive-thrus.
The On-the-Go Mobile Ordering function is not the only innovation Dunkin' has done on their mobile app. In fact, the brand is consistently testing out new ways to provide a seamless ordering experience for their customers. This includes implementing curbside delivery, where the customers can make orders online for store-pickup and not leave their cars when they come to collect their orders. Instead, Dunkin' employees will bring out their bagged goods straight to their vehicles. This, in addition to third-party delivery, is an effort to make their mobile ordering service more robust so that customers can make and receive their orders the way they would like to.
Integration of Loyalty Program Into Mobile App
Dunkin's loyalty program, DD Perks Rewards Program, was first introduced in 2011 where members are able to gain points through their physical 'DD card'. Now, they have integrated this program into their mobile app for greater convenience and flexibility for their loyal customers. Members need only show their DD Perks loyalty ID QR code in their mobile app to collect their reward points and can gain points for any eligible purchase no matter the payment method. Once they've accrued 200 points, they can redeem a free beverage from participating Dunkin' stores. This loyalty program is so well-received that it has more than 12 million members as of September 2019, evidently adding on to their loyal customer base.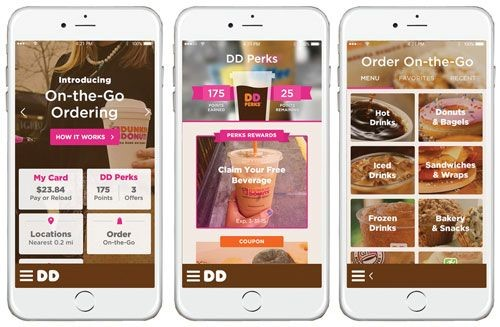 Additionally, Dunkin' Brands' recent partnership with CardFree Inc. also allowed the QSR chain to acquire a perpetual license to the software used to build and run the mobile ordering and payment platform for Dunkin' US. Needless to say, this license will strongly support the company's future digital initiatives, allowing them to further leverage their technological capabilities.
Ordering with Amazon's Alexa
Stephanie Meltzer-Paul, Vice President of Digital and Loyalty Marketing for Dunkin' U.S., said "As a brand, we are always looking for ways to fit seamlessly into our guests' daily routines and provide new levels of convenience and speed." And what better way for them to do that than to make On-the-Go Mobile Ordering available through Amazon's Alexa. Now, customers who have a DD Perks account and an Amazon account will be able to link them together, making the ordering of food from Dunkin' easier than ever!
The Future of Dunkin'
Thus far, we have seen the numerous ways Dunkin' has innovated its ways to bring the company to new heights. So, what is next for Dunkin'? Well, the brand has set aside $60 million for their NextGen stores - a redesign of their stores equipped with an eight-headed tap system, efficient coffee line and a pick-up area dedicated solely for mobile ordering, among others. At the end of 2019, there were 525 of such stores and the company is expecting it to increase to 1,400 by the end of 2020, though the numbers may have changed in light of the pandemic. However, moving forward, the concept of the NextGen stores may just replace every other outlet in the world due to its ease of ordering and convenience for the customers, the goal Dunkin' is ultimately aiming for.
Moreover, with the new normal brought about by the coronavirus pandemic, the NewGen stores may have just come at the right time. Despite the heightened measures enforced to restrict unnecessary human contact, Dunkin's NewGen store could still operate without interruptions since contactless payment was already implemented and most of their business was to-go and. On top of that, more customers are making their orders via drive-thrus, making the new double lane drive-thrus even more worthwhile. Thus, for Dunkin', post-pandemic will probably not cause much of a problem for them, since they have the basic infrastructure in place to operate responsibly.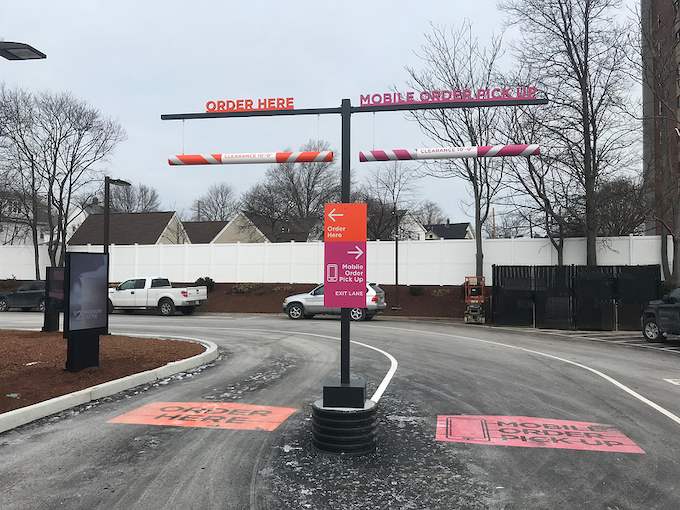 Digitalization and innovation is an ongoing endeavor for every company, and that is exactly what Dunkin' is doing. There is an endless possibility when it comes to technology and the only way for you to stay relevant is to stay updated with the current trends in the industry. By constantly innovating on your products and services while having your customers' needs in mind, you might be well on your way to becoming one of the top 10 fast-food chains in the world.
Stay updated with the current trends in the industry by subscribing to our blog today!
Zakiyah is a freelance content writer. She's a lifelong learner, looking for opportunities to expand her horizons whenever she can. She loves traveling, playing volleyball and reading up on general developments in the industry.