Instagram, a social networking app primarily designed for users to share photos and videos, has seen tremendous adoption since its inception. As the app's feature set grows—with the introduction of things like Instagram Stories, which are time-based stories resembling that of Snapchat, and video channels known as IGTV, which functions similarly to Youtube—their user base also continues to grow. In 2021, they saw a 3.7% increase to 170 million users in the U.S. alone.
Instagram is not only for personal use. Businesses around the world also use the platform to connect with their customers and prospects. In 2021, more than 200 million business accounts were on Instagram. With 500 million active daily users, the social networking app serves as a great platform to build employer brand... and hire hourly workers. Yes, hire.
Wondering how to hire on Instagram? Let's dive in.
1. Be

Creative with Ads
Instagram has always been known for its aesthetically pleasing feed. Users are accustomed to eye-catching visual content (and less on words) to convey a message. So, be extra innovative with the visuals you use when you post about job openings on Instagram. Below are some tips on how you can do that.
Tip #1: Use creative content consistent with the brand image
Tip #2: Use striking colors and designs
Tip #3: Use simple infographics to convey your message to your viewers
Tip #4: Remove clutter by opting for minimalism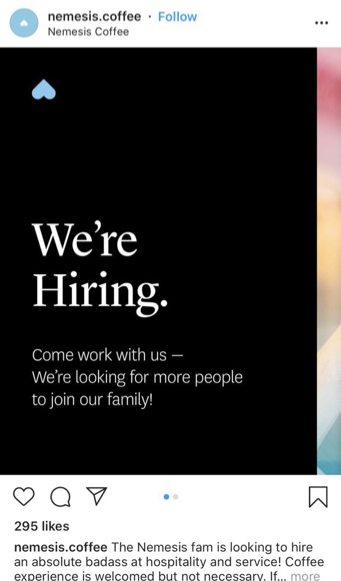 2. Use Tools



Instagram offers many tools that help boost the visibility of your content beyond posting it on your feed.
Use Instagram Stories
Instagram Stories are a good way to approach on-demand and urgent hiring needs. Posting multiple times a day on Instagram Stories has fewer repercussions than posting several times to your feed. This is because excessive posting to your Instagram feed is considered spamming your viewers. Additionally, Instagram Stories increase the organic visibility of your brand (more so than posting to your feed). Instagram Stories reduce inertia for viewers since it automatically plays the next video without viewers having to manually scroll through it. Typically, once a user starts watching the stories, the video plays continuously one after another until they are caught up with all of the updates for the day.
Need another "pro" for posting an Instagram Story? You don't need elaborate artwork. Even if your content is longer and wordier, viewers will still read through it… or listen to it.
Poll your community

The poll function engages users to vote on an option that provides their inputs relevant to the company. This also serves as a useful tool for businesses to engage with their followers' networks.
Take a look at the example below. By asking their viewers if they can recommend an eligible person for the job, the employer is able to tap into their community for candidates. This works especially well if you need to urgently hire since people are able to respond to the job ads in real-time.
Link back to your feed

Instagram allows you to quickly create Instagram Stories based on an existing post on your newsfeed. This means that you are able to increase the visibility of your post. It also allows your followers to get more information with a simple tap, which redirects them back to the main post to learn more about your open role.
Add important information to your Story Highlights
Instagram Stories are evidently amazing but there is one shortcoming: your content only stays for 24 hours. But don't worry. With Instagram Highlights, you can permanently save your stories to your profile so your followers can view them later. This is especially useful for essential information that your potential future hires might want to know before applying for jobs at your company (ie. the culture of your company).
3. Keep Copy Short and Concise
Since Instagram focuses more on visuals and less on copywriting, companies should keep their captions short, concise, and informative.
Tip #1: Use bullet lists or short (distinct) paragraphs
No one enjoys reading long, lengthy content on what your company has to offer. Get straight to the point and use bullet lists to convey the job responsibilities. If bullet lists aren't appropriate in your context, try separating the paragraphs with a divider so it looks more organized and is easier to read.
Tip #2: Use hashtags
Hashtags are extremely useful to help track your job ad. You can use hashtags on both the feed as well as on Instagram Stories.
With the hashtag following functions, people who are interested in a topic can follow the specific hashtag to see more content from various users related to the topic of interest. In this case, hourly job-seeking applicants on Instagram may be following hashtags like #hiring, #jobsearch, and #jobhiring. By using hashtags, you can reach out to a wider range of potential applicants who are beyond your current following.
Tip #3: Portray your brand personality
People love brands that are fun and interactive. Show your viewers the kind of company culture they can expect upon applying for the job to get them interested. You can even use emojis to lighten the mood and appear more lively.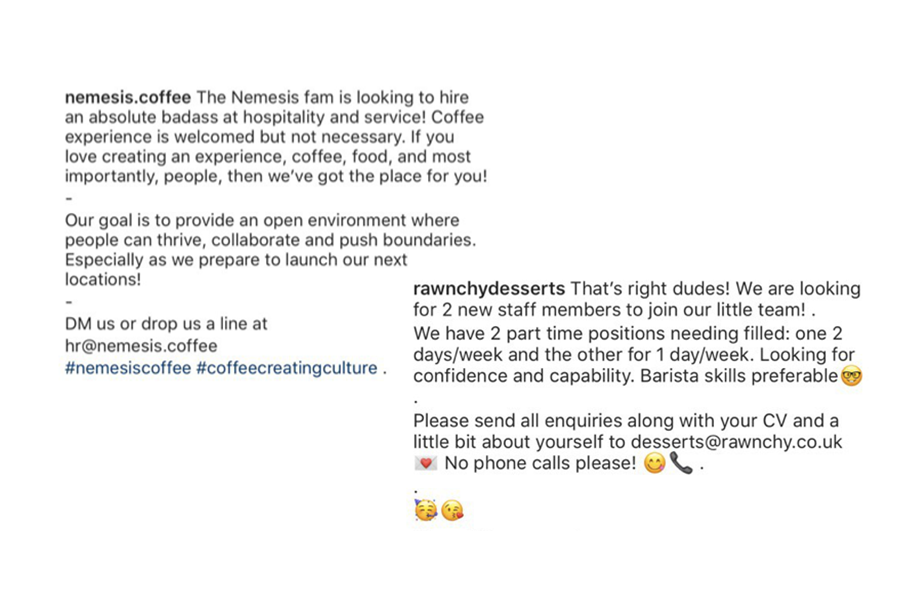 4. Include Call-to-Action
Call-to-action (CTA) buttons can be placed on the company's profile page under the "contact" function or even in the caption. The "contact" function is useful for interested job applicants as they can easily apply for the job without leaving Instagram. Most CTAs revolve around sending your resumes over or dropping a direct message to express interest.
One of the more interesting CTA is the ability to tag people. Since Instagram is primarily a social networking platform, information can be shared through friends simply by tagging each other. This increases the visibility of the post and helps you expand your reach further than your primary connections.
5. Run Paid Ads



Another way to hire workers through Instagram is to run paid ads on the platform. With Instagram Stories' high visibility, companies can use Instagram Story ads to reach out and engage their target market better. These ads are effective as it fits in between users' stories while keeping the format of a story so that the user experience is uninterrupted. This also allows for full-screen advertisements without the clutter of other content, and hence, is more able to hold the user's entire active focus.
If your company has 10,000 followers or is a verified account, you will be able to include the swipe-up function and attach a link to the story. With this function, viewers can easily submit their job applications without physically leaving Instagram.
6. Involve Your Current Employees
Who else is better suited to endorse your company than your own employees? Having third-party endorsements often adds credibility to your organization and this helps to widen your pool of candidates even further. What's more, your existing employees are most likely a good fit in your company due to their personalities. Since birds of the same feathers flock together chances are that their networks consist of like-minded individuals who are also a great fit for your company!
But how do you get your employees involved? Well, an indirect way is to place your social media links in various areas in the workplace as some of them may not even know about your Instagram presence. Alternatively, you can always encourage them to post about your recruitment events or reward them for talking about their job on social media.
Case Study: Starbucks
Starbucks' careers page on Instagram is a great example of how to bring this all together. Each post is highly representative of their brand. Copy is concise and ends with a call-to-action that directs applicants to the relevant site to apply for the position. They were also creative with their visuals by using play on words to catch their audience's attention. One thing to take note of is the abundance of employee portrayals on their profile. This gives prospective hires a sneak peek at how their jobs could be if they were to work in the famed coffeehouse.
Starbucks also made use of the Story Highlights feature to park important information, such as their company benefits, to make it easily accessible for interested individuals.
All in all, with the rising usage of Instagram among the working class, the platform serves as an opportunity for businesses to tap into a wider pool of applicants and attract like-minded individuals for their hourly job roles. As Instagram continues to evolve, users are becoming more open to business messages and would give it an extra look. So, what are you waiting for?
Stay updated with the latest trends in the hiring industry by subscribing to our blog today!
Workstream is a hiring platform that helps employers get 4x the number of qualified applicants. The world's most trusted brands use Workstream to optimize job board postings, automate screening and interview scheduling, communicate via text message, and streamline the onboarding/training process. See what all the buzz is about by scheduling a demo or email us info@workstream.is!