As Instagram incorporates more features, their user base continues to increase. In 2018, the Instagram user base within United States saw a 13.1% increase to 104.7 million users. Instagram functions primarily as a social networking application for users to share photos and videos. It has expanded to include Instagram stories, which are time-based stories resembling that of Snapchat and video channels known as IGTV, which functions similarly to Youtube. As of late 2017, there were 25 million businesses who were on Instagram.
With 500 million active daily users on Instagram, this is the platform to build your employer branding and hire hourly workers. Audiences following businesses' Instagram allows for greater chance of conversions since they have already establish brand loyalty towards a business.

So, how can this be achieved?
1. Be creative with ads

Instagram is known to be about the aesthetics. Good written content is not necessary as long as the visuals are eye-catching and can convey your message. Be extra creative with the visuals you use when you post job collaterals on Instagram.

Tip #1: Creatives should be coherent with the brand image

Tip #2: Use striking colors and designs
Tip #3: If you're not a fan of wordy captions, use simple infographics to convey your message to your viewers
Tip #4: Remove clutter by opting for minimalism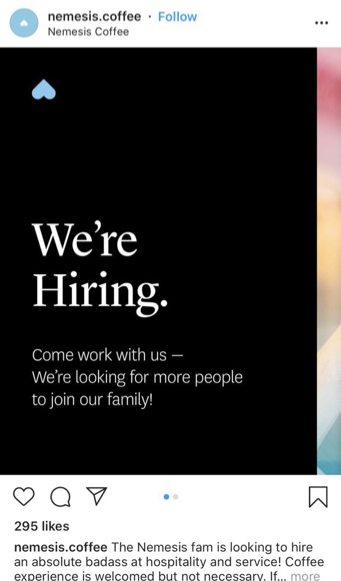 2. Use tools



Instagram offers many tools that help boost visibility of your content other than just posting on your feed.
Instagram stories

Instagram stories are a good way to approach on-demand and urgent hiring needs. Posting multiple times a day on Instagram stories has lesser repercussions as compared to posting it on the feed. This is because excessive posting on Instagram feed is considered to be spam to viewers. Additionally, Instagram stories increases organic visibility of the brand as compared to feed posting. Instagram stories reduces inertia for viewers since it automatically plays the next video without viewers having to manually scroll through it. Typically, once a user starts watching the stories, the video plays continuously one after another until they are all caught up with the updates.
One of the pros to posting an Instagram story would be that the artwork used need not be too elaborate. Even if your content is longer and wordier, viewers would still read through it.
Poll function on Instagram stories

The poll function engages users to vote on an option that provides their inputs relevant to the company. This also serves as a useful tool for businesses to engage with their followers' network.

Take a look at this example, by asking their viewers if they could recommend a person who is eligible for the job within their network, they are able to tap on word-of-mouth to spread their job within their network, they are able to tap on word-of-mouth to spread their job advertisements. This works especially well if you need urgent hiring since people are able to respond to their job advertisement real-time.
Linking back to your feed

Instagram allows you to quickly create Instagram stories based on your existing post on your newsfeed. This means that you are able to increase visibility of your post. It also allows your followers to obtain more information with a simple tap on your Instagram story which redirects them back to the main post to learn more about the job posting.
3. Copywriting
Since Instagram focuses on the visuals and less about the copywriting, companies should keep their captions short, concise and informative.
Tip #1: Make use of point forms or short paragraphs with dividers
No one enjoys reading long lengthy content on what your company has to offer. Go straight to the point and use point forms to convey what the job responsibility entails. If point forms aren't appropriate in your context, try separating the paragraphs with a divider so it looks more organized and is easier to read.
Tip #2: Use hashtags

Hashtags are extremely useful to help track your job advertisements. You can use hashtags on both the feed as well as on Instagram stories.

With the hashtag following functions, audiences who are interested in a topic could follow the specific hashtag to get content from various users relating to the topic of interest. In this case, hourly job seeking applicants on Instagram would most likely be following hashtags like #hiring #jobsearch #jobhiring. Hence, companies can reach out to a wider range of audiences who are beyond their current following.
Tip #3: Portray your brand personnel

People love brands that are fun and interactive. Show your viewers the kind of company culture they can expect upon applying for the job to get them interested. You can even use emojis to lighten the mood and appear more lively.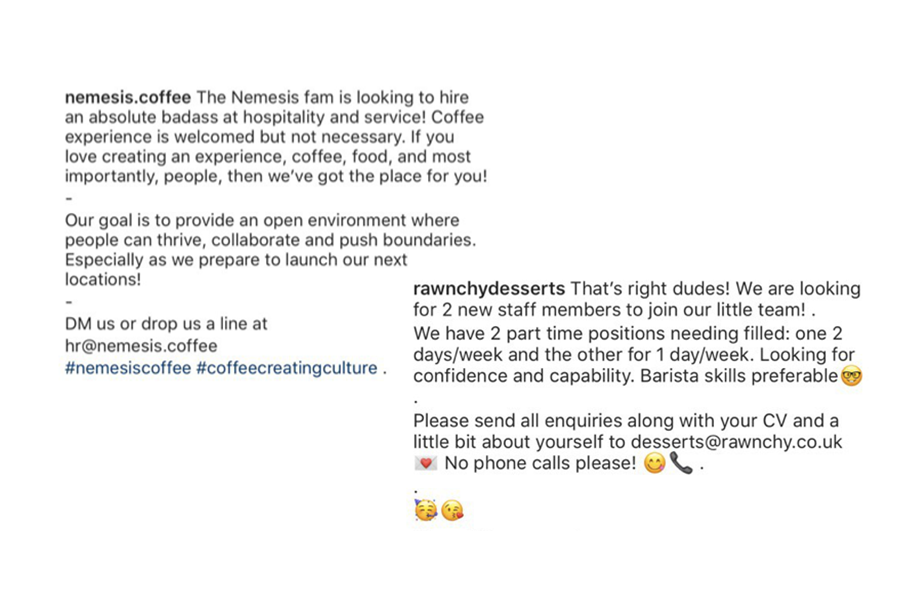 4. Call-to-action



Call-to-action (CTA) buttons can be placed on the company's profile page under the "contact" function or even in the caption. The "contact" function is useful for interested job applicants as they can easily apply for the job without exiting the Instagram platform. Most CTAs revolve around sending your resumes over, or dropping a direct message to express interest.

One of the more interesting CTAs would be the tagging function. Since Instagram is primarily a social networking platform where information can be shared through friends simply by tagging each other. Here's an example of how @thestandingroomhb managed to tap on the social aspect of Instagram to get their viewers to help tag their friends who may be interested in the job. This increases the visibility of the post and helps reach out further than their primary connections.
5. Run paid ads



Another way would be to run paid ads on Instagram. With Instagram stories' high visibility, companies could use Instagram story ads to reach out and engage their target market better. These ads are effective as it fits in between users' stories while keeping the format of a story so that the user experience is uninterrupted. This also allows for full-screen advertisements without the clutter of other content, and hence, is more able to hold the user's entire active focus.

If your company has 10,000 followers or is a verified account, you will be able to include the swipe up function and attach a link to the story. This allows viewers to easily submit their job application without physically leaving the Instagram platform.
Case study: Sweetberry Bowls
We especially like Sweetberry Bowls' hiring efforts on their Instagram. They have effectively used striking colors while keeping each collateral's theme coherent to their brand. Each copy was kept concise and ends off with a call-to-action that directs interested applicants to the relevant site to apply for the position. Moreover, they have also used a good amount of hashtags that highlights the location of the job, the industry, and also the keywords (e.g. #apply #nowhiring) to target the job seekers on this platform.

All in all, with the rising usage of Instagram among the young and younger, it serves as an opportunity for businesses to tap on this user base and attract like-minded individuals for their hourly job roles. Moreover, with more new interactive functions being added, Instagram users are being more open to business messages and would give it an extra look. So, what are you waiting for?
Desirene is a marketer and content-writer of Workstream. She has been with the Workstream team for over a year and is based in Singapore.