Integrated Job Boards and Automated Scheduling
Access to Multiple Job Boards
With Workstream's Job Board Integrations, Villa Valencia is now able to post to over 2,500+ job boards at once. These other job boards include Indeed, Glassdoor, Facebook and even supporting text-to-apply and scan-to-apply features, which makes it exponentially more convenient for applicants to send in their applications. There is also no need to log into specific job boards to view the applications available, as they are all visible through Workstream.
Although they were previously only utilizing Indeed, they are now granted access to many applicants (and talent pool) across the different boards, without having to give up on Indeed. Most of their applicants are still coming from Indeed, but Workstream has simplified the process, allowing them to manage all applicants across the different job boards, while still retaining features such as sponsored job posts, specialized campaigns. This is greatly beneficial in addressing their lack of applicants.
It only took them four days to hire their first candidates with Workstream and were delighted to be able to convert their applicants to new hires in such a short period. They were also pleased with the number of applicants after switching to Workstream.
Centralized Dashboard
A centralized dashboard allows Nate Sorense to be more involved in the interview and hiring process, as he is now able to manage all applications seamlessly on one platform. By allowing hiring managers to set smart screening questions that automatically reject applicants who do not select a specified option, Workstream has also helped the team in the screening process. They are now able to sift out candidates who are not able to commit to an immediate role or are not interested in taking night shifts, for example.
The Workstream interface is also user-friendly, with continuous customer support provided by the Customer Success team, which has allowed Nate and his team to be acquainted with the software. They are now able to complete most of their tasks through the mobile application and receive notifications and reminders on application updates.
Automated Scheduling
Referencing their issues in immediately responding to new applicants, the Automated Scheduling feature in Workstream sends out automated responses which Nate Sorense has personally customized, such as 'hey thank you for applying'. It then prompts them to fill out questions and other information required by the hiring team. This provides a touchpoint and puts the Villa Valencia team ahead of the competition as they are able to respond immediately to an application.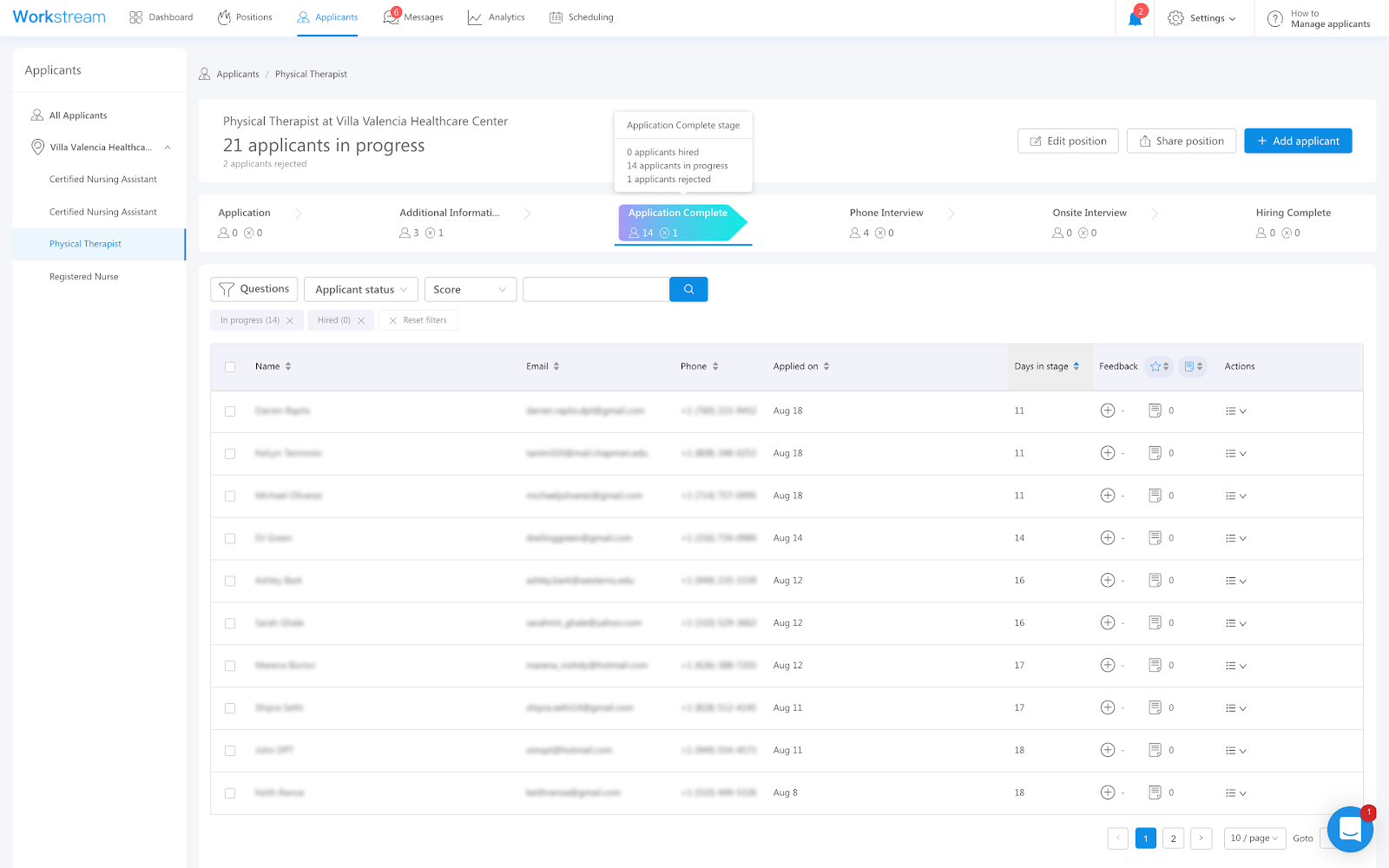 Furthermore, the Workstream mobile application also allows them to be notified upon receiving messages from candidates who have applied or confirmed an appointment. They will then be able to quickly reply to these candidates, helping them to win the hearts of the applicants, as they feel engaged with the company.
Integrated calendars also mean time saved in the coordination of interview dates, as applicants are now able to select their preferred slots based on the hiring manager's availability listed on their calendar. The hiring managers are then alerted when a new interview timing has been scheduled. This process eliminates the back and forth in scheduling interview dates and timings.
This has also significantly reduced the no-show rates, as applicants are sent SMS reminders before their interview dates, and are also given the option of rescheduling should something crop up at the last minute. As a result, hiring managers are able to better allocate their time, and make changes in their schedule instead of waiting for a candidate who might not even turn up.