Craigslist is an invaluable tool for growing your business by allowing you to quickly find great candidates for the various job openings your business seeks for. As the world's biggest online classified ad section, Craigslist now has at least 60 million U.S. users, 50 billion page views monthly, as well as 50 million daily queries (source).

Add a job ad on Craigslist in 6 steps
Posting on a job on Craigslist is fairly straightforward - there are six steps, which we take you through below. The more complicated part is how to make your job posting standout. Here's everything you need to know to effectively use Craigslist to hire the best candidates, along with common mistakes to avoid.
1. Create Account
This is as straightforward as it can get. Creating an account on Craigslist is completely free. All you need is simply your email address and a password. Remember to verify your email before you start listing your jobs.
If you want multiple people to login to add jobs and/or receive email notifications about applicants, consider creating a new shared email address. Alternatively, you can post the job through Workstream so all the applicants populate in the Workstream dashboard.
2. Set your Location
After you create an account on Craigslist, you need to set your location. Make sure that the location is where you want your hires will be based.
This is a very common mistake - a lot of hiring managers will post their home/office location (for example: San Francisco) even though they are hiring for a store in another location (for example: Sacramento). You might get a lot of views for your job posting, but they won't convert to actual hires if the location is set incorrectly.
3. Select a Category
To start listing a job ad, click on create a posting.
Under the type of posting, select job offered and then choose a category for your job post. You can post to multiple job categories to get more views, but you pay for each category - usually the cost is around $25; some cities, such as San Francisco, cost $75+ per category.
View the public category for your city to determine whether you're a good fit for that category. Sometimes it pays to post in a category that is indirectly related to the role if that category has fewer postings - you're more likely to stand out. For example, the food/bev/hospitality category in San Francisco receives around 100 posts every single day; the retail category receives around 15. Most people don't scroll past the second page of job postings, so you will get more views in this less populated category.
4. Write a Post
In the job posting, add a description of the role, enticing details about your brand, employment type, required skills/experience, compensation structure and contact details.
5. Use Address for Map
Next, you'll want to add contact info for applicants to apply. If you have a Workstream account, you can use the "text-to-apply" functionality and ask applicants to text you - this is guaranteed to drive more applicants to your door. Watch this 2-minute video from Cinnabon for reference.
If you don't have Workstream, we recommend using the CL mail relay to avoid getting spammed by recruiters.

Make sure to add your business/store address to your contact info and make sure to select "show on maps." This is hugely important because many hourly workers search for jobs based on proximity to their home.

Applicants can zoom into their city to see active job postings in their neighborhoods. If you forget to check the "show on maps" box, you'll get a fraction of potential visitors to the job posting!
6. Review & Publish
Take a few minutes to review your job posting before accepting the Terms of Use. If everything looks good, click the "publish" button in the bottom right. If this is your first job posting, you'll be asked to verify the job posting via email before it goes live.
Tips & Tricks to Improve Visibility
Titles that Standout
The title is the most important part of your ad because it's the first thing that job seeker will notice. Use a catchy job title to attract the attention of your potential applicants. Including details like "bonus guaranteed" and "excellent pay" helps to get more applicants.
Include emojis and the salary in the title (see examples below). You can copy and paste emojis into your title description from Emojipedia. When in doubt, you can always use a few stars ⭐⭐⭐ in the title - it will be impossible to ignore your job posting!
Add a compelling job description with all the necessary information about the job and its requirements.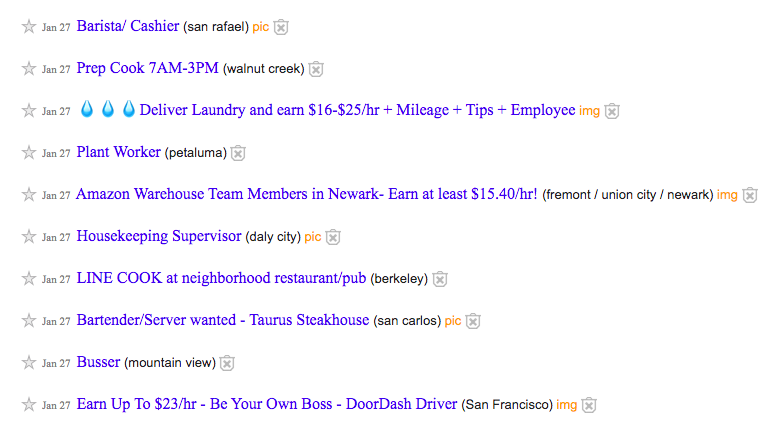 Optimal Timings
The best time to post a job is typically early in the morning - people tend to scroll online on social platforms while commuting to school/work. Perhaps you'll grab the attention of someone who lives near your business and stuck hates their long commute.
The exception is if you're hiring for a job with late hours (e.g. 🍺 bartender, 🔒 night security guard, 🦇 vampire slayer). Post these types of jobs in the early afternoon for more views.
Culture Details
Write about what candidates can expect if they were to join your team. Share anything else your job candidates might be excited about, such as various learning and career development opportunities. Here are some suggestions:
What makes your team special?
How do you reward great employees?
Have people on your team grown from this role into managerial roles?
Do you cover education costs or provide any type of benefits?
What made you get into this business in the first place / why are you a fun person to work with?
You can also add these culture details as additional reading through the Workstream dashboard - after applicants apply, you can set it up so they automatically receive a text message thanking them for the application and a link to company culture details. This way they remember who you are and get excited for coming in.
Add Images
Add your branding to give the job posting a professional look and increase click through rates. Include images of your happy team at the location and/or on a company bonding event.
If you have a beautiful storefront, definitely include this - it will also make it easier for applicants to find you when they show up for interviews!
Create Hyper-Local Job Ads
Location tagging can help you increase the chances of your job ad reaching the right audience by tagging to a specific location within your city.
If the area where you're hiring for is highly competitive, such as Manhattan, you may consider posting your ad in adjacent areas, like Brooklyn or Queens. Ask yourself "where do many of my employees live" and "how do they get to work" … You can include a note in the job description such as "Easily commutable from Queens by taking the E train; we're located 1 block from the 7th Ave stop!"
Track Applicants and Automate Follow-Up
As the resumes and emails start pouring in, it's easy to feel overwhelmed. How do you weed through all the fake applicants / recruiter spam to identify people who are (1) legitimately interested, (2) qualified to do the job, and (3) a good cultural fit?
We recommend adding an Applicant Tracking System (ATS) such as Workstream to organize all of the applicants. When you see someone who seems legit, you can move them to the next stage of the process and trigger an automated text message with screening questions and/or a link to your calendar to schedule an interview.
The key here is speed - you need to remember that if a person is applying to your company, they're likely applying to many others in a spray and pray approach. The company with the best often wins. Take a look at this 2-minute video from Chick-fil-A about how they automate their hiring process with an ATS.
Psychology and Marketing graduate, B2B Marketing enthusiast and avid pet lover. Currently discovering new podcast.