When hiring on digital platforms, you're often competing with thousands of other job postings. Some opportunities may boast a more recognizable company name, or more attractive pay. How then, can you elevate your job postings to rise above the noise? Well, it often comes down to creativity!
Designing an innovative job description is not easy. A hefty dose of creativity and careful messaging are necessary to make your job ads stand out. It's not an easy task, but with a little extra effort, you can attract the right candidates.
Many outstanding online job ads have been created over the years. In this article, we take a deep dive into 8 creative tips that we picked up from some of the best ads we've found online.
1. Be personal
Company: Rise
Online Platform: LinkedIn Jobs
Why it's great: It's a rare sight to find job postings that speak this directly to an applicant - it adds a unique personal touch. You also rarely see one written from the perspective of the CEO. This not only leaves your prospective candidates curious, but also makes the post feel more exclusive as though they are being let in on a big company secret. A great use of an online platform to reach out to the masses!
Key Takeaways: Speak directly to the applicant and make them feel special.
Year Posted: 2019
2. Proudly Embrace Your Company Culture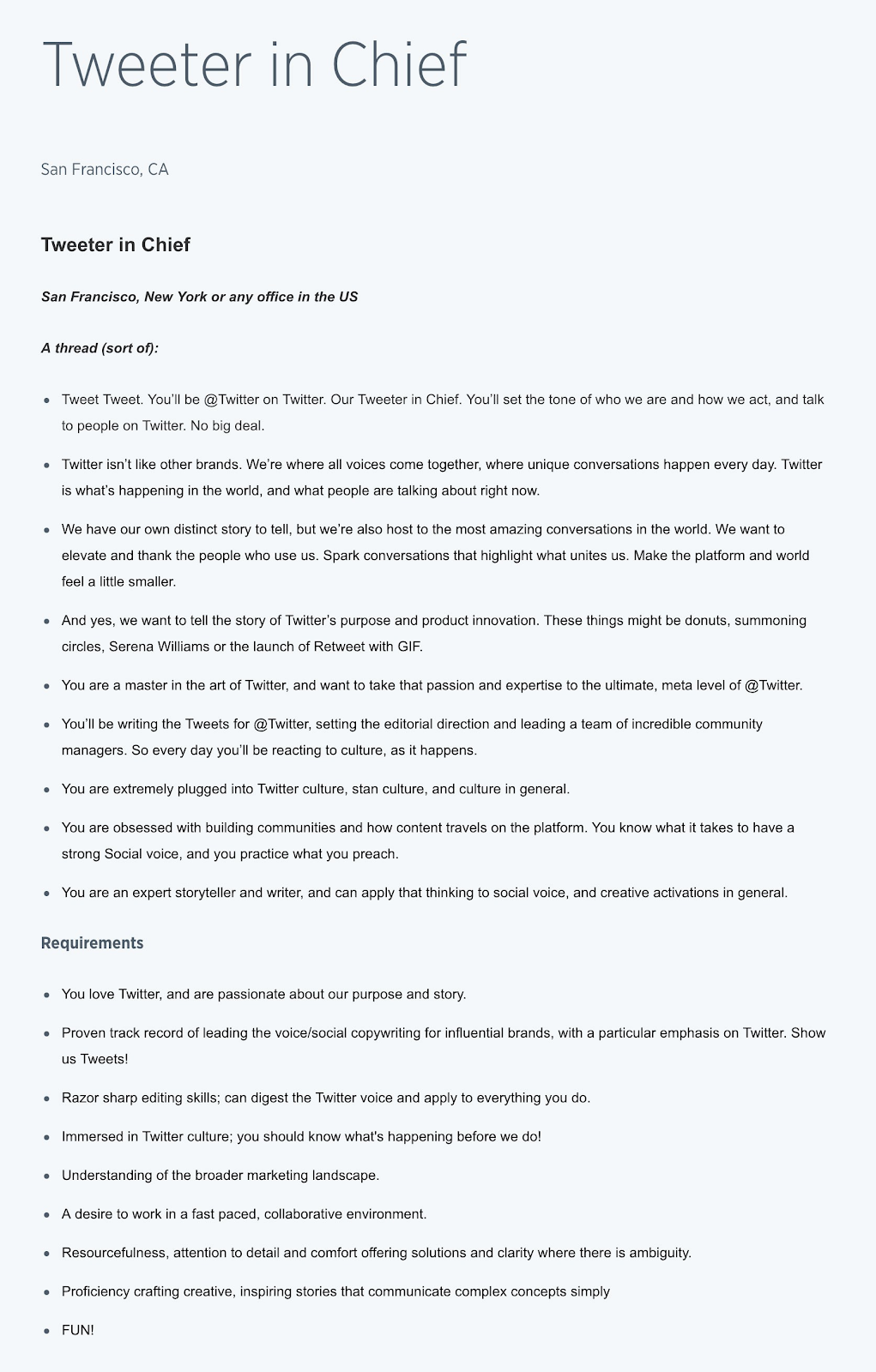 Company: Twitter
Online Platform: Company Website
Why it's great: This job posting employs a creative and concise copy to capture the attention of potential applicants. The same technique was even applied to the job title itself. We love how this job posting gives potential applicants a glimpse of the company culture and sets the tone of how the brand interacts with its followers.
Key Takeaways: Show off your company culture and be true to your brand voice.
Year Posted: 2019
3. Be Playfully Appealing
Company: HireVue
Online Platform: Company Website
Why it's great: Like Twitter's job post, this tech company made use of fun copy to attract the attention of potential applicants. It used a casual and informal tone in the text, making readers feel comfortable with the brand. As seen in this quote, "You tell everyone how great your life has become", it's evident that they are confident about how great it is to work in their company.
Their choice of photo manages to further emphasize on their employee benefits. This also serves as a reminder to potential applicants that they need not prepare too much for the interview are fantastic ways to showcase their company culture, too!
Key Takeaways: Show off your fun side, and don't be afraid to address potential applicants more informally and directly.
Year Posted: 2019
4. Be Unconventional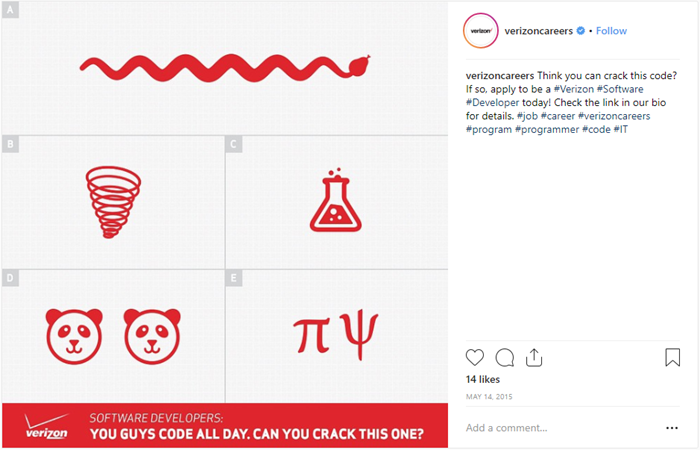 Company: Verizon
Online Platform: Instagram
Why it's great: Verizon created an interesting way for applicants to engage with the brand. When one thinks of a job application assignment, market analysis tasks or aptitude tests come to mind. This is a great way to distinguish your ad from thousands of others online, and showcase your company culture at the same time. Talk about creativity!
Key Takeaways: Invent a different way to implement a conventional practice, and use elements that are aligned with your industry.
Year Posted: 2015
5. Create Your Own Narrative
Company: Hamilton Comic Con
Online Platform: Twitter
Why it's great: The use of characters related to the industry is a fantastic idea! The unique take on the phrase "Help Wanted" is also a great way to inject humor into the job ad.
Key Takeaways: Incorporate a sense of playfulness with humor, and add details specific to what you're posting about.
Year Posted: 2017
6. Be Visually Appealing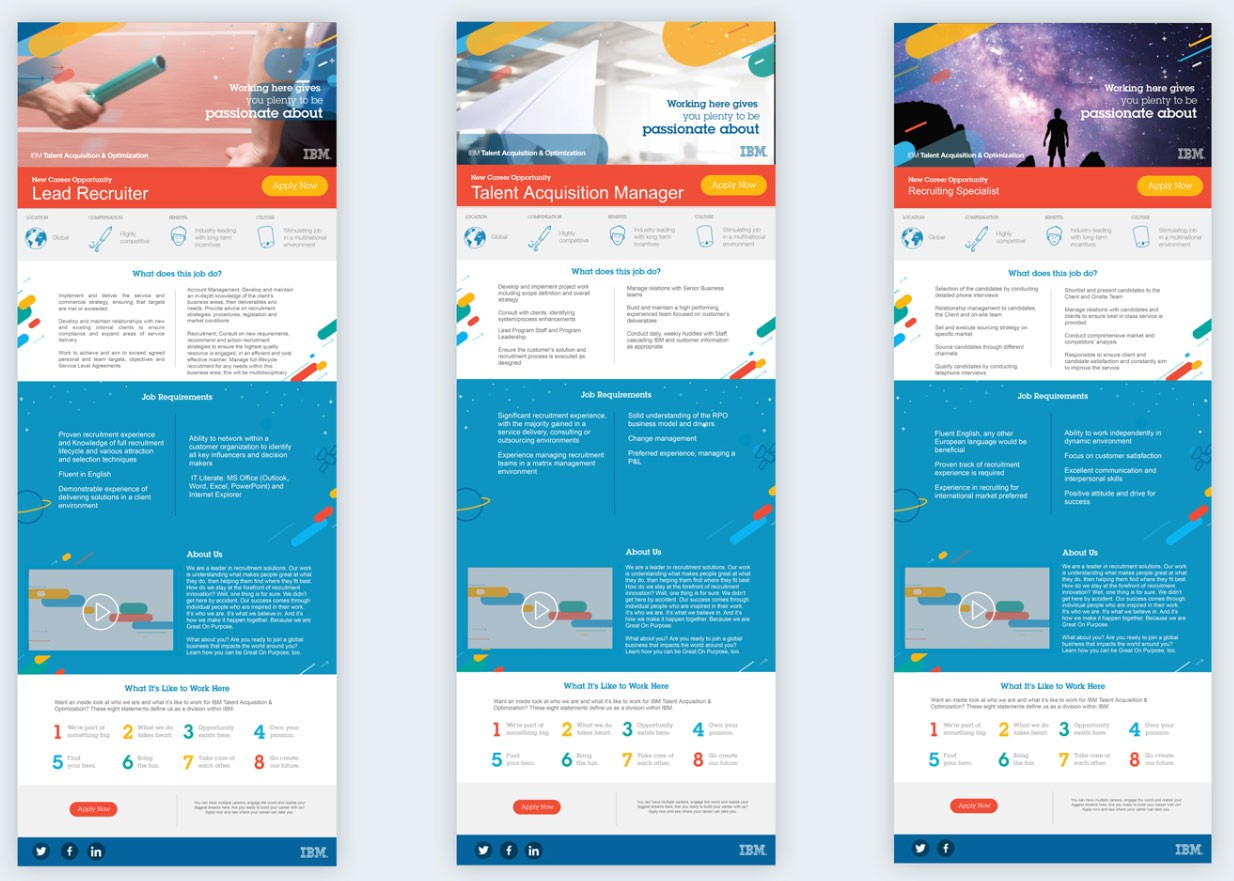 Company: IBM
Online Platform: Website (in the form of downloadable PDF files)
Why it's great: Instead of using long chunks of boring text to explain the role, IBM utilized point-form and visuals to do the job more efficiently. The colorful visuals also help the ad stand out among other job descriptions. One of the best parts of the ad? They made the infographic downloadable. This makes it easier to be shared by friends of job seekers looking for such roles.
Key Takeaways: Don't be afraid to try out new formats and make sure your job description is easy to understand.
Year Posted: 2016
7. Be Anecdotal

Company: Unknown
Online Platform: Craigslist
Why it's great: If the creative title doesn't say it all, we don't know what does. Sure, this is not an ad for a legitimate job. But there are things we can learn from it. The playful job title, for starters, is so unconventional that it just grabs your attention. The informal writing style also makes the post more engaging. We would love to see a hair salon adopt these tips in future job ads!
Key Takeaways: Keep it light, with a touch of humor.
Year Posted: 2010 (A little old, we know. But too good not to share!)
8. Keep It Simple, It's Refreshing!
Company: Horizon FCB
Online Platform: Instagram
Why it's great: It's simple, direct, and challenges applicants to step up to the challenge. I think it's safe to assume that they barely needed a budget for this as well. The task assigned is also related to what the business is about.
Key Takeaways: Engage your applicants by challenging them in a fun way, while being able to screen for qualified prospects. It's like hitting two birds with one stone!
Year Posted: 2016
Summing Up
If you're struggling with filling positions, consider taking cues from some of these innovative job descriptions, ads and postings we've found. Jazz up your post with some fun and creative elements to attract some of the best job candidates you have ever seen.
We'd love to hear from you too! Got an interesting job posting to share? Tag us on our social media - LinkedIn, Twitter or Facebook, and your ad might be featured in our next edition of innovative job postings!
For more handy tips on job posting, hiring strategies, and how to make your whole process more efficient, check out the Workstream blog.
Nigel is not just a marketer at Workstream, he is also a graduate of Psychology and Marketing of Singapore Management University. He has multiple experiences in various areas of marketing - advertising, email marketing, and content writing. Fun fact, prior to joining Workstream, he took a semester off school to intern at SAP in Brazil.