Rishi Soneja is a Operation Iraqi Freedom War Veteran. He served in the U.S. Army as a Field Artillery Soldier, and deployed to Baghdad, Iraq in 2010. It was during his time in the military where he developed the grit and determination to visualize his goals, develop a plan, and execute his mission.
After serving, he went back to college and graduated from New York University with a Bachelor's degree in Nutrition and Food Studies. During his time at NYU, he developed a passion for sustainable entrepreneurship. Today, Rishi operates CITI PIE, a mobile wood fire pizzeria, and has ambitions of developing technology to improve food access around the globe.
Q: What professional accomplishments are you most proud of since you began CitiPie

Rishi: During this whole process a lot of people put me down and didn't believe in me. Along the way, I faced many challenges which made me feel like I was a failure. However, my optimistic attitude, and ambition to be different, keeps me moving forward towards accomplishing my dreams.

When I was eight years old, my Canadian aunt showed me how to make Roman style pizza at home. When I was eleven years old, my fifth grade teacher Mrs. Martin created her own currency, and held a classroom market to give her students the experience of running their own business. Everybody in our fifth grade classroom made their own products. The rest of the school paid one US dollar in exchange for five Martin dollars to spend in our classroom. With the help of my mom, I made six extra large homemade pies, three with pepperoni, and three with onions, bell peppers, and mushrooms. Within an hour, I sold out! The whole school couldn't believe that I made these at home. This was the start of my pizza journey which inspired me to launch CITI PIE, August of 2018. Since the launch, I've learned from my mistakes, made connections, and this April 2019, I'll have a vending location in Fair Lawn, New Jersey. I'm really happy that I was able to turn my childhood dream into a reality.

Q: What is one piece of advice that you will give someone running a restaurant?

Rishi: Don't go into running a food truck alone. Find a partner that shares your dream. This is where time management and organization skills come into play.

Every day, I wear various hats, such as: the kitchen manager, hiring manager, marketing director, food purchasing, events coordinator, and even auto mechanic.

At times it is very draining because I have to meet my deadline, I just don't have time to fix that lingering issue. I would love to hire and empower people but in the beginning you do it yourself because you don't have a hiring budget to fill these positions. You have to keep things running. Weather you crawl, walk, or run, move forward! One thing I really love about business is that it teaches you discipline. I love that! If you fail it's because you did not have discipline,

"It's nobody else fault but yours, you have to own it, and grow from it", Gary Vee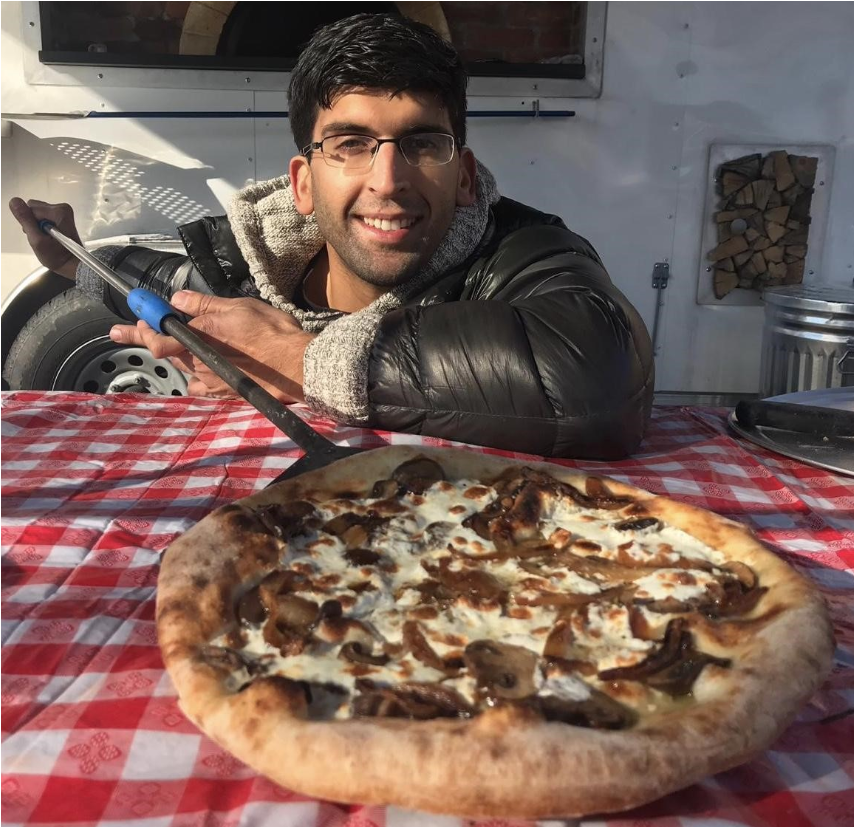 Q: What is the biggest challenge you have met in your career?

Rishi: Learning to think like a business person instead of an academic. I'll break that down and explain it. I was an academic. In college we analyzed academic articles, had classroom discussions, and spent a lot of time researching theories to come up with conclusions.

In business, there is no book with all of the answers in it. Over thinking simple idea's prevents an owner from making quick decisions. One must develop a sense of business, look at the facts, and begin making mistakes to understand what works and what doesn't. When I began thinking like this I learned to push thru my mistakes and failures which made me realize that every mistake is a lesson on how to succeed.

Example: My first food festival was on September 8th, 2018, and it was my biggest failure. I thought it was easy. Get into a large venue, set up the back end, and watch the money roll in, what could go wrong? As the days approached the event, the forecast took a turn, and here came the scattered showers. The day of the event, I woke up at 6AM, prepped the truck, picked up my employees, and drove an hour and a half to Monmouth Park Race Track in New Jersey. While in route, it began to storm, the odds were against me, but I tried to keep positive. The event organizers claimed to bring in 11,000 people. I paid $500 to get into this event, plus my operating cost of $450, and there were 12 other vendors. I had a feeling I was going to lose money, but I already booked three additional events with the same organizers so I had to show up and perform.

The event was a disaster but it taught me a lot! Rule number 1: It's your first event! Do not prep 800 dough balls, just because you know you can keep up with the volume. After all that prep work, employing three workers, driving three hours, I didn't even break even! Guess what happened at the next three events? It kept raining! It was a low point for me but I realized that I had to start small! I was not a big name pizzeria yet. Side note: I thought of Blaze Pizza while I was sitting behind the gun in the Army, however, by the time I got out, Kent Bradford, already had skin in the game, and beat me to it. Shoutout to Kent!

Finally, a good tip for a new food truck startup: do no trust any event organizer which is charging upwards of $100.00 to get into their event. They are in it for the money, not to help, if you can't contact other participating food trucks, get their opinion, and analyze the facts, avoid these venues at all costs. Stay local, make connections, and keep it practical. First, know your operating costs. Do not assume you're going to net X number of dollars, there are many variables working against you. Be humble and start small.

Q: What are some challenges or trends you see in hiring today?

Rishi: Before I came into this industry, I took it for granted. I failed to realize that it's going to be a challenge to find reliable workers. It's easier if you have a brick and mortar but then you also increase your overhead, so be careful. One of the drawbacks of starting as a mobile food truck is that you have an inconsistent work schedule. Simply put, if you are not open every day it becomes increasingly difficult to retain your employees.

There is a trend in raising the minimum wage and paying employees $15 an hour. This is something I'm working towards, however, before I can create that opportunity, I have to build consistent business. Last season, I was learning how to fail. This season should be better since I have a local spot in town, where I can setup everyday.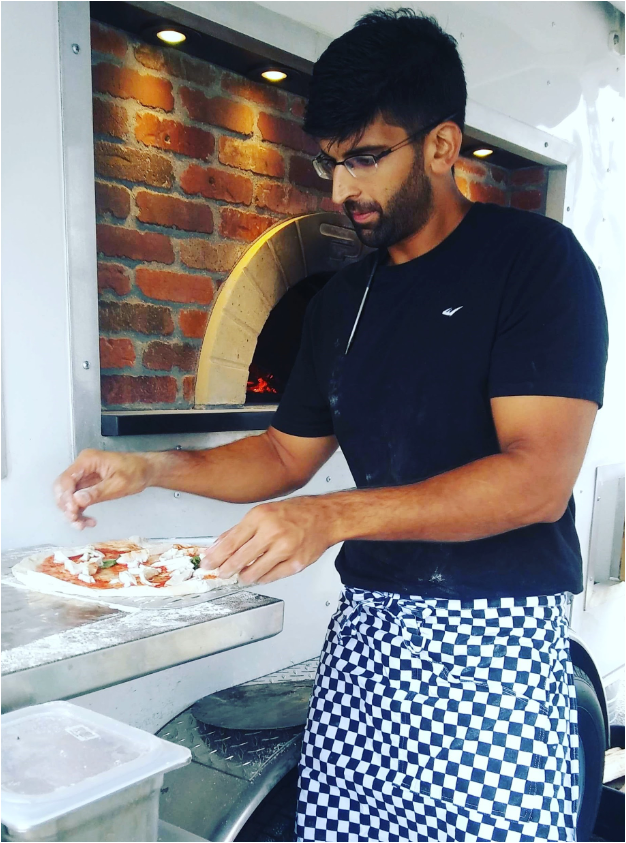 Q: Have you ever had an hourly job? If yes, please share with us your experience

Rishi: When I turned 16, I worked at an airplane parts factory in Apex, North Carolina. Fun fact, when President Obama was campaigning, he paid that factory a visit! As a teenager, I was young and misguided, had low self-esteem, doing all the wrong things, and I did not take my future seriously. In tenth grade, I dropped out of high school and picked up a job at Rite Aid. A year later, I walked across the street and worked at Domino's Pizza. I had been there for a year and a half, and It was coming close to my 18th birthday when I began to realize that I could do better. In 2008, at the age of 18, I enlisted in the Army as a Field Artillery Soldier.

These next few years were extremely challenging. Pure misery and hardship, but I learned how to understand my peers, work as a team, build confidence, and commit myself to reach my goals. In August of 2011, I left the service, with the ambition to start a food business, however, I wasn't ready for that yet. I had a burning desire to go back to school and prove to myself that I could excel. Fast forward to 2016, I was no longer a high school dropout and I feel really good about that accomplishment. Thanks to the Gi Bill, my time in college was an awesome experience. I still plan on going back to finish my masters. For now, I'm taking part in my own self-taught business school, riding this venture, trying to grow it, and make the best of this opportunity to build community, and be my own boss.
Workstream is a hiring platform that helps employers get 4x the number of qualified applicants. The world's most trusted brands use Workstream to optimize job board postings, automate screening and interview scheduling, communicate via text message, and streamline the onboarding/training process. See what all the buzz is about by scheduling a demo or email us hello@workstream.is!